The 35 Whelen is a popular ammo among hunters who hunt in North American big-game competitions. The caliber is capable of laying flat even the biggest and toughest of the prey out there.
Hunters love to stalk their prey and take the perfect shot possible. To be able to stalk your prey and then shoot it on the bullseye, you will need a good scope for it. Browsing for the best Whelen 35 scopes will land you in a pithole of riflescopes.
So many of them that you will be confused at choosing the best scope for 35 Whelen. Allow me to be your Kowalski and analyze the topic for you. Without further ado, let's start the post.
How To Choose A Scope For 35 Whelen?
Whelen 35 is a great hunting caliber. As you are taking a scope for it, naturally you will take it for hunting. So, the first rule of selecting a 35 Whelen scope is hunting. Whether it's good at hunting or not. A good tactical scope can do hunting but not as effectively as a hunting scope.
The next thing you need to consider is the range. The Whelen is a maestro at the 300 range. You may even call it a menace! That still doesn't change the fact it's marvelous in this range. So, the scope needs to have an accurate reticle that can hit 300 yards with relative ease.
Speaking of accuracy, the next thing should be how accurate the magnification is. As some cheaper scopes tend to have false magnification ratings, steer away from them. Take scopes from reputable brands that are known for their products and also offer a good warranty.
Last but not least, you need to consider how much you are willing to spend behind the scope. You can spend as much you want or as little as you want. There is scope in all sorts of budget ranges. But if you know how much you are going to spend exactly, then you will have an easy time deciding between the options.
Best Scope For 35 Whelen [Editor's Picks]
1. Leupold VX-Freedom 3-9x40mm Riflescope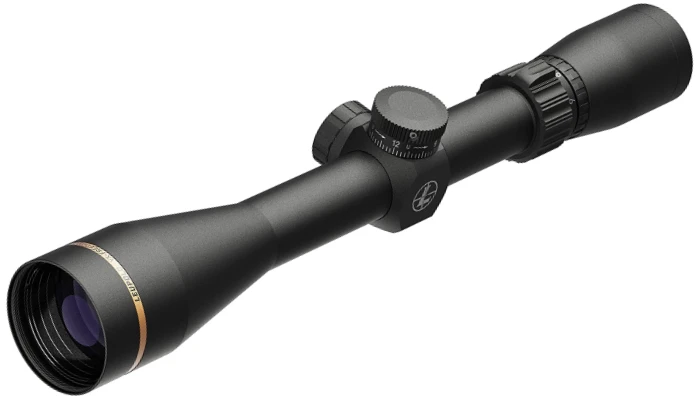 The VX-Freedom is not a new kid on the block. It's been around for years now. It's one of the go-to scopes of any hunter. The performance of this scope is quite impeccable and it works well with most calibers out there.
The scope is made out of high-quality aluminum. The aluminum is lightweight and durable. The entire tube is constructed through CNC machining. The inside of the tube is also purged with nitrogen. Making the scope fogproof from internal moisture.
The scope is also water and shockproof simultaneously. This is another reason why hunters like this for long-range scope. The lenses of the VX-Freedom are fully multi-coated. They are crystal clear and extremely visible under different lighting conditions.
The twilight light management system is another excellent part of this scope. While Leupold doesn't use HD ED glasses, they use a light management system that utilizes small amounts of sunlight and makes the scope appear brighter in low light. In short, it works like ED glass without being ED glass.
Does VX-Freedom come with any mounting accessories?
No, the VX-Freedom doesn't include any kind of mounting rings at all. Leupold sells 1" mounting rings separately. You will need to purchase them for the scope.
What kind of aluminum billet does Leupold use?
Leupold used a 6061-T6 aluminum billet for this scope. This billet is also known as aircraft-grade aluminum billet.
Does Leupold offer any warranty?
Yes, they offer a lifetime warranty. They are committed to providing you with the best possible service.
2. Vortex Optics Crossfire II 3-9×40 SFP Riflescope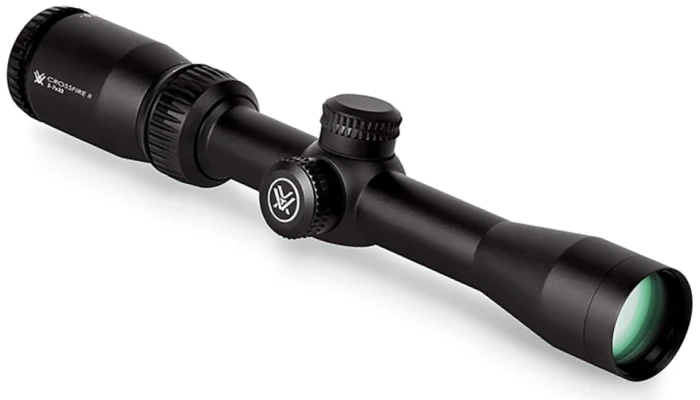 Crossfire 2 is one of the most famous SFP riflescope Vortex ever created. Up there on par with the popularity of Strike Eagle, the Crossfire II is one of the best hunting scopes in the market.
The Crossfire II is available in many different configurations. You can purchase this at 2-7×32 or 4-12×44 even. Up to you to choose the desired magnification. On top of being available in plenty of different magnifications, this scope is available in different reticles as well.
The reticles are Dead-Hold BDC, V-Plex, V-Brite Illuminated, and Straight Wall BDC. All of the reticles are actually quite good looking in SFP. While you would love to see the scope of FFP, what can you do?
The Crossfire II is great for big-game hunting. Whether you are hunting in the NA or EU, you will have a gorgeous session with this scope and 35 Whelen ammo. The scope is fog, shock, and waterproof as well. It is also fully multi-coated. You won't miss any of your prey with this scope. Not on Vortex's watch.
Does Vortex include scope rings with Crossfire II?
No, Vortex doesn't include scope rings with Crossfire II. You will need to purchase them from a third party or Vortex themselves. I recommend Vortex Pro series mounting rings. Make sure to buy the 1" variant.
Does Vortex offer a warranty?
Yes, they do. Vortex offers a lifetime warranty. That warranty is unconditional. No questions asked.
Is this good for deer hunting?
Yes, this is excellent for deer hunting.
3. Athlon Optics Talos 4-16×40 SFP Riflescope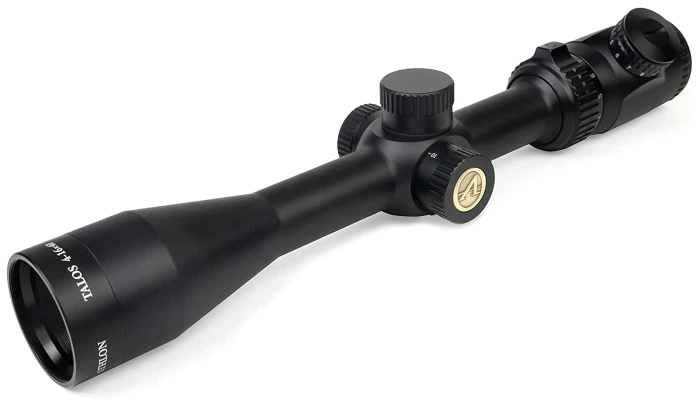 35 Whelen is not an extremely long-range caliber. But it's still quite effective at any given range within 300-400 yards. But it shines better at 300 yards. Athlon Talos has a humongous field of view and offers a lot of magnification.
The maximum magnification of the scope is 16x. You can stalk your target from a long way before closing in the gape and taking the shot. As the 35 Whelen is quite deadly and accurate, the scope needs to be similar as well. The BDC 600 IR reticle that it comes with is dead accurate as well. On top of that Athlon also offers the same cope with MIL dot reticle.
The scope is constructed like a tank to last in a warlike condition. The inside of the scope is purged with nitrogen to remove any moisture leaking inside. As the lenses are sealed in place, water can't leak inside either. The turrets are also protected and they won't adjust on their own from drops or accidents.
The durability of this scope is not questionable. The lenses are on par if not a bit better than most other scopes in a similar price range. Fully multi-coated lenses are a bliss to work with. The pairing and synergy with the 35 Whelen works out blissfully. The extra magnification is a bonus.
Does this scope come with mounting rings?
No, unfortunately. It doesn't come with any kind of mounting ring. You will need to purchase some 1" mounting rings. You can opt for the Vortex Pro series, Monstrum Precision series, or Leupold 1" mounting rings.
Does Athlon provide warranty?
Yes, they offer a great warranty service. They offer a lifetime warranty with transferable ownership.
Is this a good scope for hunting?
Yes, the Athlon Talos was made for hunters. It's an excellent choice for hunting. You will have a blast with this.
Conclusion
There you have it! Some of the best scope for 35 Whelen and how you need to approach the decision making. Don't be confused, a lot of people have been to your shows before. It's easy to think you will mess up the decision making. But there is no chance of that happening. All of the scopes mentioned here are quite good.
Most importantly, don't forget to have fun while hunting. If you don't enjoy the products you are using, or the procedure you are using, it's not a fun experience anymore. With that said, that's all for now. I hope you found this useful and took some great insight from it. I will see you on the next one.