One of the premium versions of the TP9 series is the TP9SFX gun. This gun features many new upgrades that shooters love to work with. Especially if you're a target practitioner, the TP9Sfx can be your best choice.
However, even though the SFX model brings new features, it still has room for improvement. By making some upgrades, you can easily play around with the gun as you like.
In today's market, you will see plenty of upgrade options to consider for your TP9SFX. But obviously, you won't need all of them. Therefore, I have brought you this article where I've discussed the important upgrades that you can consider for your firearm. So, without any adieu, let's get down to the business!
1. Canik Tp9sfx Trigger Upgrade
When you want to make follow-up shots, it is important that the gun trigger takes less time and moves swiftly. Even though the factory trigger is well constructed, you can still consider replacing it. Because it will help you to respond much faster in combat or self-defense situations.
i) Jefe SFX Short Stroke Trigger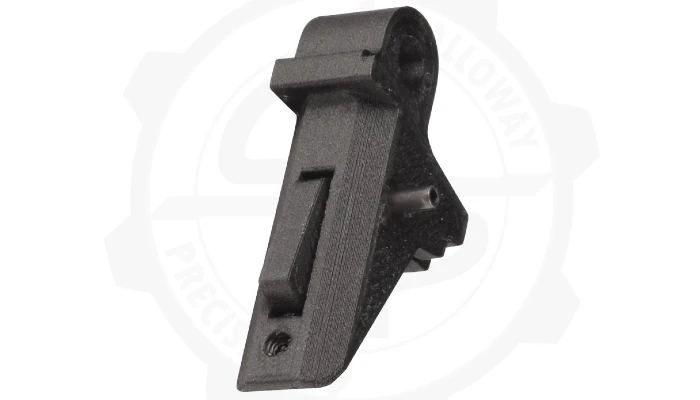 It is a flat face trigger that allows full forward travel of the trigger. Since it is essential that the trigger you're using takes little time to make an overall travel, Jefe has made sure their product stands up to your expectations.
The flat triggers enable you to position your finger correctly for maximum pull.
As a result, it requires less amount of time and effort to pull the trigger. Moreover, the trigger has been 3D printed ballistic nylon so that it can endure different shooting environments.
2. Canik Tp9sfx Grip Upgrade
After a few times, the factory grips lose their gripiness. As a result, you may face difficulty to have a strong hold on the gun while aiming on the target. Hence, I would like to recommend one of the best grips around the market for your Canik TP9sfx. You can also consider the Talon grip if you are looking for a better grip for your firearm.
i) Talon Grips Canik TP9SFX Adhesive Pistol Grip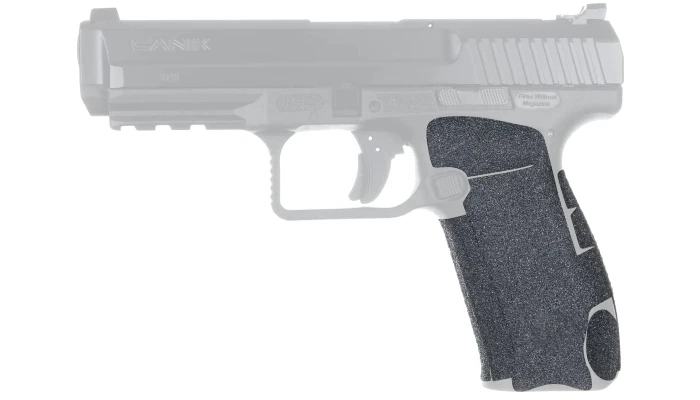 This non-slip pistol grip makes a positive and functional interface between you and your firearm. It helps you to improve your shooting performance because when you hold the gun, the grip feels quite natural to your hand. The part is available in rubber and granulate textures, so you have an open option to choose from the textures you like.
Depending on your usage, the grips can serve you around 1-3 years. What makes the grips so popular is that they have been manufactured by following the OEM-quality fit and finish. The grips have even been rated by NATO as 4.81 out of 5.
3. Canik Tp9sfx Optic Upgrades
Nowadays optics are not just accessories rather they are a necessity. Since every shooter has their shooting needs, the choice of optics vary as well. Hence, I've reviewed the best optics available in the market which make a perfect match for your TP9Sfx series.
i) Canik Warren Tactical Suppressor Sight Set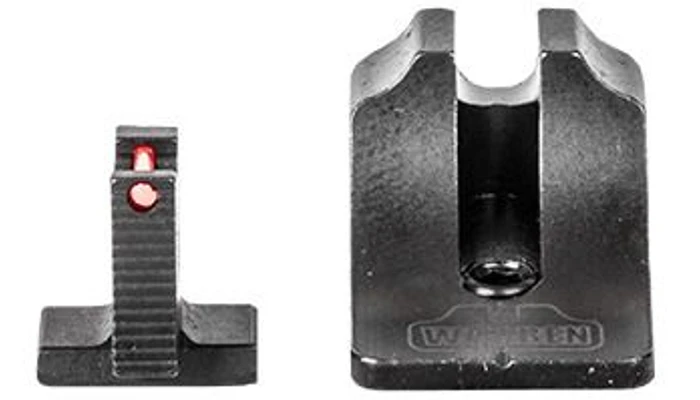 The iron sights are obviously the classic way to aim on the targets. However, if you're learning to get used to the optics, you may want to keep your iron sights mounted on the gun.
But the problem is the regular iron sights won't work properly along with the optics for target acquisition. Hence, I recommend you to choose a suppressor sight set like this one.
The rear sight of it has a U-notch style which works great to make quick aim on the target. Plus, it comes with red and green fiber optic rods, enabling you to aim on the target in all lighting conditions. And of course, not to mention, it will be a great choice if you want to co-witness with your red dot.
ii) HOLOSUN HS507C X2 Circle Dot Solar Failsafe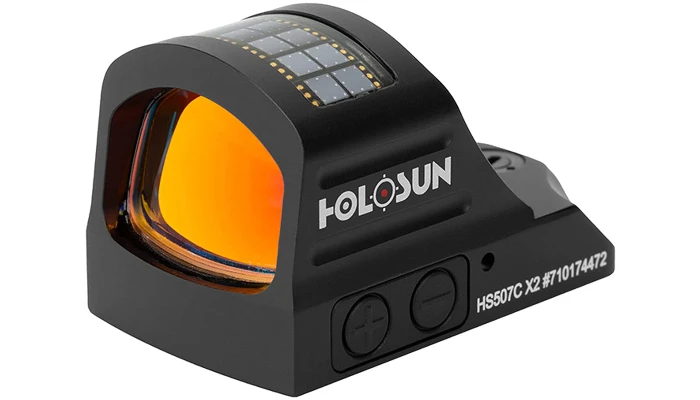 The red dots make your target acquisition much easier and faster. They are compact in size and also lightweight. Hence, they don't add extra weight to your pistol. The reason for choosing the HOLOSUN HS507CX2 for the TP9Sfx is that the sight footprint matches perfectly with the gun.
Secondly, it comes with some advanced technologies such as Multi Reticle System (MRS), Solar Failsafe, and Shake Wake system. They all work together to make your shooting experience as smooth as possible.
Plus, with the help of the technologies, the red dot allows you to shoot in all environments and lighting conditions.
iii) Vortex Optics Venom Red Dot Sight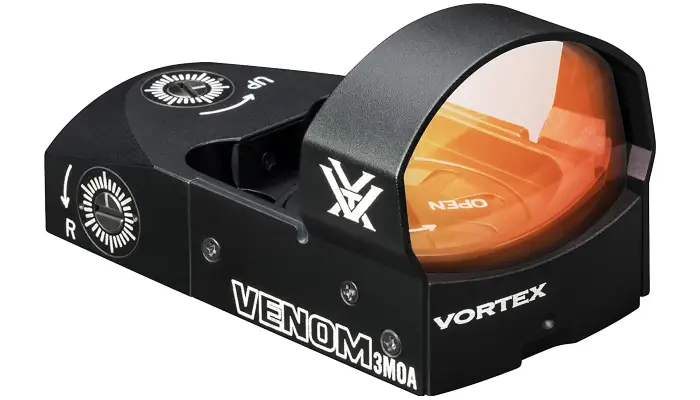 Compared with the above red dot, Vortex Venom has rather a quite simple construction. However, it doesn't mean it has been made out of poor materials. The sight housing has been machined from Aluminum, making it durable enough to go through bumpy situations.
Plus, it has strong water and shock resistance. To operate the optic, it is provided with a CR1632 battery which can support the red dot up to 30,000 hours of its battery life. The optic has both manual and automatic brightness modes to use the red dot in different shooting environments.
Moreover, with the purchase of the red dot, you will also be getting a Picatinny mount, T-15 Torx wrench, and CR1632 battery.
4. Canik TP9SFX Light & Laser Upgrades
i) Feyachi LF-58 Green Laser Weapon Light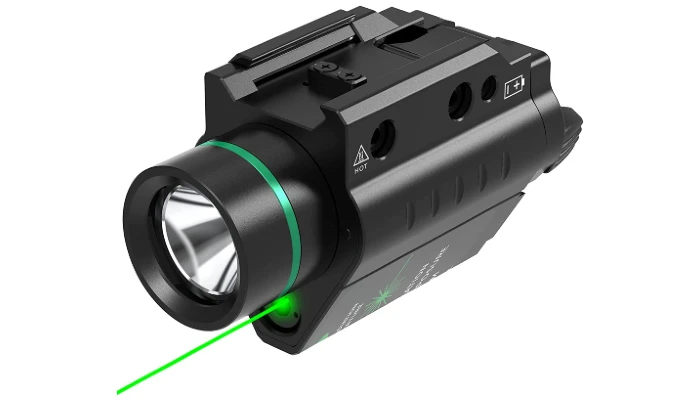 If you're someone who mostly uses the firearm at nighttime, then laser sights and lights are the best options for you. In case you don't want to choose between these optics or want to have an optic that offers features of both sights, you can consider this light-laser sight combo.
This optic combo is designed to have three different target acquisition methods, such as:
200 Lumen flashlight only
520nm green laser only
Flashlight and laser together
So, you can easily switch around these methods according to your shooting needs. By using the sight combo, you can aim from close to medium range targets. Moreover, the optic is made out of Aircraft Aluminum with a black finish, making it durable enough to survive different situations.
ii) Gmconn 1200 Lumens Rail Mounted Compact Pistol Light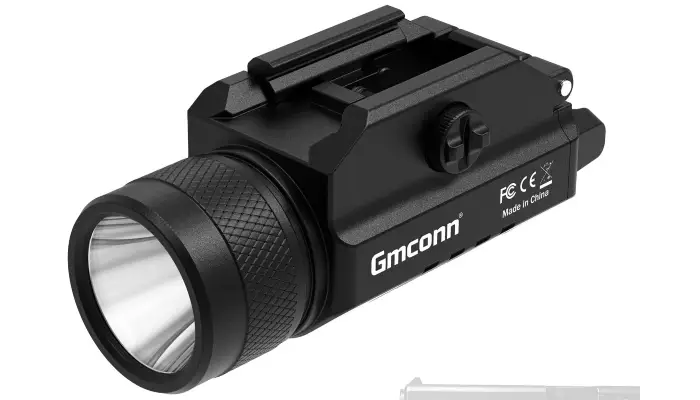 This flashlight is for those who just want an optic that will provide clear visibility of the shooting environment in low light conditions. The light offers 1200 lumens, making it one of the brightest lights around the market.
In order to run the light, it is provided with two CR123A batteries, allowing them to run nearly 50,000 hours of its lifetime. Note that the batteries are not rechargeable, hence, when they die, you have to replace them with new ones.
The good part of the optic is, that you won't need any special tool to mount it on the gun. Since the light has a rail grip clamp system, it helps you to quickly attach or detach the light with the TP9SFX.
5. Canik Tp9sfx Holster Upgrade
To store the gun, you should use a good quality holster. Otherwise, your firearm can get damaged under different shooting environments. Therefore, to keep your TP9sfx safe from harmful elements, you can purchase the holster suggested below.
i) CYTAC Universal OWB Holster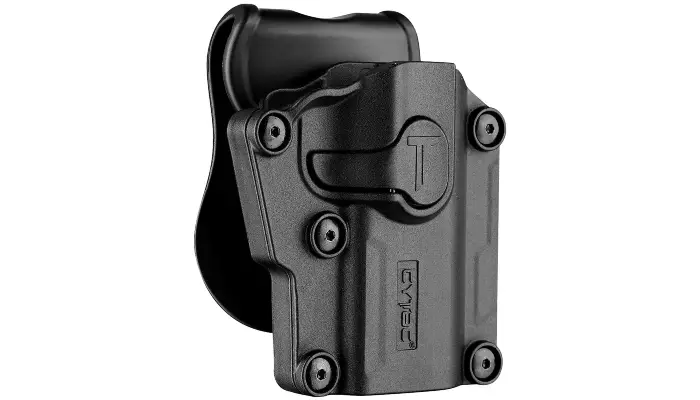 The holster is compatible to fit in a 4" barrel to a 5" barrel, hence, it will be the right call for your TP9sfx gun. In fact, the holster is designed to have an open bottom to support the longer barrels.
The best part of the holster is, it has an automatic trigger "lock-on" system. When you put the gun into it, you will hear a "click" sound which indicates that the trigger has been locked inside the holster. The paddle of the holster is also quite easy to attach to your belt.
Additionally, you can use this military polymer made holster under any weather and shooting environments.
6. Canik Tp9sfx Compensator Upgrade
Sometimes due to muzzle climb, we miss our perfect shots. However, there is a solution to eliminate the problem. You can use a compensator with your SFX to mitigate the muzzle jump. It will allow you to aim perfectly without worrying about missing your perfect shots.
i) Wasatch Arms Canik TP9SFX Compensator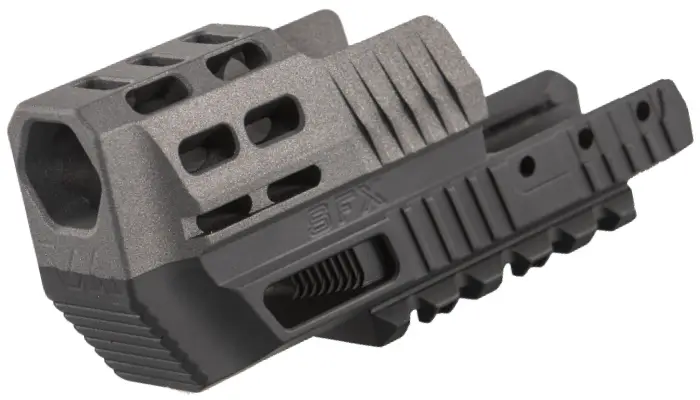 With this muzzle device, you can reduce a significant amount of muzzle rise. The compensator has been meticulously designed to flow out the gas more efficiently through the device. In addition, the device has been seen to reduce the recoil effect as well.
As a result, it stabilizes the gun and increases control. The good part of the device is, you can install it on your own. It comes with 4 screws that make the installation process easier and quicker.
7. Canik TP9SFX Magazine Upgrade
You can shoot better when you're more relaxed and comfortable with your shooting position. Hence, often shooters like to use extended magazines with their firearms. Because it enables them to place their fingers comfortably around the magazine and have an easy grip on the gun. So, if you want, you can also consider upgrading your TP9SFX with an extended magazine.
i) Canik Extended Mag Release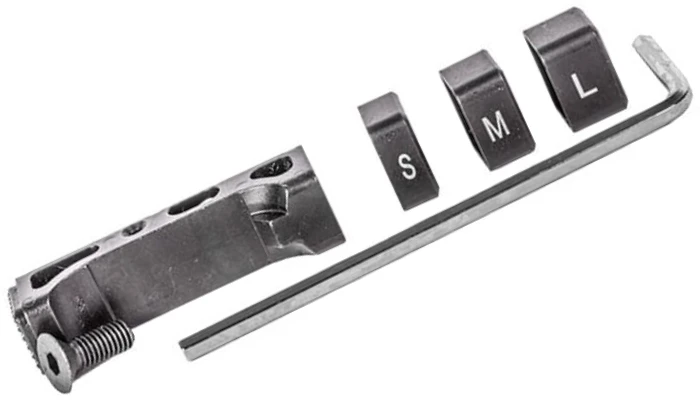 The magazine is made to go with all TP9 series gun models. So, if you have other gun models, you can also use it with them. This extended magazine allows your finger to rest when you're aiming for the targets.
It has a durable construction, so you can take your gun in any shooting environment you want. Note that the extended part comes in 3 different sizes such as small, medium, and large.
Therefore, make sure you're selecting the right part while purchasing the part. Moreover, the magazine is provided with an Allen wrench to make the installation process smooth.
Conclusion
To sum up, gun upgrades are not something that you must consider for your firearm. However, by making a few changes in your TP9SFX, you can improve your shooting performance. Hence, depending on your shooting needs, you should consider the upgrades.
Since there are many options for upgrades now, it may become quite confusing to choose among the aftermarket parts. So, to reduce your workload, I've gathered a list of useful upgrades to consider for your TP9Sfx. Go through the reviews and pick up the product whichever you feel relevant to your shooting needs. Good luck!