The hero of today's discussion is none other than the Mosin Nagant rifle. This Russian bad boy has had its fair share of glorious moments in history. This war hero has been a participant in every major and minor war that has happened in the world. From World War I to the Vietnam War you name it, this firearm has experienced it all.
From all this, you can clearly guess the amount of popularity this Mosin Nagant holds. Both the 91/30 and M44 versions are simultaneously popular in the weaponry world. But what makes them unique is that they only use the 7.62x54mm Russian rimmed cartridges. This makes it difficult for the shooters to find the correct muzzle brakes for this rifle.
This is why I have come up with a solid list of muzzle brakes for your Mosin Nagant. That way you can find the one that is perfectly capable of subduing your "War hero".
In case you are still confused about the important features of a Mosin Nagant muzzle brake you can simply go through my buying guide where I have listed all the information you will find to buy the best muzzle brake. So without wasting any more time let's start!
Buying Guide For Mosin Nagant Muzzle Brake
In this buying guide section, I will be revealing all the details you will need to know before you go and purchase your Mosin Nagant muzzle brake. Just make sure you go through the following checklist and you will be good to go.
Compatibility
When it comes to muzzle brakes, compatibility tops any other points. Mainly because every muzzle brake needs to match with the caliber and thread pitch of the particular firearm.
Coming to the Mosin Nagant rifle, you need to make sure the brake is compatible with the Russian rimmed 7.62x54mm caliber. The other cartridges will not do for this rifle. And because of that, you will need a certain type of brake for that particular cartridge.
Another point is thread pitch. The 91/30 Mosin Nagant threaded barrel is difficult to match. The best option would be to purchase a 5/8×24 threaded adapter for this rifle. I would recommend the Tiger Rock Mosin Nagant Muzzle Brake Adapter for this gun.
Vent Placement
Next comes the vent position. Make sure the vents are positioned on both sides or on top of the muzzle brake and not at the bottom. Otherwise, the gas flow will not be solid and it will be a lost cause.
Construction & Weight: Like I always say, construction and weight both depend on personal preferences. You know the best about which product suits your needs the most. But yes I would suggest going to muzzle brakes that have good port design for uninterrupted gas flow and low weight range. That way you will get good recoil management without any interference with your shooting.
Durability
Finally, check the housing materials of the muzzle brake you are choosing. Since Mosin Nagant uses a 7.62x54mm rimmed cartridge I would suggest purchasing a long lasting and reliable muzzle brake that has good control over the muzzle rise.
Reviews Of 3 Best Muzzle Brakes For Mosin Nagant
The following reviews talk about all the important aspects of the Mosin Nagant compatible muzzle brakes so that you can choose the right one for your firearm.
1. Precision Armament M11 Severe-Duty Muzzle Brake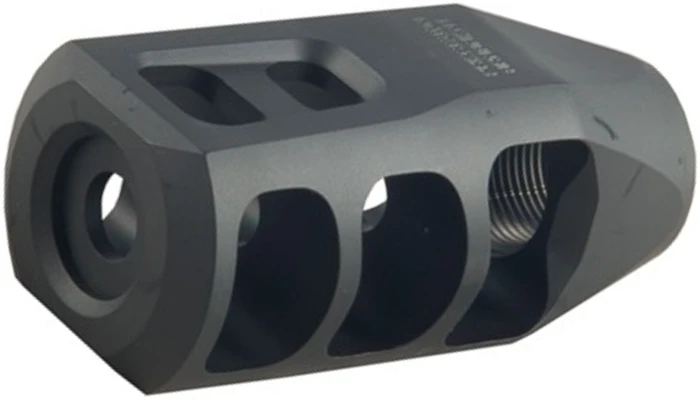 My first recommended muzzle brake for the Mosin Nagant rifle is the Precision Armament M11 Muzzle Brake. One of the reasons for choosing this rifle is its multi-caliber versatility. This muzzle brake can cope up with multiple calibers including the 7.62 Russian Nagant cartridge.
This brake features a symmetrical blast baffle and two compensated front baffles. They work together to redirect the gas flow to both sides and upward, meaning the brake has excellent vent placement which helps in achieving the optimal recoil reduction experience without any complication of muzzle rise.
Its class 3 threads create perfect concentricity, combining with a decreasing baffle thickness in order to minimize bullet flight disturbance.
Besides, the muzzle brake is computer FEA optimized for giving maximum strength to weight ratio and durability. As a result, the muzzle brake stays intact even after taking severe impact.
That is not all. The CNC machined stainless steel housing material keeps the Precision muzzle brake top-notch heat and corrosion resistant at any time. You don't even have to worry about installing this brake as it comes with top and bottom wrench flats, outfitted into the body for easy installation and detachment.
Will this muzzle brake work on a Mossberg Patriot 300 Win Mag?
Yes, the muzzle brake supports the 300 Win Mag cartridge of the Mossberg rifle. You just need to make sure it has a 5/8×24 thread pitch.
Will a .311-diameter Russian Ammo pass through this brake?
No, this muzzle brake does not work for 303 caliber, .311 diameter rounds.
How much does the muzzle brake weigh?
The weight of this Precision Armament M11 Muzzle brake is about 5.6 ounces which is a bit on the heavier side for the Mosin Nagant gun.
2. DELTAC Slingshot Mosin Nagant Muzzle Brake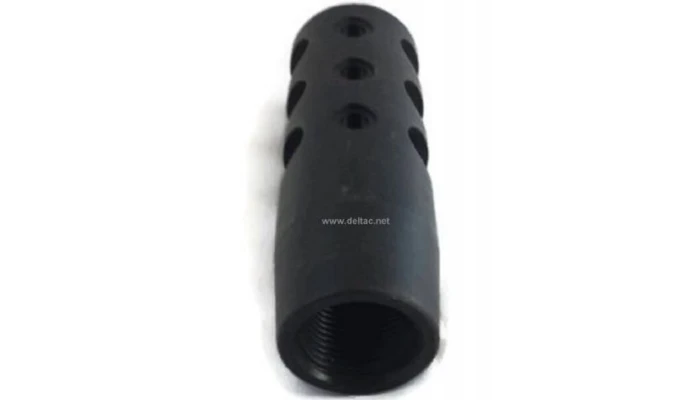 Another muzzle brake that can take up the force of a Russian 7.62x54mm caliber and that is the Deltac Slingshot Muzzle Brake. This muzzle brake is specifically made for the Mosin Nagant rifle as it is well known for its M15x1 RH thread pitch.
Just like any other muzzle brake this product also promises to reduce both Nagant 7.62mm caliber's recoil and muzzle rise. But with this brake, you get to go beyond this. The round adjustable threading die with its M15x1RH thread allows you to directly attach to the barrel of your firearm.
This is important because barrels are not always concentric so it is better to install by threading the barrel which is possible with this muzzle brake.
This muzzle brake also comes with a thread alignment tool with a 3" long stem for re-threading the 7.62 caliber muzzles so that it can accept M15x1 RH muzzle devices.
Besides all these fancy features of this muzzle brake, you are getting a strong grade 4130 steel as its construction material and a black oxide finish. What this will do is keep the muzzle device free from any kind of external harm.
Do you need gunsmithing to install this muzzle brake to your firearm?
Yes, because of the re-threading issue with this muzzle brake, I would suggest going to an expert gunsmith to ensure concentricity and clearance at the exit hole.
What is the diameter of the exit hole?
This Deltac Slingshot muzzle brake has an exit hole of approximately 0.340 inches.
What is the weight range of this muzzle device?
The muzzle brake weighs about 3 ounces which will not add too much weight to your Mosin Nagant gun.
3. Texas Precision Products 91/30 Mosin Nagant Muzzle Brake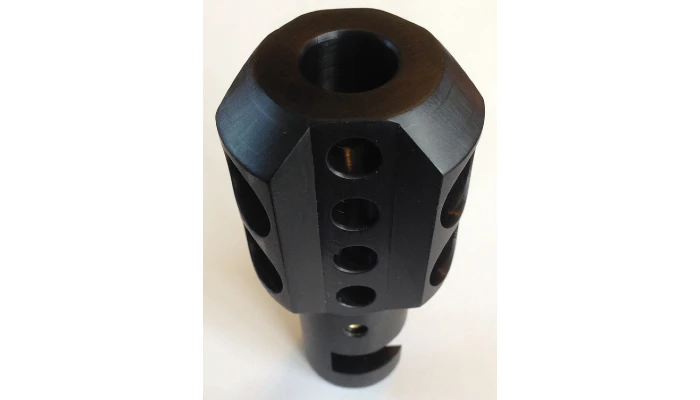 Last but not least I have the Texas Precision Products 91/30 Mosin Nagant Muzzle brake. This product is perfect for use with this firearm and currently is one of the most popular Mosin Nagant muzzle brakes in the market.
This muzzle brake works absolutely amazing with the 91/30 Mosin Nagant gun as it reduces recoil by 45 percent and controls the muzzle rise at the same time. What is even better is that you don't even need gunsmithing with this product.
The installation process is very easy with this muzzle device. You just need to twist on the screws and it will hold up the muzzle brake for its next journey. Its sturdy and strategically designed gas ports ensure the direction of the gas flow towards the top and both sides of the brake.
This muzzle brake does not kick dust because of this port design. Moreover, you are getting a 6061 T-6 aircraft grade aluminum as the housing material of this brake which will make using this device with your Mosin Nagant 7.62 Russian caliber even easier.
The only thing I don't like about this product is the noise problem. That's why you need to bring proper sound protection while using this muzzle brake.
How much does the Texas Precision Muzzle brake weigh?
This muzzle brake has a weight of 3.5 ounces.
Does this brake work for other versions of the Mosin Nagant firearm?
No, this version of the Texas Precision Muzzle brake is specifically suitable for the 91/30 Mosin Nagant rifle.
Does this device require reinstallation after a while?
You do not need to reinstall the whole muzzle brake. However, you will need to retighten the screws after every 5 rounds of firing.
Conclusion
Being the War Hero it is, Mosin Nagant does not leave any scope for argument when it comes to choosing the best muzzle brake for it. This rifle demands the highest quality product that will match with its glorious status.
Keeping that in mind, I have listed the best muzzle brakes available in the market for the 7.62x54mmR cartridge. Plus, you have all the information you need about Mosin muzzle brakes in the buying guide section. Now the ball is in your court. Choose the one that can subdue your War Hero.