9mm, who hasn't heard of it? An iconic caliber. A caliber that was the first shooting experience for a ton of folks. There are tons of guns available on the market that use the 9mm caliber. From handguns to custom pistol calibers, it's a very popular portable shooting companion.
Like most things in existence, you can improve the shooting experience with a 9mm as well. The most common upgrade to a 9mm firing gun is to add a muzzle brake in front of the barrel. The duty of the brake is to lower the recoil and muzzle rise, making the gun more stable and easier to shoot.
But how do you find the best 9mm muzzle brake? It's not an easy task, is it? No, it's not. That's why you are here. And I'm here to provide. Without further ado, let's jump straight into it.
How To Choose The Best 9mm Muzzle Brake?
Choosing the right item will determine your future interaction with the gun and how much you enjoy or dislike shooting with it. My idea was to help you choose the right scope for your caliber, here are a couple of more pointers that you can consider before making a decision.
Weight
Weight plays a big part in decision making. I don't want my gun to suddenly become front heavy or feel unnatural. If the brake is lightweight and balanced, then it's an easy purchase.
Recoil Mitigation
The main reason to purchase a muzzle brake is to reduce the recoil of the gun. Need to make sure it does that job well, if it doesn't even do the job it's supposed to, then there is no point in purchasing it.
Accessories
Some use a crush washer while others use their own tools. If you are not familiar with either, then you should take the help of a gunsmith while installing either of these brakes on your gun.
Budget
Having a steady and fixed budget in mind is always helpful. It reduces the drama catering around choices. If you have less items to choose from, the decision making becomes easier by default.
1. Lantac Dragon 1/2×28 9mm Muzzle Brake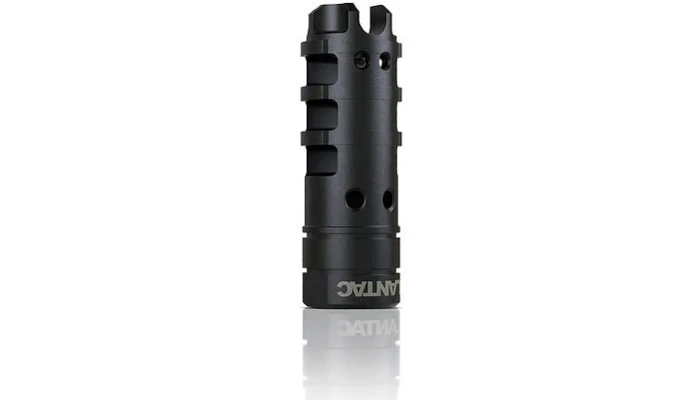 The name of this muzzle brake is awesome, to say the least. In all myths, dragons are majestic creatures. Is the Lantac Dragon a majestic device as well? You would be correct if you answered yes.
To minimize the kickback Lantac used a short energy pulse system with holes. It lowers the kickback of the caliber by a lot. Reducing recoil in the process. It lowers the muzzle rise as well.
All of these benefits with very good durability. They are known to stand their ground in harsh shooting conditions.
Lantac used hardened mil-spec steel. It's corrosion resistant. It's quite lightweight as well. The weight of the brake is only 2.8 oz. In the same weight class as most other 9mm muzzle brakes.
The finish on this brake was done with black nitride. It's an excellent looking finish and feels premium to the touch as well. While it's not considered as flash hider, it reduces the flash ever so slightly.
Is Lantac a reliable brand?
Yes, they are quite reliable. You can find more about them on their site and different gun forums. They are an American company working to make the shooting experience of Americans better. They are succeeding in that as well.
Is it easy to install?
Yes, it's quite easy to install this muzzle brake on your rifle. You don't need to be an expert to install this.
Does it mitigate muzzle climb?
Yes, this brake is great at doing this task. The muzzle rise is an annoying thing that all shooters hate. Dragon mitigates that climb quite nicely.
2. Silencerco – 3 Lug 9mm Muzzle Device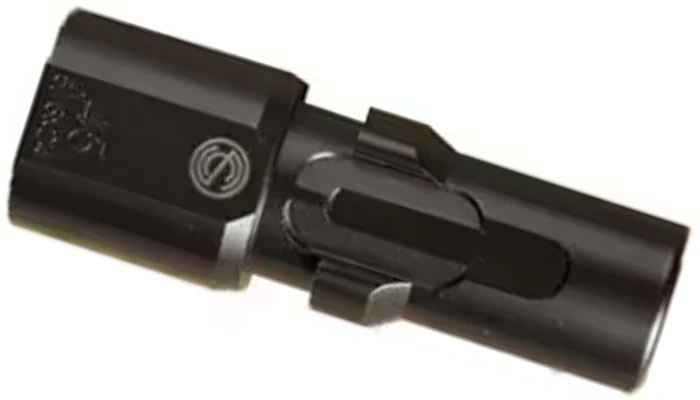 Modular devices are getting more popular recently and they deserve that popularity as well. They provide better upgradability without forcing you to sell the current purchase and buy a new one.
This muzzle device from SilencerCo is one of those modular muzzle devices. This is a 3-lug designed muzzle device. You can add more muzzle accessories that support a 3-lug design. The device is created with hardened steel.
The material is amazing. What's even better is the finish on this. That looks mesmerizing, to say the least. But looks aren't the main selling point of this. The main selling point is also the disadvantage of this American made muzzle brake.
It doesn't support any other devices besides the 3-lug ones. That means you are kind of stuck in the 3-lug eco-system. Besides this, there aren't any notable disadvantages present on this muzzle device.
Is it easy to mount?
Yes, it's one of the easiest to install muzzle devices on the market. Even a newbie with 0 experience can install this.
Will my muzzle rise get lower with this brake?
Absolutely. The main job of this brake is to mitigate the muzzle rise and reduce the recoil.
Does this hide the flash?
Hide? No. Reduce? Yes. It's not the job of this device to eliminate the flash completely.
3. Vg6 Precision – Ar15 Gamma 9mm Muzzle Brake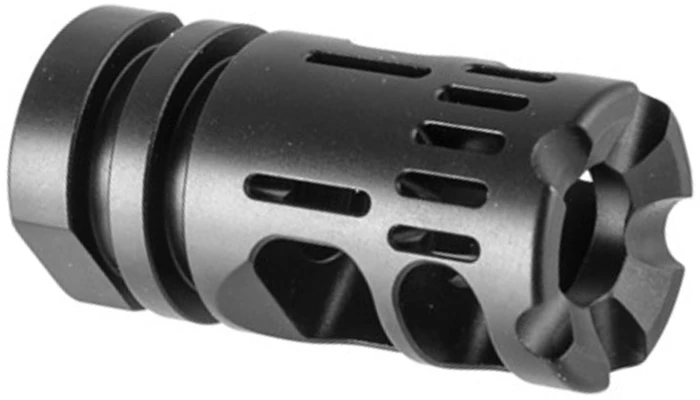 VG6 Precision is one of the most-known brands in the accessory industry. Recently they joined the pistol caliber muzzle accessory making game. And this is what they came up with. The Gamma is a 9mm muzzle brake made for 9mm pistol calibers.
While it's not a 9mm compensator, it reduces the recoil of the caliber by a lot. The Gamma is made out of heat treated stainless steel.
It's a lightweight and durable material. You will find lots of other muzzle brakes made out of this material in the market right now.
The weight of Gamma is 2.1oz only. That's extremely light if you compare it with most other muzzle brakes in the market. The half gloss satin finish on this muzzle brake looks amazing, to say the least.
If you are considering this as a 9mm flash hider, don't even think about it. It's not a flash hider by any means. Not even a bit of it. But it's a great device to mitigate muzzle rise and compensate for recoil.
Does it reduce the sound a bit?
No, it doesn't at all. The sound will be the same if not a little bit higher pitched than before.
Is VG6 Precision a trusty brand?
Yes, they have a good reputation for serving their customers well. They are an American brand working to improve the shooting experience for the nation.
Does it come with a crush washer?
Yeah, you will find the needed crush washer packed with the muzzle brake.
4. Wilson Combat Q-Comp 1-2×28 Hybrid 9mm Muzzle Brake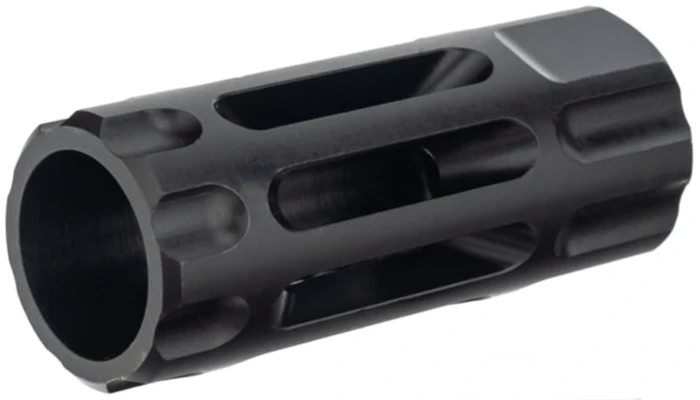 It's not often you find a muzzle brake that does more than mitigate the muzzle rise and reduce recoil. Muzzle devices are known to do just that.
But some of them are not that great at the job either. On the other hand, you have hybrid muzzle brakes like this one that do more than one job flawlessly.
Wilson Combat claims this muzzle brake reduces the noise and hides the flash coming out of the barrel. Surprisingly, their claims are true! Once you pair this with a 9mm barrel, it will reduce the firing noise by a lot. While doing that, it hides the flash coming out of the barrel completely as well!
If you are a big game hunter or a tactical shooter, any kind of precision shooting will benefit from this muzzle brake. It mitigates the recoil a lot and it does more jobs as I mentioned earlier.
Wilson didn't skimp out on the build quality either. With a black melonite finish on the hardened steel, Wilson showed good creativity in designing and making this muzzle brake. Yes, Wilson Combat is an American brand. Their R&D is also in the USA and their manufacturing factory.
Is this a good 9mm recoil compensator?
The job of this brake is to not compensate for the recoil. Rather, reduce the recoil and give you a more precise shooting experience. So, kind of?
Is it too heavy?
No, it's not that heavy. The weight of this brake is 2.6 oz. Unlike what others are exaggerating, this is not that heavy nor it will suddenly make your gun front heavy either.
Will it last me a couple of years at least?
Should last you more than that. It's sturdy. The durability is quite good and tested in labs before mass manufacturing.
5. Angstadt Arms 9mm 3-Lug Muzzle Brake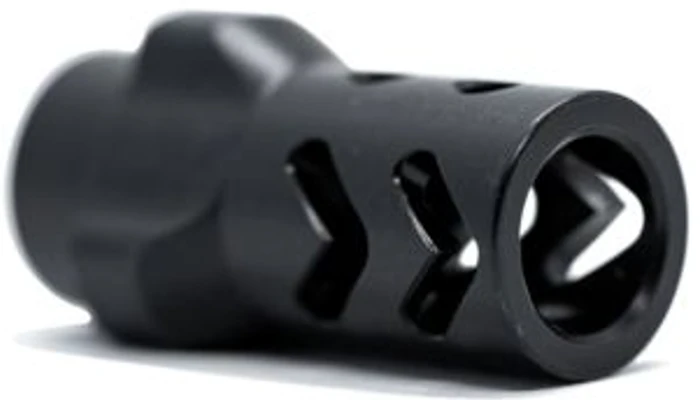 This is the second 3-lug muzzle brake on the list. Earlier I explained the disadvantages of a 3-lug setup. But the benefits of a 3-lug muzzle brake outweigh the only disadvantage.
While my teeth break trying to pronounce Angstadt Arms in real life, the brand actually is a very solid one.
Angstadt is an American brand dedicated to making shooting more fun. The material for this muzzle brake is hardened steel. It's lightweight and extremely durable. It has a black nitride finish to it as well.
The finish is crisp and there are no visible errors present in the brake at all. The total length of this brake is 1.42" and it weighs 0.8 oz. One of the lightest muzzle brakes in the market.
The 3-lug design allows you to use other 3-lug muzzle accessories. You don't need to be an expert to install this on your 9mm gun. It's quite easy and straightforward. Ease of access is always welcomed here.
Does it come with a crush washer?
No, it doesn't come with a crush washer. Don't even use them. Use the supplied shim kit to correctly use the device.
Can I install this on a suppressor?
You can install this without sacrificing the flash hiding capability or noise hiding capability of your suppressor.
Does it stabilize the gun better?
Yeah, it does that job quite well. By reducing the recoil and allowing you to swap targets faster, the muzzle brake stabilizes the gun a lot.
Conclusion
That didn't take that long, did it? I tried my best to explain to you the best 9mm muzzle brakes on the market right now and how to choose them. Hopefully, I succeeded in my job and now you know which one to go for.
If you know your requirements, the choices become easier as well. Whichever you choose from the list, you won't be wrong. After all, they are the best market has to offer.
Like always, do come back later for more guides and reviews. I will be here with open arms to welcome you. Till then, take care and have fun. I will see you all later. Ciao.