Since the day it was launched, the Ruger PC Charger has been making headlines for one of the most desirable firearms among the shooters. The most fascinating thing about this pistol is its vague status. The housing design of this weapon makes you wonder what it actually is. Is it a rifle or is it a pistol, who can tell?
But do you really need to know? As long as it gets the job done I honestly don't care what I am using. Anyway, what you really need to know about this firearm is whether it is capable of taking a brace or not. Pistol braces have been gaining a lot more momentum after ATF released their so-called "open letter".
Well, I am not here to spill tea on the legal battle. My concern only lies in finding the best arm brace for the Ruger PC Charger. I am just going to see what I will need to mount a good brace on the Ruger Charger pistol. So, now that I have stated the main purpose of this article, let's look at what are the things you need to check before going for a Ruger brace.
Before we dive into the sweet world of braces, you need to know the answers of some important questions which I have listed below. Make sure you go through them before jumping on the reviews.
Buying Guide For Ruger PC Charger Brace
My main intention of this buying guide is to provide you with as much information on braces as possible. This is why I have listed the following questions to answer some of your queries about pistol braces. Let's take a look at what the questions are.
How will you mount the brace on your firearm?
When choosing a brace for your weapon the first point that should come to your mind is the mounting system of your firearm.
I mean if you don't know what type of mount you need then how will you attach the product to your gun? It's a good thing that the Ruger Charger PC has a MIL-STD M1913 Picatinny mount on the backside. This makes it easier to list out braces that mount on this base.
Why do you need the brace?
Coming to our next question, you need to understand why braces are important for firearms. Of course, there are personal reasons for using a brace with your weapon, but sometimes it becomes an inevitable part of the gun.
Especially for handicapped shooters, braces are a lifesaver. This also works for balancing the gun on your shoulder.
What kind of brace do you need?
Now that you understand your need for pistol braces, we will move on to the next topic about what type of brace you will need for your pistol.
Although it will depend on personal preference, I will recommend some specific braces for your Ruger Charger. Since the PC Charger has a rifle design, getting a good folding brace or arm brace will work best for this gun.
Is the brace durable enough to hold for a long time?
Another important point to remember is the durability and reliability of the brace you are choosing. Since the Ruger PC gun is capable of handling Glock magazine it will be better to get a strong durable brace for it.
I would say look at the stability of that brace since that is the actual purpose of getting it.
Is it legal to use a stabilizing brace?
Finally, I will also touch on the subject of legality in this case. Although it is detachable, sometimes having a brace attached to a pistol can be considered as illegal. Therefore, you need to be 100 percent sure that you are not exceeding the legalized size meter of the firearm with the brace, mainly focusing on the barrel size.
Reviews Of Top 5 Best Brace For Ruger Pc Charger
I am supposing you have a clearer idea about braces than before from the buying guide section. With that, I will be moving to the next segment where I have reviewed the top 5 Braces that you attach to your Ruger PC like butter. So then, let's begin!
1. SB Tactical FS1913 Pistol Stabilizing Brace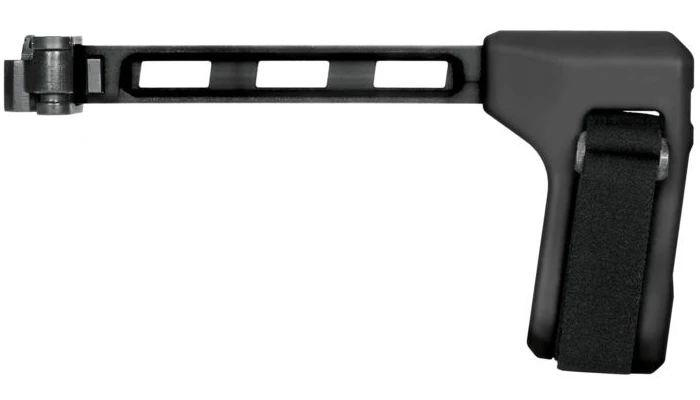 The first product I want to talk about for your Ruger Charger is the SB Tactical FS1913 pistol stabilizing arm brace. You find most of the braces from the SB Tactical since they have one of the largest collections of braces in the market. And I want to talk about why they are so popular among the shooters.
Well the first reason is that SB Tactical is the first one to bring the concept of braces to the market. And with that, they have graced us with their innovative collections of braces that can help you with all those ATF issues.
The second reason is its housing construction. I will get into the housing materials in a bit but let's first talk about what are the features you will get from this version of SB Tactical brace.
This is a side folding arm brace which means you can fold this brace to match with the position you like. The brace has a left-side folding meaning you can just clip the brace on the left side of your rifle or carbine. It will make the whole weapon more compact and easier to store or maybe fit in your bag for carrying around.
Its low profile makes it easy for the shooters to use it keeping on your hand or shoulder curve. The strut design is compatible with any platform that attaches to the M1913 interface. The Ruger PC Charger having a Picatinny base on its rear side makes it perfect to add this brace with the weapon.
The brace comes completely assembled so that you can just take it out and attach it to your weapon. In addition, the pull through opening is perfect for any "on the go" situation. It has a solid lock-up system when you extend the brace. That way you won't have to worry about it slipping and losing the grip.
To make it even sturdier, the advanced steel hinge design ensures tight locks on both folded and extended positions. And, the pull through design offers quick deployment in critical situations.
There is an adjustable nylon strap as well for custom fit to any size. Although the brace has a polymer housing you get another version (FS1913A) with an aluminum housing for an even more robust build.
Can this brace withstand recoiling from the Ruger Charger pistol?
Yes, the new updated version of the FS1913 folding arm brace is strong enough to withstand the recoiling from the Ruger PC Charger weapon.
Which housing material will be good for Ruger pistols?
Although it will depend on your personal preference, I would recommend going with the aluminum housing since it is more robust than the polymer one.
Does this brace have a sling attachment point on it?
No, this model of SB Tactical does not come with a sling attachment point.
2. SIG SAUER Pivoting Contour Folding Brace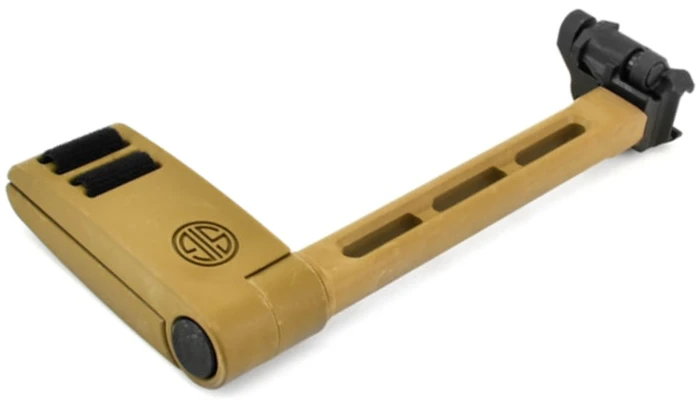 My second product recommendation for the Ruger Charger rifle is the Sig Sauer Contour Folding brace. I am sure we all know about the Sig Sauer products and how great they can be. As a regular in the shooting world, I have encountered several Sig Sauer products, especially their red dots and magnifiers and I have to say they are pretty awesome.
After claiming a strong position in the sight business Sig Sauer has now come to a more upgraded version for the firearms with their braces. But we still have to see whether the brace is as good as some of the Sauer sights. Then, without wasting more time let's dive into the features of this product.
First things first. I have to talk about the versatility of this product. The brace was initially made only for the Sig Sauer MPX and MCX guns. However, one of the great choices Sig Sauer made with this brace is the mounting system of this product. The brace actually attaches to any M1913 interface making it compatible with most of the guns.
I would actually take this brace only for this feature since I can directly mount this on my Ruger PC Charger's rear Picatinny base. This saves me from the hassle of buying extra adapters for the brace which is very common with other braces available in the market.
Another great feature of this brace is that it offers a very comfortable position for shooters as you can fold it inward so that you can very easily lug your weapon to the range in a compact form. This gives you the freedom to control your shots down the range in a more comfortable position.
With that being said, the Sauer brace keeps its lightweight housing structure without compromising its ruggedness. You will find it reliable enough to carry around for a really long period of time as we all know Sauer never plays with the quality of their products.
What is the weight of this brace?
The Sig Sauer brace is lightweight as it weighs only 11 ounces.
Does the brace come with an adapter for connecting it to a firearm?
The brace attaches to any Picatinny interface and so comes with a necessary adapter for the Picatinny base.
Will this brace fit on a Scorpion Evo gun?
No, this Sig Sauer brace will not attach to a CZ Scorpion Evo firearm as it is not compatible with the gun.
3. SB Tactical SBA3 Pistol Stabilizing Brace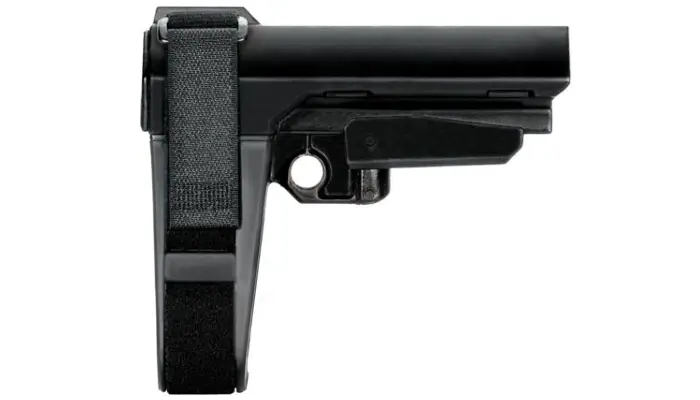 In the list of best pistol brace for Ruger Charger, my next recommendation is the SB Tactical SBA3 pistol stabilizing brace. Another SB Tactical product but with a twist. And now we will find that twist together. Let's begin then!
This Adjustable pistol brace has 5 different adjustment levels that allow you to change the position of your brace in order to fit all your needs. The third point of contact in the brace is there to enhance the usability of your Ruger firearm.
With the minimalist design, this pistol can attach to any platform that accepts a Mil-Spec carbine receiver extension like the Aero Precision Carbine Receiver Extension that has 6 different positions. This brace will attach to the Ruger 22 Charger without any external issues along with the new PC version.
There is also an internal, ambidextrous QD sling socket that will provide you with the freedom to attach a sling to your Ruger PC brace. I like the fact that it is ambidextrous and will fit any shooter, even with left-handed shooters.
The SBA3 adjustable folding brace will work great with the Ruger gun as the product is veteran-designed and comes with a customizable nylon strap and a carbine receiving extension that makes mounting on a Ruger PC easier than ever.
Does this brace come with any additional piece?
No, you only get the brace and the extension tube in the package along with the nylon strap.
Is this model legal for an AR15 pistol?
In most states, this brace model is ATF compliant. However, I would suggest you to check your local laws just to be sure, before purchasing the brace for your AR15 gun.
Can you use a pistol buffer spring with this SBA3 pistol brace?
No, the brace only attaches to a carbine receiver extension. Hence, you will need a carbine buffer spring for it.
4. SB Tactical TF1913 Pistol Stabilizing Brace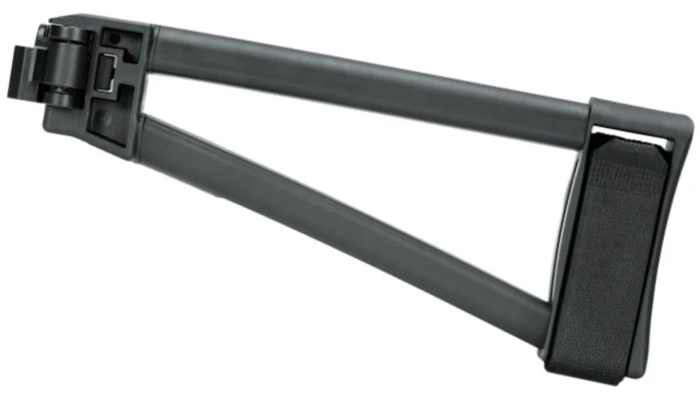 Let me apologize first before introducing my next item because I am sure you will roll your eyes when you see the next product for the Ruger brace. Yes, I know I have talked too much about the SB Tactical products. But trust me I am not doing this on purpose. These SB Tactical products are that good and versatile, you just can't ignore them.
This time I have a triangle Pistol Stabilizing brace which introduces you to the new side of braces. I will tell you how. This TF version of SB Tactical's braces has the in-built folding technology that the older fixed versions didn't have. With the triangle, the brace gives a more compact appearance and stays out of your way when you have folded it to one side.
Its low profile and 10.9 ounces weight range give you a lightweight finish without compromising on its quality. You are getting all the features you would have gotten in other heavy lifted braces. In addition, the 9.5 inches length does not cross your comfort level.
Other than these facilities, the TF1913 has all the general features you will find in their FS1913 model. The Picatinny interface for mounting the brace on your Ruger Charger, pull through opening for quick deployment, a solid lock up system for both folding and extended positions, you name it. The TF model has it all.
All these facilities are in a rigid polymer substrate that comes with a flexible arm cuff and an adjustable nylon strap- can it get any better than this?
I personally believe the triangle structure will give you a more comfortable position when you are shooting for a long time. Trust me after a hundred rounds of shooting with the Charger, you will understand where I am coming from. So, if you are looking for a good folding brace that will give you good position and comfort, you will want to get this brace.
Can you attach a sling to it?
The TF1913 model is not a stock, it does not come with a sling socket. Therefore, you can not attach a sling to it.
Is this brace compatible with the Ruger 9mm PC Charger?
Yes, the Picatinny interface will easily attach to the rear base of your Luger 9mm PC Charger gun.
Can a left-handed shooter use this brace?
You can flip the triangle brace to fold it in the opposite direction. For this reason, left-handed shooters can use this brace and fold them on the right side without any issue.
5. Gear Head Tailhook Mod 2 Telescoping Pistol Stabilizing Brace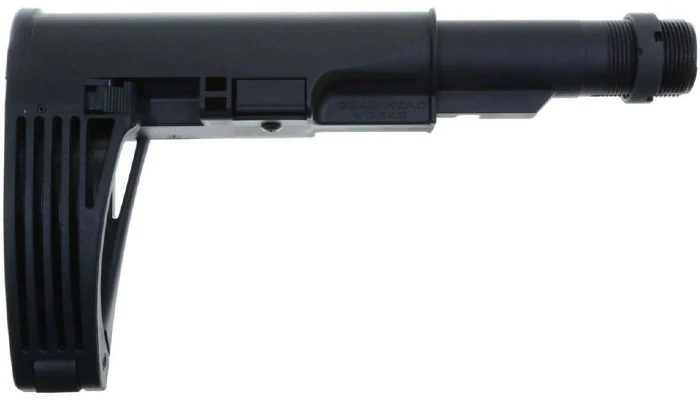 Our next product, the GearHead Tailhook Mod 2 brace is another popular product among the shooters. This product is famous for being the first telescoping tube brace on the market. GearHead is the pioneer of this innovative tube brace that is known for its comfort.
This brace has a patented proprietary telescoping latch mechanism that gives you the different options to choose one of the 5 positions and use up to a 12.75 inches LOP shotgun. This brace is versatile enough to match with a wide range of weapons including the Ruger Charger PC pistol.
It provides a perfect balance between size, weight, and comfort when the telescoping design sets in the 7 ounces range with a length of 12.75 inches. I love how you get all the good features in this brace without the tension of having too much of a heavy weighted brace for your gun.
With the patented brace functionality, this brace is compatible with any firearm that is capable of attaching to its proprietary receiver extension. It's ATF compliant so that you do not need to worry about stamping your firearm.
Besides, the brace is injection molded out of the reinforced polymer making it rigid and strong enough to handle recoiling from PC Charger guns. Personally, the telescoping feature is the deal-breaker for me. Which one is yours?
Does this model come with a castle nut?
Yes, the brace comes with a castle nut to attach the carbine receiver extension with your gun. However, it does not include a buffer spring in the package.
What size of buffer tube will work with this brace?
You can use a Mil-spec 5 position buffer tube with this model in case you do not want to use the included buffer tube with the brace.
Is this brace compatible with the Ruger 10 22 Charger firearm?
Yes, it attaches perfectly with the Ruger 10 22 Charger pistol just like the PC Charger model.
Conclusion
In the end, having a brace with your Ruger PC Charger gun is like having life support in a critical moment. As much as mounting a brace with firearms is important for any disabled shooter, it also plays a big role in any shooter's gun position. For that reason, finding the best pistol brace for your Ruger PC Charger has become more essential than you realize.
To get a better idea of braces I have added all the information in my answers to your queries. You can just look through them to understand more about this upgrade for your Ruger Charger. Then, the list of top pistol stabilizing braces is there so that you can just choose the perfect match for your PC Charger gun.