Or should I say, Soccomed to the dark side? Bad pun aside .458 Socom is a widely used ammunition designed by Teppo Jutsu LLC. From hunting to competition shooting, 458 SOCOM has seen almost every scenario possible. It's not a small caliber per say. That's why shooters tend to use a muzzle brake to mitigate the recoil coming from firing one of these rounds.
That's where I come in the queue with the dramatic music. Jokes aside, I'm glad to see you here. You and I both want the best shooting experience. Thus, looking for good upgrades for our shooting buddies. That just happened to be the 458 Socom. Yes, you will definitely learn about the best 458 Socom muzzle brake today. Without further ado, let's jump straight into it.
How To Choose The Best 458 Socom Muzzle Brake?
Here are a couple of pointers to help you choose the right muzzle brake.
Build Quality
The material used on the brake and how that is used needs to be good. If it's made poorly, it will serve you poorly. We don't want that to happen over here.
Weight
Generally, it's better to avoid heavy accessories while upgrading a rifle. That's why you shouldn't take an excessively large and heavy muzzle brake. Otherwise, it will destroy the weight balance of your gun.
Warranty
This is quite important. Not all companies provide the same amount of warranty. Some don't even provide any at all. So, make sure to grab something that has a decent amount of warranty or at least a decent reputation to serve customers.
Budget
Another important part that we tend to overlook is a lot. If you know how much you can spend, you already know just how little your options are. This makes it much easier to choose one.
1. V Seven 458 Socom Muzzle Brake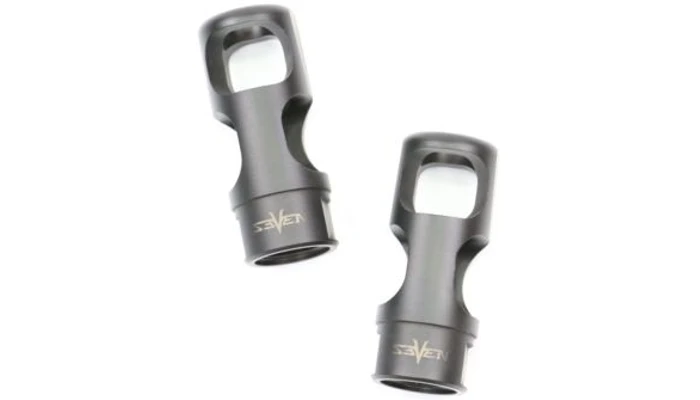 No, they are not part of the Compound V that would make you a super. Rather, V Seven is an accessory manufacturer that merges beauty with quality. This beautiful little muzzle break is one of a kind, to say the least.
The finish on this looks premium. And when you hold it in person, you will know just how well it's built and how gorgeous it looks. Looks aren't everything.
This muzzle brake is made from 303 stainless steel. A very durable and known material to be used in rifle making and accessory making.
Designed and manufactured in the United States, this muzzle brake became quite popular since it was released. The weight of this brake is only 2.1oz. That's extremely light for a muzzle brake. With a total length of 2.1 inches, it's quite compact as well.
Even if you are not a Socom user, you can still buy this gorgeous little thing. V Seven makes this for other calibers as well. But do keep in mind the other variants have different weights due to compensate for their caliber size.
Is it available in different colors?
After seeing the picture, it's obvious that you might want the silver variant. But sadly, the Socom has a black color finish only.
Is it hard to install this brake?
Not that hard. You sure can take the help of a gunsmith. If you haven't installed one before, you should get help from one. If you have experience, then you might find it quite easy.
What kind of finish does this have?
V Seven used a Nitride black finish on this variant of the muzzle brake. The other uses a stainless steel finish.
2. Next Level Armament NLX-11C 458 Socom Brake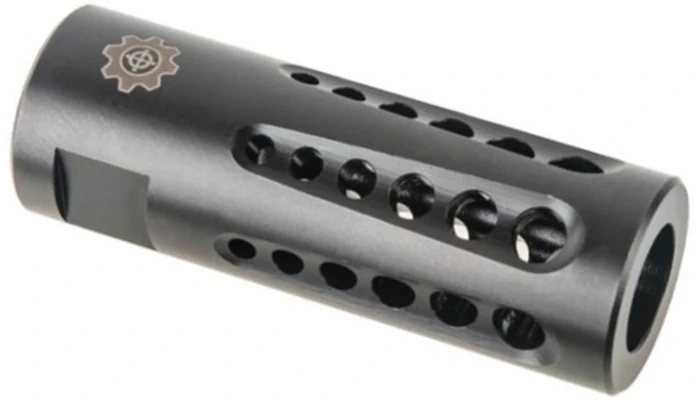 Next Level Armament, better known as Next Level Arms is an American based manufacturer working with lots of different muzzle accessories. One of their muzzle brakes is made for 458 Socom.
The NLZ-11C is a small sized muzzle brake. It's not a 458 Socom suppressor nor it's a compensator. The job of this brake is to reduce recoil and hide a little bit of flash coming out of the gun. Keep in mind, that it's not an effective solution to hiding flash. It's not made as one.
Next Level Arms went with 4140 stainless steel. A corrosion free material that is used in most modern muzzle devices. As the steel is heat treated, it's extremely durable and can withstand the heat generated from SOCOM.
The weight of this unit is 4 ounces. That's not that heavy. Considering how well this is built and it's 2.5" long, the weight is tolerable.
The good thing is, the weight distribution is nice. So, you won't feel like your gun suddenly became front heavy or anything like unbalanced weight.
Does it lower the muzzle rise?
Yes, it mitigates the muzzle rise and lowers the recoil of the gun you are going to install.
Is installing this too hard?
I would say it's intermediate level. If you haven't installed one before, you might find the subject a bit tricky. But if you have experienced this before, then it shouldn't be hard for you.
Is it suitable for hunting?
Yes, it is. Doesn't matter if you are a hog hunter or deer, you all will love this muzzle brake regardless.
3. Faxon Firearms 458 Socom Gunner Muzzle Brake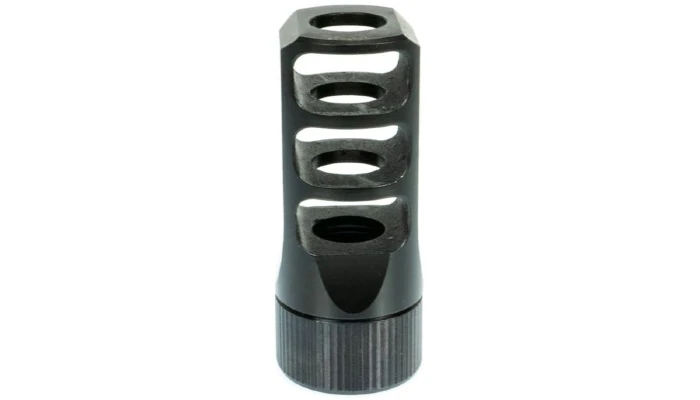 Hailing from Ohio, Faxon Firearms is not a new name to most of you. They are known for their handgun parts, rifle barrel parts and firearms as well.
They have a good reputation in the community for being reliable and doing good customer service. Holding that true, they didn't take long to make a socom muzzle brake.
This muzzle brake from Faxon is sadly not a 458 Socom compensator. The brake is however built like a tank. The material of choice here is stainless steel.
It's durable and lightweight at the same time. It is also corrosion resistant, heat resistant, and waterproof. Making it the ideal choice for making a muzzle brake.
The weight of the brake is 3.2 ounces with the Muzzlok nut. The nut adds a bit of weight that you cannot get rid of. But even with added a bit of extra accessory to the mix, the weight is still quite tame. Actually tamer than a lot of other offerings in the market.
The weight balance is fantastic as well. A well-balanced brake will always be the better option. The finish on this brake also deserves some praise. Salt bath nitride isn't something you see that often. But they used this and they made the best out of it. Props to Faxon for that.
Is Faxon a Chinese brand?
No, don't confuse this brand for "Foxconn"; they are not the same. This brand is made in the USA through and through.
Does it support any other calibers?
It does support 450 Bushmaster as well.
Is it a beginner friendly muzzle brake?
The installation process of this is very easy due to the MuzzLok feature from Faxon. So, yes it's a beginner friendly muzzle brake.
Conclusion
Part of the journey is the end. And this is where our journey ends. I hope I was able to help you choose the best 458 Socom muzzle brake. Choosing an upgrade for a rifle is always a hard decision.
I tried my best to make the decision easier for you and provide you with good options. Hopefully, you found the right muzzle brake for your rifle. With that said, this is the end for now. Till we meet again. Take care till then and be safe. Ciao.