Redefining the concept of modern handguns, the Sig Sauer P320 has hit the market with a bang and consumed shooters like no other. And why wouldn't it? With the upgraded modularity and unmatched reliability, every shooter wants to own at least one gun from this series.
Since you guys have so much fascination about this Sig Sauer pistol, I thought it would be a perfect time to venture into the possibilities of upgrading this weapon with some awesome aftermarket accessories.
With that intention, I have created a list of P320 upgrades that you will find necessary for your Sig Sauer pistol. All these products will enhance the overall quality of your handgun and provide you with a next level shooting experience. Then what are we waiting for? Let's dive straight into the product reviews.
1. Sig P320 Trigger Upgrade
Adding a trigger upgrade for your Sig P320 has become kind of a necessity for shooters who like to be in control of their shooting technique. The Sig Sauer factory trigger is quite good itself and you can easily use it on your occasional journey. But when it comes to any critical mission and competition, having stability becomes more important.
This is when you know you need something extra that will give you the feeling of comfort and total control over your firearm. And this is where this product comes in. Let's see what it has to offer.
i) Apex Tactical Sig P320 9mm Advanced Flat Trigger
For a trigger upgrade, this Apex tactical flat trigger will be a perfect option for your Sig P320 pistol as it reduces the trigger pull weight up to 35 percent along with reducing the reach length for a better and smoother shooting experience.
Although the trigger reach length is less than the Action Enhancement Trigger, it is still longer than the factory curved trigger. In addition to that, the flat trigger surface allows you to place your trigger finger lower on the trigger face for increased leverage. Combining all these features this Apex Trigger makes quite a good upgrade for your Sig Sauer gun.
2. SIG P320 Grip Module
The interesting point of Sig Sauer P320 gun is that the firearm frame is removable from the internal chassis system because the actual firearm portion is separated from the P320 frame. This means you can change the grip module of the gun, increase its length and use your imagination to create a gun of your own choice.
Let me give you some good examples of grip modules that you can consider for replacing your Sig P320 frame.
i) Sig Sauer P320 AXG Carry Medium Grip Module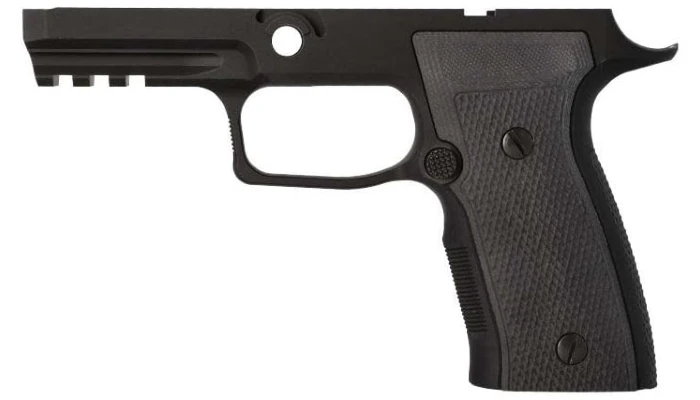 When you are thinking about attaching a new grip module to your firing control unit, the first product that comes into the mind of any shooter is the AXG Carry Grip module. This product comes with an aluminum body which remains lightweight but strong during harsh environments.
The metal grip module gives the firearm a unique blend of style and shootability of a classic metal frame pistol. Its deep undercuts and extended beavertail work towards providing you with an ergonomic and comfortable fit. This grip module will be perfect for your Sig P320 handgun.
ii) Sig Sauer P320 X-Series Grip Module Assembly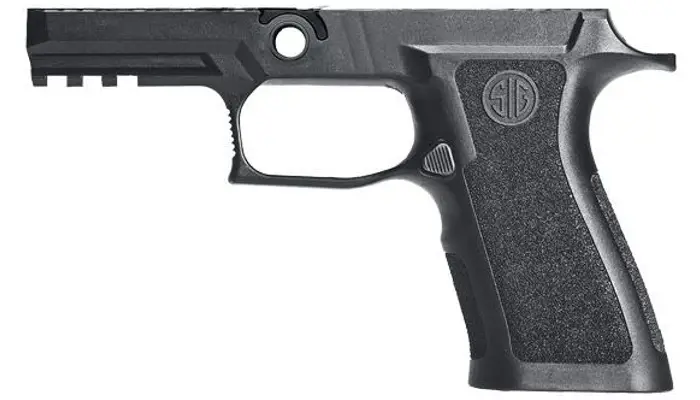 Another great option for the P320 handgun is the X-series Grip Module Assembly. This has almost all the features you will find in the AXG grip module but in a cheaper version. What this module does is it converts the P320 gun into its compact size chambered in 9mm caliber.
You get a polymer fabric housing which is known for its comfort. So you can rest assured you will get the hold of your dream with the comfort it is providing. This product is a great replacement when you are on a budget but still want to install a good quality grip module on your Sig firearm.
For an alternative option, the grip module by Mirzon Enhanced will work just as fine as the other one. The comfort it offers will allow you to practice with your gun as long as you want.
3. SIG P320 Barrel Upgrade
Now coming to the barrel upgrade, adding it to your P320 pistol will help you with installing a compensator on it without any hassle. Since the 9mm caliber on this handgun will not give too much of the recoiling issue, you can avoid it. But I would suggest adding the barrel to keep the option open for the future.
i) Faxon Firearms P320 Compact Flame Threaded 9mm Barrel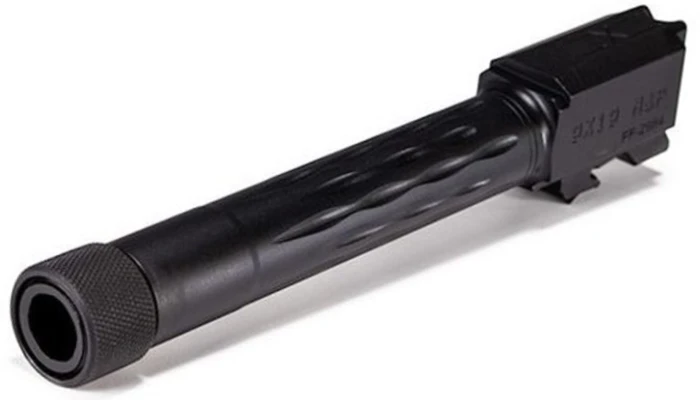 This Faxon Firearms Sig Sauer Flame Fluted 9mm barrel is actually an interesting product you will come across. This version of the threaded barrel comes with a unique color sequence which makes your pistol look like it came straight out of a rock band.
Nonetheless, this 9mm barrel is quite the character itself as you get a stainless steel housing with a Nitride finish which protects the surface from any corrosion and abrasion, increasing its shelf life. It works with the P320 compact model and has a 1/2×28 threaded pitch.
4. SIG P320 Compensator Upgrades
Since I have already talked about adding a threaded barrel to your handgun, it is only fair that I recommend a good quality compensator as well. But before I do that I want to add another product to the upgrading list.
I am talking about the carry comp you can add to your firearm before installing a compensator. Although you have a threaded barrel putting this on your P320 will increase the overall performance of the compensator.
i) Griffin Armament Micro Carry Comp 1/2×28 Compensator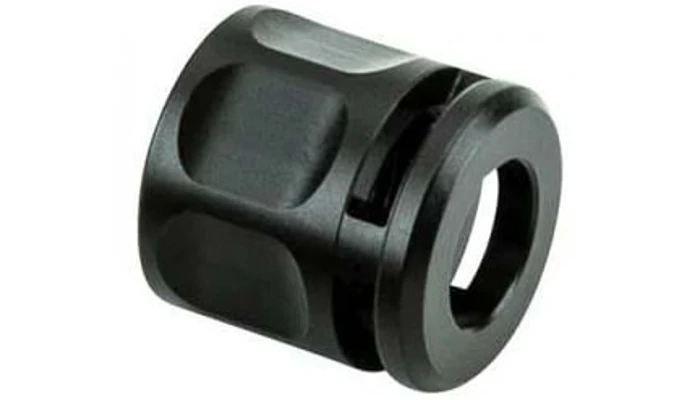 This Griffin Armament Micro Carry Compensator is actually the most minimalist compensator you will find in the market. This means the muzzle device hardly interferes with your shooting and silently keeps doing its work.
The compensator has a 17-4 PH stainless steel housing construction which adds a few tenths of an inch to your pistol but stays as strong as any other compensator.
This product actually puts an extra layer of protection by reducing the recoil while redirecting the muzzle gas with a closely dimensioned baffle face. In addition, it leaves a very small footprint which is perfect for concealed carry with a holster.
ii) Springer Precision Sig P320 9mm Open Compensator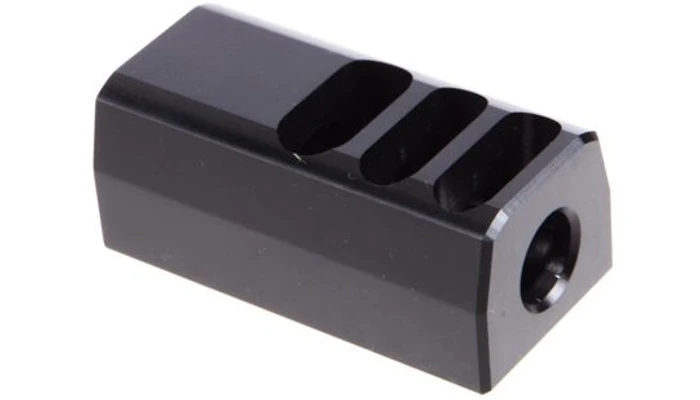 As for another compensator recommendation, this Springer Precision Compensator makes a great candidate. This model has two options where you can choose either of them to attach with the factory threaded M13.5×1 LH barrels of Sig P320 or the upgraded 1/2×28 threaded barrels.
The aluminum housing and anodized finish keeps the compensator lightweight and works towards reducing muzzle flip and recoil. This version is specially designed for the P320 compact with a factory threaded barrel. If you want to use it with the Faxon 1/2×28 threaded barrel then you have to get the Springer Precision P320 Shorty Compensator.
4. SIG P320 Optic Upgrade
Just like any other firearm, handguns also need good quality sights as the existing factory sights do not always satisfy the needs of the shooters. But since the P320 is a handgun I would always recommend a red dot sight. And as we are dealing with the Sig Sauer itself, how can I miss going for any other sight than the homeboy, Sig Sauer Romeo red dot sight?
Here I have added the Romeo 1 Pro red dot sight for your Sig P320 handgun since it is the most compatible sight you will find for your P320.
i) Sig Sauer SOR1P100 Romeo1Pro Red Dot Sight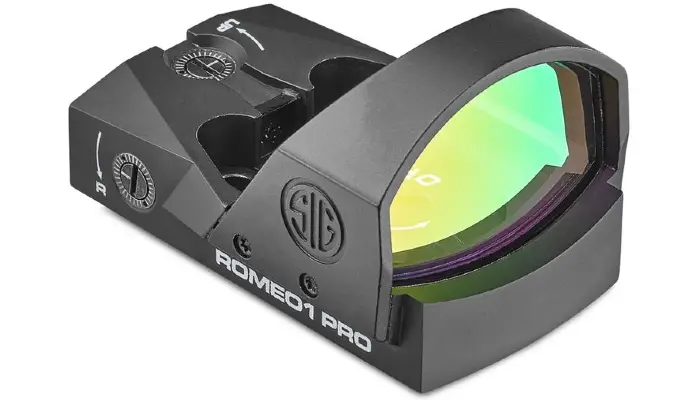 Since we are dealing with a Sig Sauer gun here, I want to recommend one of their famous Romeo red dot sights for it. The Romeo 1 Pro red dot holds up to its name with its molded glass aspheric lens with high quality coatings which gives high transmittance and zero distortion.
Its TruHold Lockless system keeps the zero intact even after multiple shots through the twin adjustment springs. MOA dot reticle and 12 brightness settings including 2 night vision compatible options make the sight perfect for using during low light situations.
Plus, you are getting a solid 20,000 hours of continuous runtime so that you can bring it with you for long missions. The MOTAC feature saves battery energy as it keeps up motion to power up as quickly as possible, keeping you always ready to face any critical situation.
5. SIG P320 With Lights
We can't just end by talking about sights, right? When I mention the optical devices for your Sig Sauer P320 pistol, another important optical device is a tactical light. I prefer this for any nighttime adventure and most importantly for home defense.
Having a high capacity flashlight or laser light combo will help you deal with any sudden attack and save you from the darkest hour of nights.
i) SureFire X300U-A Ultra 1000 Lumens LED Weapon Light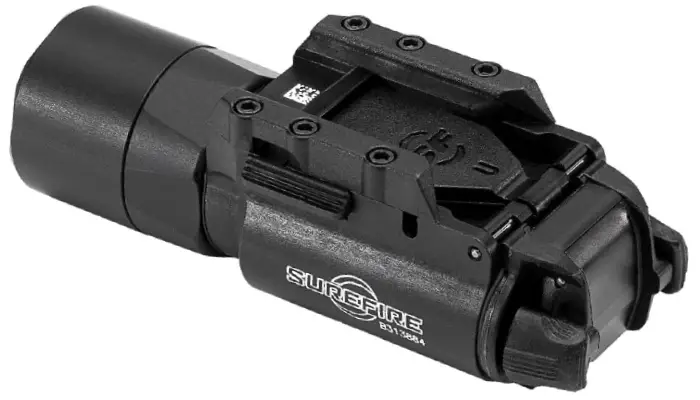 SureFire is a sure thing when you are looking for something solid to put on your pistol. This tactical light comes with a bright 1000 lumens of white LED which runs for 1.5 hours- enough to overwhelm and blindside your enemy.
The TIR lens puts out a tight concentrated beam with a strong surrounding light in order to assist peripheral vision. In addition, the ambidextrous switching makes it easier with one-handed operation for both momentary and constant-on.
You also get optional DG grip switches to use with handguns like the P320 and pressure tap switches for long guns. The 123A batteries save you from 10 years worth of stocking so that you never have to worry about running out of battery again.
ii) Streamlight 69400 TLR-7 Sub 500-Lumen Pistol Light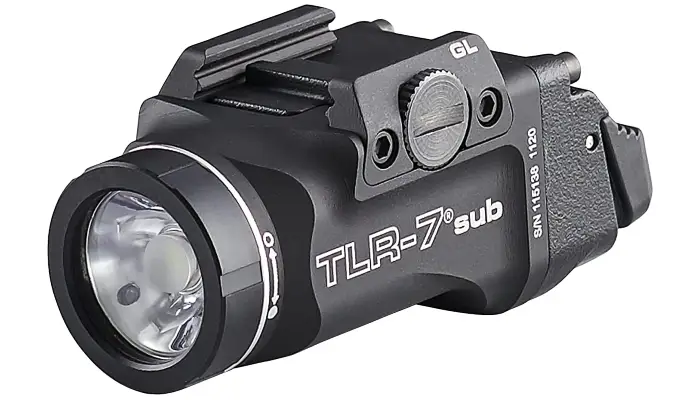 Just to give another option for the Sig P320 weapon lights, the Streamlight TLR-7 sub is another great attachment for your firearm. This has a slightly lower power output of 500 lumens but works perfectly for home defense situations.
Along with the 500 lumen white LED, the flashlight puts out a 5000 candela peak beam which reaches up to 141 meters. Similar to the SureFire one, you also get an ambidextrous setting where the one-hand integrated interface keeps your hand away from the muzzle brake while replacing the batteries.
Besides, the 6000 series aircraft grade aluminum construction gives the Streamlight product a strong base for durability so that you can use it anywhere in any situation you want without worrying about destroying it.
6. SIG P320 Slide Upgrade
For me upgrading the slide of the handgun's frame is a necessary part. It not only gets the gun optic ready but also helps to reduce weight and subsequently reciprocates mass to reduce recoil.
So you are getting something to make your P320 pistol look cooler than before and get your job done at the same time.
i) Killer Innovations Velocity Sig P320 Compact Mod1 Stripped Slide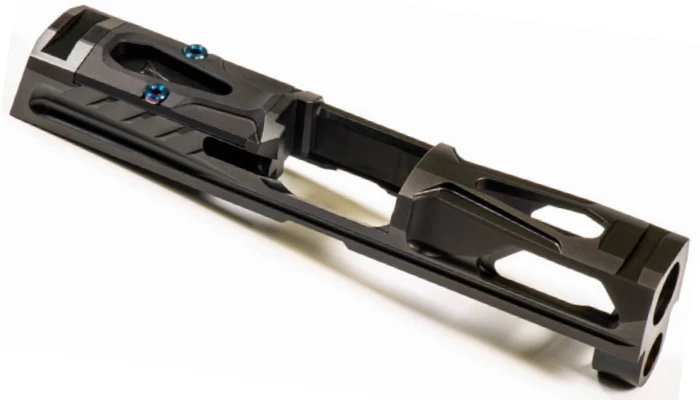 Talking about the slide upgrade, it is an essential change that will allow you to bring your Sig Sauer gun into a new light. This Killer Innovations Velocity Slide "Enhance Grip Feature" offers you a position wall that you can use while racking your slide instead of relying on the traditional factory serration cuts.
The E.G.F cuts are situated on the front and rear sides of the slide in order to give you the freedom to position your rack whichever way you want. This will lower the overall weight of the Sig P320 gun and give you enough space for placing optical devices.
7. SIG P320 Magazine Upgrades
The next stop of our upgrade train lands on the magazine junction. I have quite a few options for you to check out. The two things that are common for every firearm are the extended magazine and magazine well.
Now there are quite a few options available in the market but I have tried to include the most popular ones. There are also some alternative options that you can check out if you want to keep a variety.
i) SIG SAUER Magazine P320 9 mm 10 Round MAG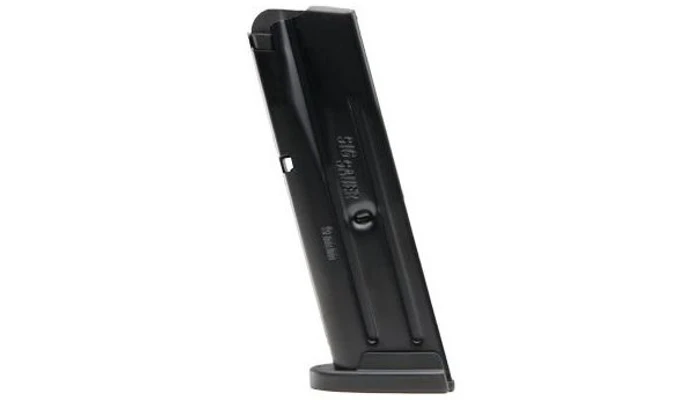 When talking about magazine upgrades, first I am going to suggest some good extra magazines you can keep in your collection for future use. This Sig Sauer 10 round magazine is especially compatible with the 9mm Luger caliber of the gun.
Its stainless steel housing construction keeps the magazine strong and durable enough to withstand recoil from 9mm calibers. In addition, the anti-tilt polymer follower and corrosion resistant finish give the magazine a sleek finish while keeping it intact from any chemical exposure.
As for the base pad, you can opt for the Springer Precision 140mm Magazine Extension as they will add length to your already existing magazine without having to change the magazine itself and give you more firing shots.
ii) Sig Sauer Sig P320 X-Series Black Magazine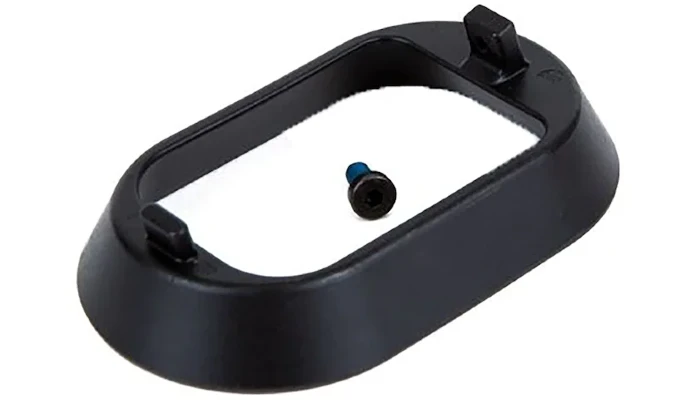 Coming to another magazine upgrade, the Sig Sauer Magazine would be an excellent choice for replacing the factory X-series handguns. It will make it faster and easier for you to reload your magazine without losing your grip.
This tiny little product is barely noticeable but it can be a game changer for any critical situation. In case you want to look for alternatives I would also recommend the Springer Precision ESP Magwell which fits the Sig P320 perfectly and the Agency Arms Magwell for the X-full and X-carry grip modules.
8. SIG P320 Accessories
Finally, let's talk about the accessories we can get for the Sig P320 pistol. There are quite a few if you ask me. But not every one of them is necessary. In my opinion, the most necessary ones are a good quality holster and a PWD.
The holster is perfect for concealed carry with lights and the PWD upgrade will add the benefit of installing a P320 arm brace. I think keeping both options will be good when you are targeting both hunting and competition.
i) Sig Sauer P320 Compact OWB Holster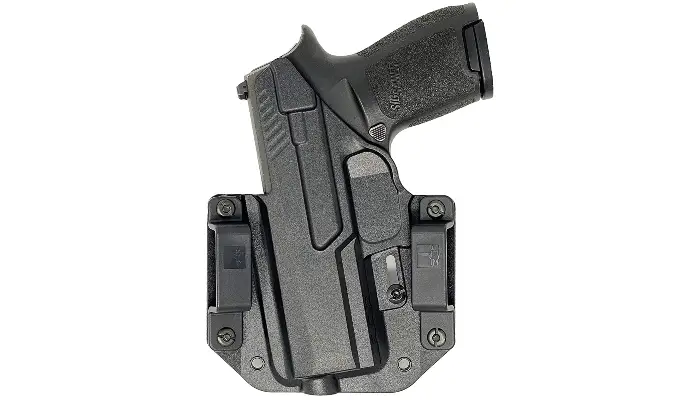 Since we are talking about additional aftermarket accessories of Sig P320 how can I leave out suggesting a good holster right? This OWB holster is perfect for your Sig P320 handgun as you can use it for concealed carry without compromising on your comfort level.
You can also convert this holster into an IWB one just by adding the IWB belt clip with it. Other than this, you can use it with a wide range of red dot sights including Vortex Viper, Venom, Aimpoint, Leupold, and Holosun sights. This holster is for right-handed shooters and has 1.50" loops.
ii) Fire Control Unit Fire Control Module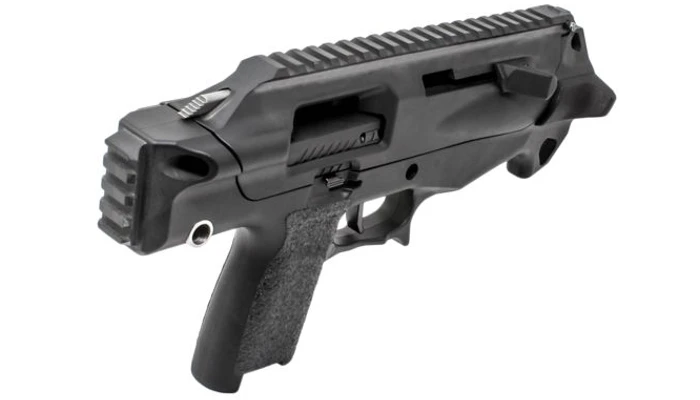 Lastly, I want to recommend a Fire Control Module which will allow you to adjust the firing system of your Sig P320 firearm. This control module by the Fire Control Unit enhances the capabilities of your Sig Sauer gun as you can attach an SB Tactical Arm Brace or a buttstock with your handgun.
It also improves the original firearm manual since the PWD comes with an integrated charging handle which provides you with an HK-style downward release when you lock it to the rear side of the gun. Other than these, the module features M-LOK slots with two standard slots for hand stops in order to integrate with the grip module contours.
Conclusion
To conclude the article, I want to say Sig Sauer P320 gives you the taste of what it feels like to have an advanced modern gun and I personally like the features the gun has to offer.
But that does not mean you can not groom it in order to fit it to your needs. There are many aftermarket upgrades for this P320 gun and you can play with the firearm all you want. And I am here to show you the direction with my list of recommended products.
Make sure you check out the upgrades for your P320 pistol and choose the ones that will be compatible with your shooting needs and provide you the freedom to experiment with your firearm. It's time to make it even better!