Behind the MP5 name, there have been countless memes and trolls over the years. For some, it's a media format and a portable media player. For others, it's a gun made by Heckler & Koch. A gun that will go down in the books as a cult classic.
The MP5 is a submachine gun designed way back in the 60's. Even now, the demand for this gun skyrockets every so often. Like most other SMGs this one doesn't come with any kinds of optics to help you shoot better.
That's why, I'm here to help you find the best optic for MP5. I will also explain why I choose these among countless other optics and how you can choose the best among them. What are we waiting for? Let's get started.
What Kind Of Optics Can A MP5 Handle?
Honestly, the gun is super versatile and it can take a lot of things. You can use an MP5 with a red dot, an MP5 with holographic sight. If you want, you can use your MP5 with a rifle scope as well.
Red Dot For MP5
One of the go to recommendations for any MP5 users is a red dot sight. They are the easiest to install and use & don't offer any magnification. They just offer an improved way of targeting. Which results in taking better shots.
Holographic Sights For Mp5
The choices for MP5 sights are vast. Holographic sights are among the top contenders as well. Then, why do people choose red dots more? Well, some prefer the red dot reticle over the holographic reticle. It's a personal preference.
Scope for MP5
Last but not least, a scope. Why a scope on this tiny gun? Well, why not? You might want to plinking a bit or maybe just like shooting at medium range? Or you just like the look of a rifle scope. Whatever your reasoning may be, you can use a scope on the rail of Mp5 as well. If you want.
How Do You Choose The Best Sight For Mp5?
There are so many good sights to choose from. Granted there is an obvious price difference among those. Casting the price aside, how do you choose the right one that suits you? Let's find out.
Build Quality
The build quality of the optic you are opting for needs to be good. An okay quality build won't cut it out. Sure, the MP5 is not the most powerful gun ever made, it still can annihilate toy sights.
Lens Clarity
Everything depends on the lens. From brightness to glare free vision, the lens is everything. That's why, taking an optic that has a good lens is a must. There are no workarounds for this part.
Size
While MP5 can accept almost any size sights, it's not recommended to use a long-range rifle scope on this gun. Stick to a smaller sight that doesn't occupy much space on the gun yet provides a great experience.
Reticle
You might ask, why is reticle important? It's just a red dot, isn't it? Yes, and no. It can be a red dot or a green dot or a red dot with an outer circle.
The stroke weight of the reticle can be thicker than others and the look of two red dots might not be the same. And light bleed is a common issue in cheaper red dots that you need to look out for. Light bleed makes a red dot borderline unusable in low-light conditions.
Ease of Use
This is something veterans won't care much about. After all, they are well aware of all the tricks up a company's sleeves.
But for a relatively newbie to the scene, installing a sight and then using it with your gun might not be straightforward. But it can be. All the company needs to do is to make a sight that is not hard to install and comes up with the necessary tools and screws with a well-written manual.
Trust me, the sights mentioned here don't need Bob the builder to build your MP5.
Warranty
It's a small part that we often pay no heed to. After all, many find warranty "hassle". The rest of normal people like us need a warranty. Without a warranty, it's hard to commit to a new brand or a relatively new product.
What Are The Best Optics for MP5?
Now that we know about what sorts of sights an MP5 can take, let's get to know some of them…
1. Trijicon RM06-C-700672 RMR Type 2 3.25 MOA LED Sight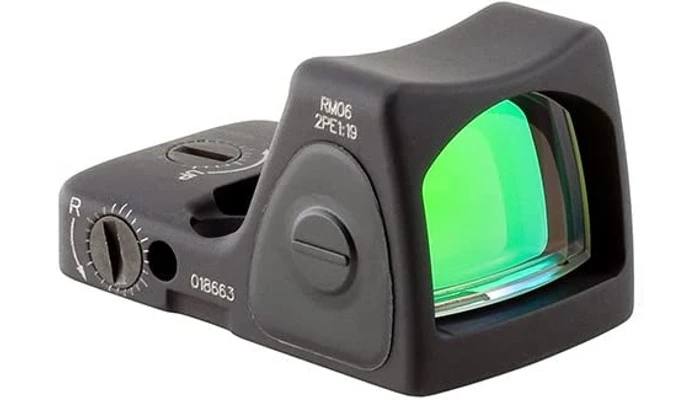 The first choice for the MP5 for me is a red dot from Trijicon. Why a red dot? Because red dots are really good optics for SMG. Especially, if you use a SMG like the MP5, the value proposition is non-negligible.
The RMR Type-2 is the second iteration of RMR that fixes some of the previous mistakes made by the predecessor.
Does it succeed? Is it better? Yes, to both of the questions asked. It's an incredibly well-built sight that is super easy to install and very fun to use with any sort of gun you could think of.
The choice of material for this sight is aluminum. A robust and durable material that will last you for a decade if not more.
To help you feel more secure, Trijicon also offers a warranty with their products. When it comes to customer service, Trijicon never fails to satisfy their customers' needs.
The red dot size on this sight is 3.25 MOA. It's a tad bit bigger than the standard 2 MOA red dots that we are used to seeing. But it's still not big enough to take over the entirety of the small objective lens.
The reticle is also etched directly on the glass. As the sight is shock, water, and fogproof, you can use this in any weather and at any given time. The brightness of the reticle is amazing as well.
Overall, it's one of the best red dots for MP5. Price to performance value is unbeatable.
Can you submerge this red dot?
Yes, you can submerge this if you want to. It can be used under heavy rain and snowfall as well. As the sight lens is coated to resist fog and water droplets, it won't hinder your vision even if you decide to bathe your sight.
How hard is it to install this on MP5?
It's not hard at all. In fact, it's one of the easiest to install on the MP5. The rail will accept a sight like this without any issues or complaints. Really good choice for beginners.
Can you use a riser mount on this?
Yes, you can. In fact, you will find tons of options for risers with absolute co-witness for the RMR type 2. Here is one of them that I highly recommend to any RMR type 2 owners and future buyers.
2. Aimpoint PRO Red Dot Reflex Sight w/QRP2 Mount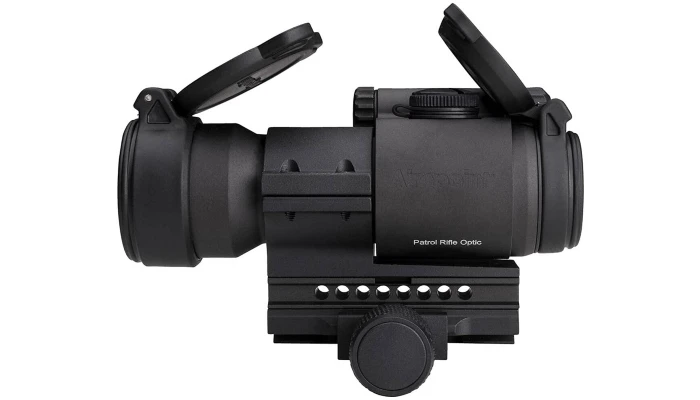 Here it is! Here is the crowd pleaser! Aimpoint never fails to satisfy their fans and they have genuine admires all over the world. The Aimpoint Pro will go down as one of the best Aimpoint sights ever made and you cannot change my mind.
The sight is made like a tank. No, really. It is made out like a tank. Aimpoint went with durable high strength aluminum with an anodized matte black finish.
The inside of the tube is purged with nitrogen to make it immune to fog and moisture. That makes this sight a good choice for folks who live in relatively humid areas.
You can use this optic under heavy rain as well. Yes, it doesn't have any magnification but you can use an Aimpoint Magnifier if you wish to. That will make this 1x optic perform like a 3x or 6x one.
Despite being made to last a decade at the very least, this is a lightweight optic with an excellent mounting system. The weight of the sight is 330 grams.
It comes with a QRP2 mounting system. It's a patented design by Aimpoint. The sight is also water, fog, and shockproof simultaneously.
It comes with standard spacers and a top ring. Installing this is quite easy and you can do it without the help of a gunsmith. Even a newbie with 0 experience can install this on MP5.
That's why I recommend this sight a lot. You don't need to be a gun expert to get the best out of this.
So, is this sight night vision compatible? Yes, you will get 4 adjustable brightness settings for the night. And for the day, you will find 6 of them.
The battery life of this is insanely good as well. Coming with a 50k hours rated, you will need to use it for a long time before warranting another battery.
Is QRP2 mount any good with MP5?
The QRP2 mounting system is one of the best things Aimpoint came up with. It comes with standard AR 15 spacers that makes the mounting system compatible with most guns on the market. Removing the sight from the gun on the go has never been easier. If you want to buy the QRP2 mount for Comp M4, you can.
Can you submerge this optic?
Yes, you can. The waterproof rating of this sight goes as deep as 45 meters/150 feet. If you for some reason feel like taking a deeper dive on the sea with this red dot, you definitely can do that.
Will the Aimpoint Pro last long with MP5?
If you take good care of it and maintain it well, it might outlast every other sight in your possession. Aimpoint Pro didn't come out yesterday, it's nearly a decade old at this point and it's still loved and will be loved. Aimpoint got you with that sweet warranty as well. You are well protected.
3. Vortex Optics Razor Red Dot Sight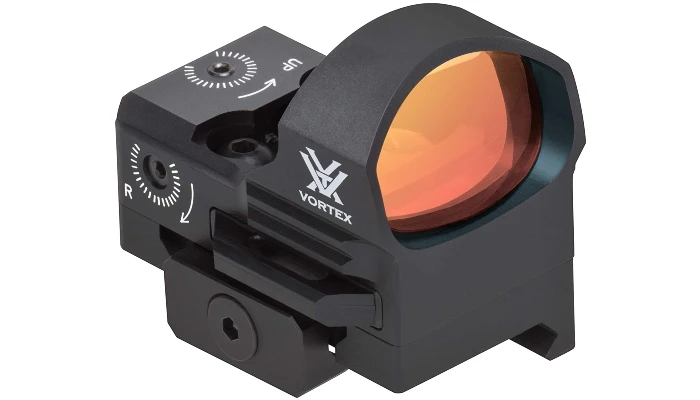 Any list is incomplete without mentioning a single Vortex sight. The Vortex Razor series is their prized possession. Under this banner, you will find all sorts of optics and rifles related accessories. The one I have here for you guys is a red dot sight.
Like all other Vortex products, this one is made out of high-quality aluminum. The aluminum billet is crafted by a CNC machine to precisely make the housing to hold the lens in.
The housing then is greeted with a matte black anodized finish. The anodization layer of this sight protects the body from scratches from drops or accidents.
The lens here is fully multi-coated. Fully multi-coating enhances the brightness of a glass and helps you target better during low light. Something MP5 owners are bound to praise due to their usage.
The sight is water, fog and shockproof at the same time. The battery compartment is also protected. You can submerge this sight even. I don't know why you would, but you could.
Last but not least, it's compatible with MP5. As it doesn't weigh a ton and can enhance your shooting, I don't see why you shouldn't invest in something like this. Granted, it's not the cheapest option by any means, but the money you are going to pay for this is more than worth it. They hold good resale value as well.
Are Vortex lenses really that good?
In short, they are. To explain it easier, let me give an example. Most other smartphone manufacturers use Samsung's display because they are good. The same thing happens here. A lot of smaller and big manufacturers take the lenses from Vortex to use with their optics. You can imagine just how good they are.
Is this sight really waterproof?
Yes, it absolutely is. If you feel like taking a dip in the rainstorm with your guns out, you can do that. The all weather compatibility makes it a good choice for security service job holders that need to stay on service even in a storm.
Can you use this in low-light situations?
Absolutely! The reticle is illuminated and you can adjust the brightness as well. While MP5 is not a hunting gun and you might not ever find yourself using this in the dusk, you still can use it. If you want to.
4. Holosun HE507C-GR X2 Green Circle Dot Sight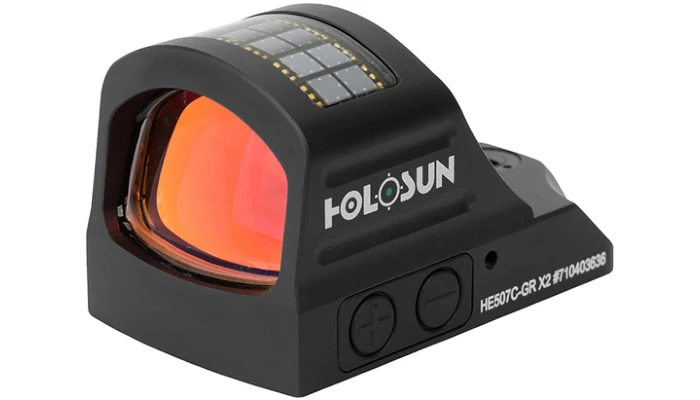 When it comes to the MP5 red dot, Holosun is one of the best brands to consider. Their red dot sights are incredible. Their customer service is good and they upgrade their optics each year.
That makes them a reliable brand and if something happens, you might get an upgraded sight in return.
It's not hard to mount HE507-GR X2 on top of an MP5. In fact, it's much easier than you are expecting. It's a tiny sight. Perhaps a bit too tiny for a lot of folks out there.
To their defense, it's made to be paired with small guns. While MP5 may not be the shortest tool in the shed, it's relatively small and can utilize one HE507 to its full potential.
The sight is made out of a 7075 T6 aluminum billet. It's one of the strongest materials that most other premium scope makers also use. The lightweight and durable construction of this material makes it a perfect choice for a rough usage gun like MP5.
The sight weighs at around 1.5 oz. That's extremely light. Compared to a riflescope, it weighs nothing at best.
The sight is fog, water, and shockproof. Have to have them all for the best safety after all. As the 2 MOA red dot and 32 MOA circle is etched directly onto the glass itself, you won't be able to move the reticle accidentally.
Once you install it on the MP5, you don't need to think about replacing it anytime soon. You won't feel like you added something extra to your gun. Yet, your shooting skill will upgrade like crazy after installing this red dot.
Why is Holosun so popular?
A bit off-topic question but it's totally understandable. Holosun has been making quality red dot sights for budget enthusiasts for nearly a decade now.
Their sights are well-made, durable, lightweight, easy on the pocket, and their customer service is top of the line. They release and upgrade their sights each year as well. That's why they are adored by the community.
Is the MOA circle reticle distracting?
No, it's nowhere near what I would call distracting. In fact, it's there to help you not get distracted. The ring makes it easier to spot the red dot in the center and locate the target faster.
Is it hard to use?
No, it's not. Ease of access and installation has always been a priority for Holosun. You don't need your expert friend at your disposal to install this and sight in with your MP5. Even a newbie can do those things.
5. Aimpoint Micro T-2 Red Dot Reflex Sight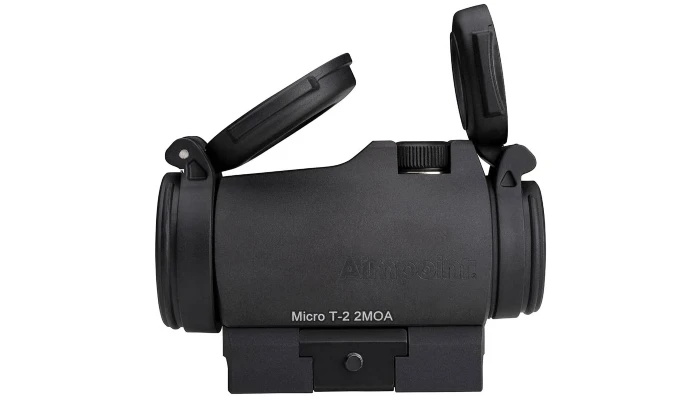 The next sight that I highly recommend for MP5 is from Aimpoint as well. It's their Micro T-2 red dot. Micro T2 is very well known for its mounting system and durability. It's an extremely light sight that virtually weighs nothing.
On top of that, the included mounting system is quite robust and supports a lot of guns right off the bat. The weight of this sight is only 130 grams. That includes the stock mounting system that is built onto the sight itself.
The sight is water, fog, and shock resistant. You can submerge it with the battery on without facing any trouble. Why does it need a battery? Because the 2 MOA reticle on this is illuminated.
That's right, you will get 4 stages of night vision settings and 8 stages of daylight setting. There is 1 setting to turn off the light entirely.
Thanks to this, the low-light performance of this sight will be incredible. If you ever feel like upgrading or changing the optic on your MP5, you can later use this little sight on your handgun as well.
The ability to use one sight on multiple guns is something that we all can appreciate. Compatibility with MP5 of this sight is quite nice as well.
Overall, the entire package is a good starting point for anyone starting in this niche hobby and trying to soak their toes in the red dot scene.
How durable is Aimpoint T2?
As durable as a sight needs to be. I know that's a vague term and can literally mean anything. But what I mean by that is, it's a very well-built sight with aluminum as the material. It will last you for a long time with the MP5. The shockproof structure makes it a good choice for rifles as well.
Is the reticle clear?
Yes, the red dot is clear and vibrant. It's not clouded with glares or aberration. You can locate your target quickly and easily.
Is this night vision device compatible?
Yes, the Micro T-2 is night vision device compatible. Aimpoint mentions it in their product catalog as well. For example, something like a PVS-14 will be amazing with the Micro T2.
6. Holosun – HS403C Black Solar Power Micro Red Dot Sight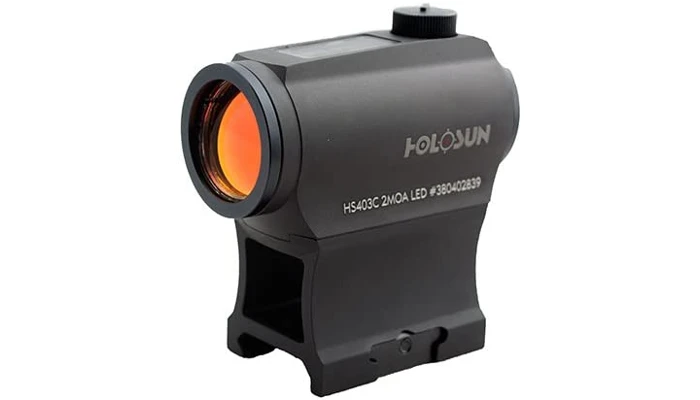 The Holosun HS400 series is a crowd pleaser. Holosun upgrades/sidegrades this series each year. HS403C is one of the cheaper offerings from Holosun. It will satisfy your needs without breaking the bank.
Yes, it is still quite expensive for a red dot sight, but it's extremely comfortable to use and well worth the price you are going to pay. If I were to consider this as an investment, the HS403C will pay off the money with performance in coming years.
Like all other Holosun sights, this one is made out of high strength aluminum as well. It's a durable material that is quite easy to CNC and turns out nicely when perfectly done.
It's Holosun we are talking about, of course, their CNC has been on point. The exterior finish of this sight is anodized. It doesn't glow that much. Pretty matte looking.
The lens is the standout point of this sight for me. It's made out of glass, not plastic or hybrid material. On top of that, the glass is coated multiple times with various different chemicals to make it immune to glare and chromatic aberration. Those annoying things ruin good optics.
Thankfully, none of those are going to happen on this red dot.
Besides having one of the best optical performances on any sights for MP5, this one offers a lot more. The 2 MOA red dot is etched directly on the glass. It has 10 levels of daylight brightness setting and 2 levels of night vision setting.
Once you install it on your MP5, you will have a flawless shooting experience that will make you a better shooter. If you can see the target better, you can aim better. A simple philosophy that goes a long way.
Is Holosun HS403C better than HE507C-GR X2?
They are both extremely different sights from head to toe. The biggest difference is that the HE507C-GR is a green reticle while HS403C is a red reticle. Besides this, there are too many differences.
Is this durable enough for MP5?
Yes, it's made out of the same type of aluminum you see in 3k USD Zeiss Scopes. Rest assured, you have a tank at your disposal that will stay with you even if you are in a war-like condition.
Will it fog in a snowy area?
No, it won't fog at all. The anti-fogging coating does its job extremely well. Even if the glasses you are using are fogged, this one won't. If you are in a colder place, this is a great option for your MP5.
7. Sig Sauer Romeo5 1x20mm Compact Red Dot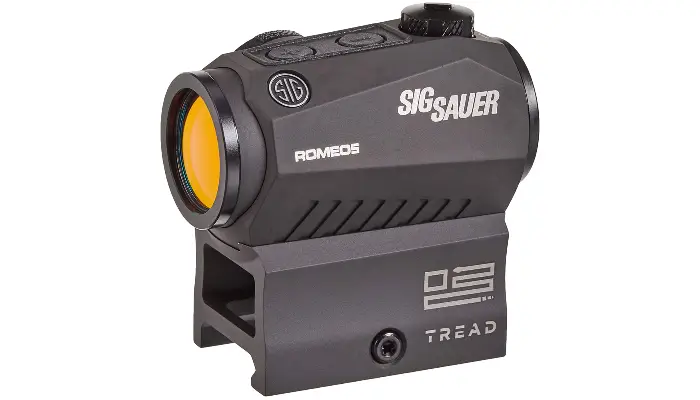 Last but not least, the Romeo 5. Being one of the cheapest red dot sights on the market, Romeo 5 has made a name for itself. Mostly because the price to performance ratio of this sight is unbeatable.
If you are looking for the cheapest red dot for MP5, this is it. Romeo 5 is made out of high quality aluminum. It's durable and lightweight. The sight weighs only 5.1 oz. That includes the stock mounting system.
Speaking of mounting, if you don't like the stock mounting system by chance, you can use a separate base that Sig also sells.
A great part of this sight is, that if you want to pair your Romeo with Juliet, you can. Like, no joke. You can have the Juliet3 magnifier from Sig and pair it with your Romeo 5 on top of the MP5. So many 5's.
Funnily enough, I can see why Sig decided to name the magnifier Juliet. Perfect match after all. The reticle on the Romeo is 2 MOA. Your standard red dot size in optics. There is no ring surrounding it. And it doesn't come in green illumination either.
With 8 daytime and 2 nighttime settings, you can use the Romeo 5 at any given time. You can use it in any weather as well. Battery life is quite great on this one as well. Given how conscious we are about longevity, Romeo 5 will be able to sooth your OCD.
Is Romeo 5 worth it?
Yes, absolutely yes! It's one of the cheapest red dot sights for any gun you could come to think of. From durability to customer service, Sig got you covered for a long time.
Is Romeo 5 sturdy?
Yes, it's made out of high strength aluminum that is extremely durable and lightweight. The CNC design makes the process flawless as well.
Does Romeo 5 support magnifiers?
Yes, it does. Installing one is extremely easy as well. In fact, to combine with your Romeo, Sig sells a magnifier called Juliet3 magnifier. As I earlier mentioned, the combo is great for anyone wanting to venture into medium-range zones.
Conclusion
Would you look at that, the end already? That was fast! Okay, maybe not that fast. But like I promised earlier, I delivered you guys the best optic for MP5. And I also explained how you should select the right one.
Your budget will play a bigger role than you expect. Depending on what exactly you need from the sight and how much you are willing to spend for that experience, you will find a sight from the list.
With that said, this is the end of this post. I will be back with more for you guys soon enough. Tune in later for that. Till then, take care and I will see you.