With the intention of introducing the new Modular Optic System (MOS), Glock has launched a new generation of handguns that ensures easy and rapid setup of the optic sights.
These pistols are perfect for any kind of competitive shooting and becoming more popular for home defense and target shooting.
I find Glock pistols convenient to carry around and they have a long significant history in law enforcement. That being said, whether you are a member of the law force or a competitive shooter or you are just keeping it for your own safety, the Glock handguns match with any practical need you hold.
Now I am actually here not to give a review of the weapon itself but on the optics you can pair up with your Glock firearm. Since they are pistols, you don't really get the opportunity to experiment as much with them as you can with rifles and shotguns.
Most handguns are suitable for carrying one micro red dot sight so my concern for today will be specifically on red dots.
When it comes to Glock MOS, it has a rear section with multiple adapter plates attachment configuration that allows you to mount a wide range of red dots on it.
What you need to do is understand the specific mounting cut for the particular sight you want to purchase and match it with the existing mounting plate of your Glock pistol.
Buying Guide For Glock Mos Sights
I always like to keep all the general but necessary information about optical sights for a specific handgun. These points will help you to understand different features of a sight and at the same time ensure that you also know what kind of facilities you are looking for in your Glock sight.
Footprint/Mount
I always say the first point you need to know is whether the mounting standard of the sight matches the cut of the mounting plate on your handgun. The good thing is Glock Mos comes with multiple mounting plate options meaning you can choose one mounting plate from all these options below-
Eotech/Doctor/Insight/Meopta
Trijicon RMR
C-MORE
Leupold DeltaPoint
Therefore, you can choose any type of optic for your Mos Glock pistol that has the above mentioned footprint. This list actually sums up quite a wide range of red dots for your Glock so you don't really need to worry too much about it.
Lens Quality
Next up is the lens quality of the optical device. Every sight or scope will need to have a good quality objective lens for better light access to ensure visibility and high quality image of your targets.
Generally what I look for in an objective lens is the field of view and the quality of its coating. Mostly it's better to get a lens with fully multi-layered coatings because this is the best quality lens available in the market for your Glock Mos red dot sight.
Reticle
Finding a good quality reticle is also important for any Glock mos optics. For most of the red dot sights, you will find something with a dot size that can range from 2 MOA to 6 MOA. large dot sized reticles like 6 MOA are good when they are close ranged, especially during daytime.
On the other hand, small size dot reticles such as 2 MOA are good for precise aiming at a longer distance. This also works well during any low light condition. Hence, you will need to choose the reticle depending on your shooting needs.
Battery Quality
Most optics come with a battery that gives power to light up the reticle. Now, since red dots hardly consume battery power most sights have a considerably good amount of battery lifespan.
As a result, it will be better to choose one that has a good lifespan with a good quality lithium battery in case you want to carry your Mos handgun for a long mission.
Design & Weight
For most of the shooters, the surface design and weight range of any optical device do not matter much. But I will encourage you to give special attention to it. My reasoning is very simple.
Every shooter has his particular style of carrying guns and because of that it is important that you know what kind of sights you are comfortable with.
Plus, for a handgun like Glock MOS, it is essential to go for lightweight, small sights that will not add too much to its weight.
Durability
Finally, I will say that looking at the inside is as important as checking the design. To ensure that your red dot for Mos Glock is durable and reliable enough to last for a long time. At the same time, make sure it is waterproof and shockproof so that you can carry it all year around.
Best Optics For Glock MOS [Editor's Picks]
1. Leupold DeltaPoint Pro Reflex Sight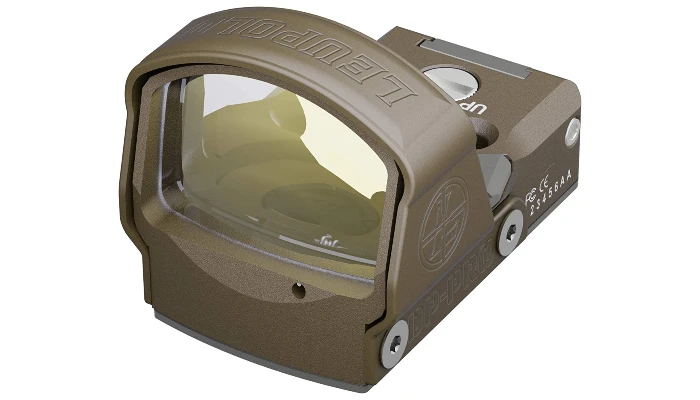 To begin our search for the best Glock Mos red dot sight, I will be starting with the Leupold Deltapoint Pro Reflex Sight. This kind of sight is perfect for handguns because of the lower weight range that goes hand-in-hand with the size of any compact pistol.
But this optic does not only reign in the weight section. There are more features that we will unfold together as I move forward.
For any red dot sight, the first important thing to check is the lens quality of that red dot. Since it is the most important part of any scope or sight, you definitely need to consider the quality and ability to transmit the light of the lens.
Now coming to this sight, the DeltPoint is actually an open sight which means you are getting a wide field of view. This helps with situational awareness and faster acquisition.
The reticle has a 2.5 MOA center dot that is really good for precision and accuracy when you are targeting at a long distance. With the crystal clear lens, the sight eliminates any distortion for zooming too close in order to provide you with the perfect visibility for unmatched target acquisition.
This sight uses a CR2032 lithium battery that has a good battery lifespan to last for a long period of time.
In addition, the sight offers you a battery saving motion sensor technology that automatically deactivates the illumination of the reticle when you don't use the sight for 5 minutes. It turns the illumination on after sensing the slightest movement. This is good for saving some extra power during critical times.
Another interesting feature of this sight is the Twilight Red Dot System. What this feature does is that it takes the color consistency of the picture to another level. This means the sight will maintain the picture quality throughout several lighting shifts during different times of the day, giving you the best view possible.
Finally, when we talk about the durability and construction quality of the sight, it's aluminum housing and steel sheath make sure that no external harm can cause damage to the sight.
Although it's an open sight, it is strong enough to withstand the impact of 3 times the recoil of an .308 rifle. Therefore, it will be a piece of cake for the DeltaPoint sight to handle your 9mm Glock Mos caliber.
What MOA should you use for hunting/ plinking with your Glock 40 Mos?
Although it is a matter of completely personal preference, keep in mind that large dots are good for speed, meaning faster target acquisition in a close range situation. Whereas, with the small dots you will get a precise aim point when the target is far away from you. In case of hunting big games at a longer distance, this DeltaPoint sight will support you in every way.
What are the color options with this sight?
There are two versions of this Leupold Pro sight. You can get one model with a matte black finish. There is another version with a flat dark earth color.
Do you need an additional mounting plate for the Glock Mos series?
No, you can mount this Leupold reflex sight on the plate your Glock Mos pistol comes with.
2. HOLOSUN HE509T 2 MOA Red Dot Sight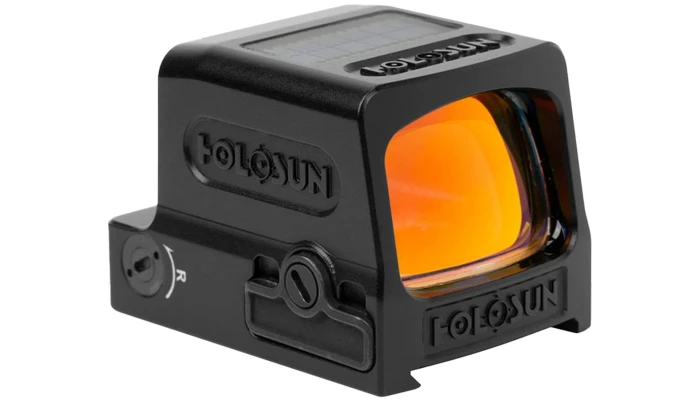 Next in the line for best optic options for Glock handguns is the Holosun 509T Red Dot sight. Coming with the RMR adapter this sight saves you from the hassle of finding a mounting plate for your gun.
But this news is only good for the shooters that have an RMR mounting standard plate on their gun. Others you will still need to find the perfect match.
Any Holosun sight has this unique feature for battery time that the majority of the shooters choose to carry with them for long missions. The super LED high capacity lithium battery gives you the perfect amount of runtime to go beyond the normal battery life of other sights.
With this 509T red dot sight, you are actually getting 50,000 hours of continuous runtime. Can you believe it?
Now I don't have to worry about carrying extra batteries for my long hunting treks, although I would still take more batteries because I am a stress packer who likes to have options for the dreadful times. If you are not like me then this one sight will cover you for the rest of your journey.
While talking about the battery life, let's shed some light on the reticle situation here. With this version, Holsun offers two reticle options in order to match with different positions of the shooters.
For instance, with the 2 MOA dot reticle, you can easily aim at a long distance target. On the other hand, the 32 MOA ring will give you peripheral access for better aiming. This is perfect for any close range spotting of targets.
Then there are a total of 12 brightness settings on the sight where 10 options are to maintain different daylight settings and 2 dim settings compatible with night-vision devices. I like the fact that this red dot is night-vision compatible, giving you the access to use a variety of devices.
For the shooters who like the Shake Awake feature, you are getting lucky with this Holsun model as it supports this function. I can understand why most of the shooters prefer this option as the sight automatically adjusts its brightness settings with the current lighting condition.
And talking about the construction quality of the sight, I have to mention that it is an IP67 rated waterproof device. There is no question about the reliability of Holosun products so you can purchase this to mount as the best Glock 19 or 17 Mos red dot.
Does this sight have a green dot version?
No, unfortunately, this Holsun 509T version has not released a green dot version.
Will this Holosun sight mount on Picatinny rail?
Since the Holosun red dot sight follows the RMR mounting standard as its footprint, it does not directly mount on the Picatinny rail. For the Glock Mos pistols, you will be needing an RMR mounting plate in case you don't have it.
Is the model the X2 version with the lock mode improvement?
Yes. This model of Holosun is the X2 version that comes with an improved lock mode facility.
3. Trijicon RMRcc Adjustable LED Red Dot Sight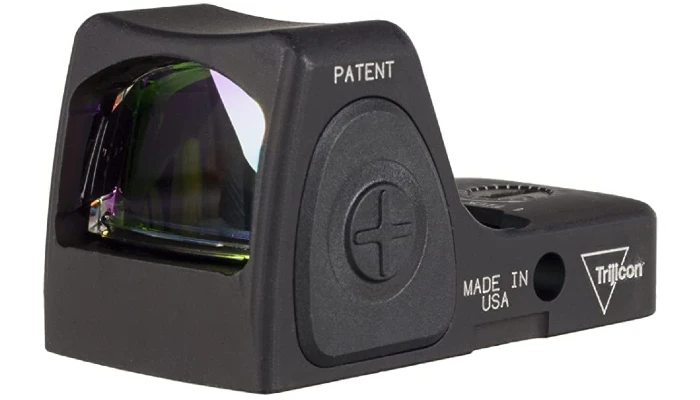 In case you are looking for the best optic for your Glock 19 Mos pistol, this will be the perfect option for you. The Trijicon RMRcc is the perfect slender red dot sight that fits a wide range of handguns that are good for concealed carry, meaning this sight is so small that you can mount this on a sight and throw it in your pocket without worrying about it showing.
You get two different reticle options with this red dot sight. The first one has a 3.25 MOA dot reticle that can be perfect when you are venturing out for longer distance targets.
I honestly don't know what that .25 part will do but I guess you get a more precise point of aim. Similar case with the other reticle option. Its 6.5 MOA is great for close quarter objects when your main attention is on the speed and not accuracy.
Coming to the brightness facility, the sight has a total of 8 brightness settings to adjust with multiple lighting conditions. There is 1 option with a very bright light that will work great during bright sunny days and also 2 dim light settings for night vision compatibility.
Honestly, the night vision options are kind of extra which have little to no use while mounted on a handgun. But having an extra option always works as an advantage hence I am not complaining.
One thing I did not like about this red dot sight is the click value of the windage and elevation adjustments. The sight has a 3 MOA click value which to me is a ridiculously large gap.
I mean think about it. You are jumping from 1 MOA to 3 MOA which is really hard when you are trying to match the point of aim as precisely as possible.
Finally, when I talk about the durability and reliability of this sight, its unique patented housing shape keeps the light protected from any external impact.
Since it is an open sight, there is always a risk of breakage. However, the strong and protective housing construction make sure to keep the sight workable for a long period of time.
Can you change the battery of the RMRcc sight without taking it off?
No, unfortunately, you need to take the sight from your firearm while replacing its battery since the compartment is under it. However, the CR2032 battery lasts for 4 years so there are no such issues of changing it too often.
Will this sight fit the Glock 43x Mos gun?
The Trijicon RMRcc sight fits any Glock Mos pistol including the 43x model as long as you use a Trijicon RMR mounting plate for Mos.
Does this design work for people with astigmatism?
Yes, this RMR sight mounted on a Glock Mos is perfect for both eyes open shooting even for the shooters with astigmatism.
4. Vortex Optics Venom Red Dot Sight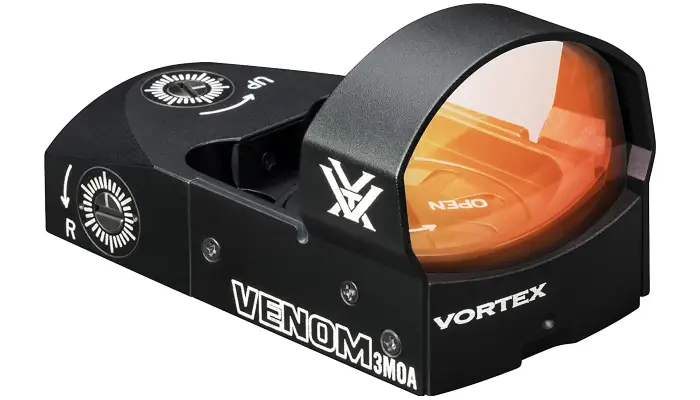 My fourth recommendation for the Glock Mos red dot options is the Vortex Optics Venom Red Dot sight. I mean if we are talking about red dots then how can we forget Vortex right? Plus, Venom holds a special place in my heart as it reminds me of Venom's desire to kill.
Now this Venom red dot will give you that satisfaction of capturing those villains or in your case "hunts", with its multiple reticle options. The sight has one version with a 3 MOA dot reticle that is known for its precision for aiming targets at a longer range.
At the same time, there is a 6 MOA dot reticle as well that will assure you of the speed when you are aiming at a close range.
Coming to the lens quality, it is fully multi-coated with anti-reflective properties which means the sight is ensuring the best quality light transmission for a clear and crisp image of your targets. This gets even better when the sight offers 10 brightness options to match any lighting condition.
Did I forget to tell you? There is also an auto brightness mode that will change the brightness settings according to the present lighting situation so that you are always ready to take on the problem at hand.
Besides, there is a CR1632 lithium battery that you will find in the package. This battery has a lifespan of 150 hours to 30,000 hours depending on the brightness intensity.
In addition, the sight features a 1 MOA click adjustment value for both windage and elevation which is not as precise as the 0.5 MOA click value but it will do the job pretty well. The side operation buttons will give you better access to the dials, making it easy for you to adjust to the iron sights of the Glock pistol.
I like the fact that this Venom sight is versatile enough to be used with a wide range of firearms as you will find a low rail mount and an options riser mount included with the sight.
However, the sight still keeps its low weight range stopping at only 1.05 oz which is perfectly lightweight to mount on a sub-compact handgun such as Glock 19 Mos.
How to mount this sight on a Glock Mos pistol?
In order to mount the Vortex Venom Red Dot sight on the Glock Mos 19 or 17 handguns you need to use the Doctor footprint adapter plate included with your pistol.
How can you adjust the windage and elevation in this sight?
In order to adjust the windage and elevation adjustment on this sight you just need to turn the dials upside down for the elevation and left-right for windage as indicated by the arrows.
Is the red dot sight compatible with night-vision devices?
Yes, the Venom red dot sight comes with night-vision compatible brightness settings so you can use it with night vision sights.
5. Burris FastFire III Red Dot Sight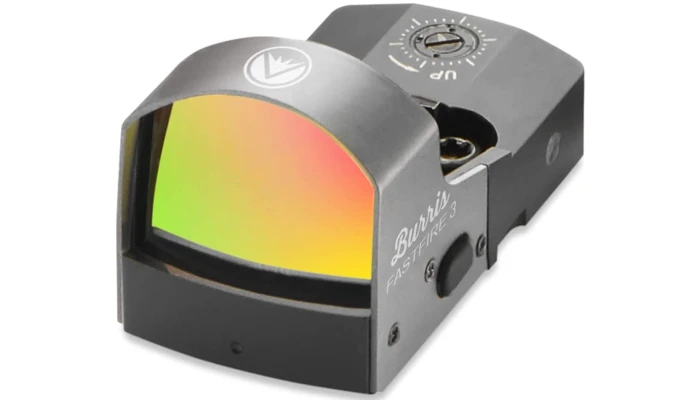 The Burris FastFire III sight is very famous for its low weight range which makes it a perfect candidate for the best optic for Glock Mos pistols. And so, here I am adding it to the list.
Now I will be honest with you. This Burris sight wouldn't be on my recommendation list if it wasn't for its budget friendly price tag. Trust me with that price range you would want to take a good look at this red dot.
Now to rundown all the features you will find in this sight, there are two reticle options similar to the previous Vortex sight. The only difference is that along with a 3 MOA dot reticle, there is also a 8 MOA dot size instead of the 6 MOA size like the Venom red dot.
I actually do not see the point of having an 8 MOA reticle but I guess you can use this on extreme levels when you are chasing a rabbit maybe. Or maybe even a rat! Just kidding.
When it comes to the brightness options this sight falls behind compared to other sights. I mean when you are getting 10 options in the Venom sight and 12 options in the Holosun sight of course you will find only three brightness lacking. But I am not that cruel. These 3 brightness options can adjust with most of the situations to the point that it made me wonder whether we need this many settings in the first place.
There is an auto brightness sensor in case you are wondering, which can change the brightness setting, maintaining a good connection with the changing light situations every time. This gets easy when you are in a rush or maybe you are taking a shot when the daylight suddenly changes. Trust me you will know once you use it.
Coming to the battery section, the Burris sight has a long power life of 5 years in total using the CR1632 lithium battery. You get a power button option and a battery access on top of the sight.
What I like about this sight is that you get an indication when the battery life is low so that you can easily replace it before it completely runs out.
The windage and elevation adjustments are measured up to 86 MOA which is quite decent considering it is a red dot sight. It is not very difficult to adjust them either as it is tool-less handling. Well not fully tool-less. You will still need a coin otherwise how will you turn the dial right? This waterproof Burris FastFire III sight is actually a good catch if you consider the things you are getting with this price range.
Do you need an extra mounting plate for the Burris FastFire to mount it on a Glock 19 Mos gun?
Similar to the Venom sight, all the Burris FastFire sights have Doctor/Noblex mounting standard footprints. As far as I know, the Glock Mos series including the 19 gen 5 gun comes with a Doctor mounting plate. So without a worry, this sight can pass as the best optic for both Glock 19 and 17 Mos guns.
Can you remove the Picatinny mount that comes with this Burris sight?
Yes, you can actually remove the Picatinny mount included with the Burris sight since you can directly attach this with any gun compatible with the Doctor mounting standard footprint.
What is the objective lens diameter of this sight?
The Burris FastFire III has an objective lens with a 21x15mm diameter. This is quite good for an open sight as it will give a wide field of view.
Conclusion
Before ending I just want to say, that Glock Mos is made for optical devices. The pistol has a construction that allows you to mount any kind of sight you prefer. This actually leaves you quite some options. Just so you are not overwhelmed with all the options, I have chosen the top 5 best red dots for your Glock Mos.
The reviews on these sights will help you decide which one will suit your Glock perfection. The buying guide section is just there to ensure you know the whole deal about Mos optics. These points are here just in case you need some insights. Now, go find your very own Mos sight.