Pistols were and always will be known as one arm weapons. But with the modern iteration of pistols like the CZ Scorpion, it's not possible to use them single handedly anymore. Instead, you will find yourself using them like an SMG. To make the modern pistols viable to use single handedly and improve the stability of the gun as well, companies have come up with brace stabilizers.
The Brace replaces your buttstock or acts as an addon at the end. It will sit there and help you use the gun with one hand again. In fact, braces are a mandatory accessory for disabled shooters.
By the time of writing this, braces are still legal to use. That can be a subject to change as time goes on. But till something like that happens, we are free to use them with our Scorpion. But the question remains, what's the best brace for CZ Scorpion? After all, if you search for this anywhere, you will find a lot of options.
Here, I'm trying to summarize those options for you and help you find the best brace for cz scorpion evo 3 s1 and all other Scorpions that you guys are using.
How To Choose The Best Brace For Cz Scorpion?
There is a proper way of doing things. This guideline will help you understand braces a bit more and help you learn how to choose the right brace for your pistol.
Do I need a brace?
This is a frequently asked question. The answer is a bit vague. Forgive me, but there is no definitive yes or no here. The answer lies within you. As I said earlier, braces are here to stabilize the gun and help you one arm it again. And it will help disabled shooters as well. Do you feel like you need to stabilize the recoil and help you have a firmer grip on the buttstock of the gun? If the answer is yes, then you absolutely need a brace.
Does the brace even work on pistols?
Of course, they do. Otherwise, why would I waste my time here suggesting you something that doesn't work? Braces are needed. Once you understand just how important they are in your life, you are never going back to a naked Scorpion.
Do I need to purchase a durable brace?
Durability is an important part of any firearm and accessories. We don't want any accidents to happen while we are using the weapon. To minimize any recoil mishaps or buttstock breaking on you, a durable brace is very important. Braces most of the time aren't made out of metal. Don't worry, the thermoplastic they use is pretty durable. Just like your Scorpion.
Fitment:
This is something a lot of newbies struggle with. They will search up "what's the best brace ever made" or something similar, then they will end up with a brace that doesn't even fit their gun. Don't be one of those guys. Make sure to buy a brace that fits your pistol.
Are folding braces better?
This is a very good question. Pistols are easier to carry and store inside weapon carriers. If your brace is too wide and heavy to be carried around, then a foldable brace will do better than regular straight ones. Don't worry I have included one of the best folding brace for CZ Scorpion in this list as well. Keep reading and you will find it just below.
What Is The Best Cz Scorpion Brace Then? Well, that's what you and I are about to find out. Let's start.
1. Gear Head Works Scorpion Tailhook MOD 1 Brace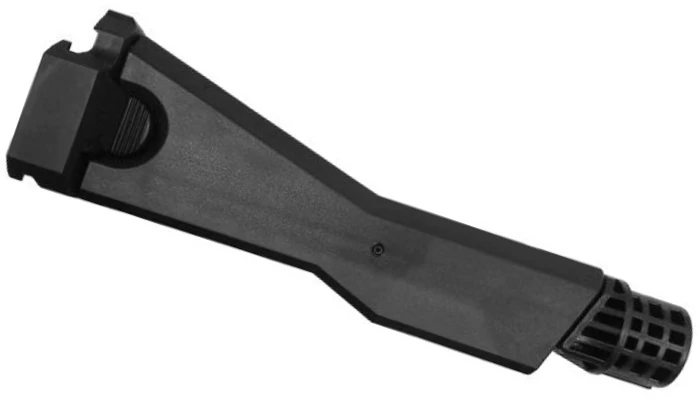 This two part brace is made by Gear Head Works. A company dedicated to making the most comfortable and durable braces you could find. The benefit of being a two part design is, that you can later change the brace only and swap it out for something more dense.
The first part is the kit. The kit is made out of polymer as well. The best part of the kit is, it's modular. As I said, you are free to use a different brace instead of the Tailhook MOD 1. But with MOD 1, you will get the best out of this combination. The adapter is not made out of metal. Yet, it's one of the most durable pistol brace adapters you will find right now.
Unlike the adapter, the brace is made out of aluminum. It's made out of an aircraft-grade aluminum billet. As it's made through CNC machining and then finished with anodized coating, the brace has zero rough edges. This ATF certified brace is quite easy to install on the adapter.
The combination of these two items works quite nicely. Honestly, it's one of my favorite combinations to pair with the EVO. After all, Scorpion EVO is an amazing gun that deserves nothing but the best.
Does the material difference interfere with each other?
Absolutely not. You will find many weapons and accessories using a durable metal with a rubberized or plastic cover with it. They work fine, right? The same case is here. It's not a big deal.
Do I need a gunsmith to install this?
You shouldn't. The steps are quite straightforward. It's like building a Lego. It's not that hard once you get the hang of it.
Can I use the mounting kit without MOD 1?
Absolutely not! You will need a brace. Either the MOD 1 or something else. But you cannot use this with a kit alone. You will need a brace.
2. SB Tactical SBT Evo Pistol Stabilizing Brace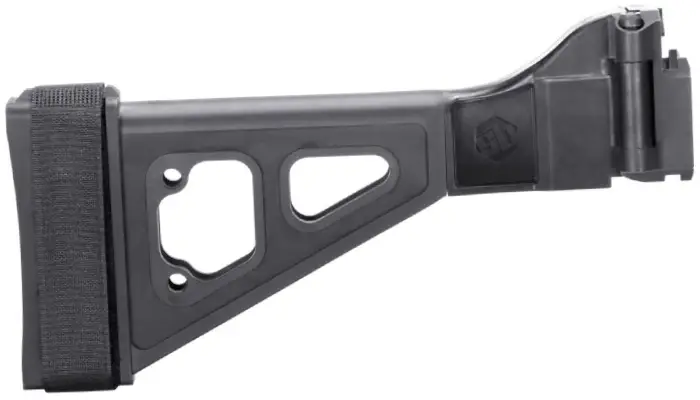 The first recommendation is from none other than SB Tactical. The brand is known for making some of the if not the best braces for pistols. Yes, that includes an AR15 pistol brace as well. Lucky us, they make a ton of braces compatible with the Scorpion. You will understand in a bit why they are so popular and loved.
This brace from SB is made out of polymer. A durable version of plastic that is used in many firearms. It's known for being resistant against heat and absorbing extreme shock. Both of these qualities are absolutely necessary in a brace. After all, it will take the shock of the recoil first and then transfer it to your chest.
The SBTEVO is one of the best foldable braces for Scorpion. It fits the CZ pistols right out of the box. You don't need to modify your gun or the brace to fit. You don't even need a gunsmith to install this on the Scorpion. I would go as far as to say, it's as easy as removing a lid from a bottle.
The brace comes with a complete assembly kit and a nylon strap. The strap will stick to your hand tightly and allow you to use the weapon with only one arm. You don't need to involve the other arm to stabilize the gun. How cool is that! Honestly, it's a very well thought package from SB.
Is polymer actually good?
Yes, it is. You can ask the same question on any search engine and most articles will say Polymer is quite durable and suitable material for weapon making.
Ease of use?
As easy as using a Glock. I'm not kidding a single bit. It's one of the easiest to use weapon accessories you will ever come across.
Does it stabilize the gun well?
Of course, that's its job. It stabilizes the gun, allows you to use it with one arm, and also helps you maintain a better recoil pattern. You couldn't ask for more.
3. SBT EVO-G2 Pistol Stabilizing Brace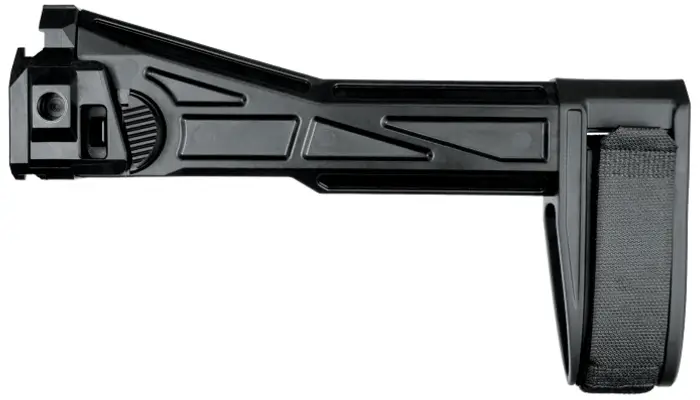 The next recommendation is also from SB Tactical. This one is one of their latest offerings for the Scorpion. Granted it's a relatively recent product, it gathered a ton of crowd behind it. Soaring high with sales, SB Tactical has created another winner for sure. Honestly, the real winner here is you and me, the consumers. We appreciate consumer friendly products.
This is one of them. It doesn't look anything special just by the looks, right? Well, that was the idea behind it. To create a minimalist looking stock that is easy to install and built durably. It performs incredibly well with the CZ pistols as well. The material for this brace is also polymer.
I briefly mentioned earlier how durable polymer is. Polymer is also lightweight. That's why it's one of the most preferred materials in accessories and the firearm itself. Most modern handguns have a polymer made body or handle attached to it. Rest assured, the brace is not weak.
Installing this is quite easy. As it fits directly to the Evo/Scorpion and just sits there like a menace, you don't need a gunsmith. You can install it yourself with very minimal tool usage. And you can take it off and store it when you are feeling like not using it anymore.
Is it foldable?
Yes, the brace is foldable. It comes with a right sided foldable design. It only folds towards the right. Don't try to fold it towards the left. You will break it.
Does it come with a nylon strap?
Yes, it does. To hold your hand in place, it comes with a nylon strap that is adjustable. You can tighten it or loosen it depending on how thick your arm is.
Where is this brace made?
This brace is designed and proudly made in the USA. You will get all services from the USA directly. That's why their customer response is top-notch.
4. SB Tactical SBA4 Stabilizing Brace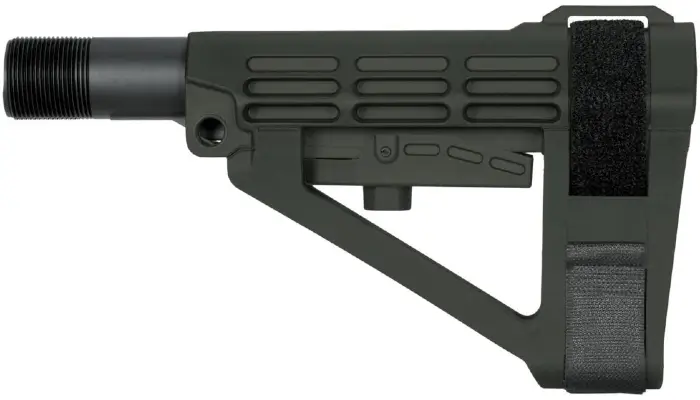 The SBA4 is one of the fewest braces that are made out of aluminum completely. Till now, you have seen them being made out of polymer. Sometimes, they are made with nylon mixtures as well. But this one here is a very different case. Yes, it's another brace from SB Tactical. And no, SB isn't paying me a single penny to include their braces over here. Hard to believe, I know. But hey SB, we are always open for opportunities (wink wink).
Jokes aside, The SBA4 is simply amazing. It's made out of 7075 aluminum. One of the most durable aluminum alloy materials available for craftsmanship. It's also known as aircraft-grade material. This term is mostly used by rifle scope makers. It provides the most durable brace experience without increasing the weight of your setup too much.
No, this is not a kit. It's a single setup brace. And setting it up is quite easy as well. You will need a couple of tools and the CZ on your hand. Then installing this is quite straightforward. The brace that sits against your shoulder area is quite comfortable. You won't be bothered by it.
The brace also has a nylon strap attached to it. You can tighten it or loosen it according to your wish. The strap doesn't look poorly built. Weaving is quite good and there aren't any stitching issues present on the strap either. All in all, a comfortable shooting experience.
Does it support Scorpion EVO directly?
Unfortunately, no. It's made for AR 15 pistols. That's why you will need an adapter to install this with your Scorpion. Here are two of the best brace adapters for Scorpion. The Sylvan Arms Titan CZ Scorpion folding adapter and the Anarchy Outdoors CZ Scorpion Arm Brace Adapter are my go to recommendations as Scorpion adapter to use AR 15 pistol stocks on it.
Is the SBA4 foldable?
Unfortunately, no. It's not foldable. But it's so short, you don't need to fold it to store it in a bag or your weapon shed.
Can this be used with AR pistols?
Yes, this is designed for AR pistols. It also comes with a buffer tube to fit on an AR pistol as well.
5. SB Tactical SBA3 Pistol Stabilizing Brace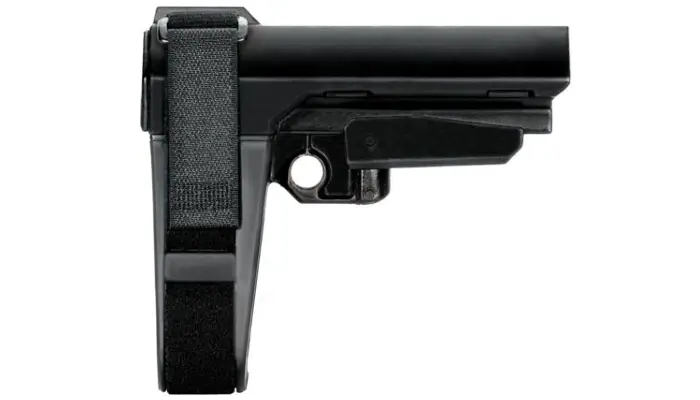 Last but not least, another SB Tactical product. Ha-ha! I know what you are thinking. Trust me, this is a very good product and deserves a place here. Much like the SBA4, this one is also an AR15 pistol brace. Just like the SBA4, you can use adapters to install this on the Scorpion.
The SBA3 is also made out of 7075 aluminum. But it's not as heavy as the SBA4. And many prefer the look of this over the SBA4. If you are one of those who cares more about the appearance, then you will definitely choose this over other options. This simply looks amazing. The available color options are a nice touch as well.
Installing the brace on the scorpion is not hard. As long as you have either this or this. You will need either of those adapters to install this stock on the scorpion. By doing this, you are also making this stock foldable. Use the Sylvan Arms foldable adapter for that.
So, should you choose this over the SBA4? If you are a bit tight on the budget and willing to give up on the buffer tube, sure. This can be a better option for folks who want to save as much money as possible. You are not sacrificing much by getting this ove the SBA4.
Is this also made in America?
Yes, just like all the other SB Tactical products in existence, this one is also designed and made in America. You will get a flawless CC experience from them as well.
Will The SBA3 fit on any Milspec carbine length?
According to SB Tactical themselves, it should fit all standard carbine length buffer tubes or receiver extensions.
Does it have a nylon strap for hand support?
Yes, it has an adjustable nylon strap at the end of the brace. You can play around with it to your heart's content.
Conclusion
And with that, the end is here. The idea behind this was to help you find the best brace for CZ Scorpion. And I found more than one for you today. Yes, to some this is still maybe a bit confusing.
But keeping the budget in mind and the tips I shared earlier, I wholeheartedly think you can reach a conclusion easily. It's not as hard as you think. Just pinpoint the things you want and how much you want to spend. I assure you, that you will be satisfied with any of the braces from the list above.
Okay, it's time to say goodbye. I hope you enjoyed the read and learned something new from it. With that said, let's meet here again at another time. I will be back with more for you guys soon. Till then, take care.