Not every gun in the world is equally loved. While there is a huge portion of the crowd that doesn't like the 1911, the other side is completely in love with it. Whether you like it or hate it, both are welcome here to learn a bit more about the gun and accessories.
The 1911 was first invented in 1911 as the name suggests. And it's been in service ever since. John Browning was the designer behind this legendary gun that has seen so many war and military uses over the last century.
The gun is manufactured by Colt Manufacturing Company. While the stock pistol is fine and usable, you could still upgrade some aspects of it and improve it even further. Making it competent enough to compete with modern pistols. What you can do with the gun is vast.
There are tons of 1911 customization ideas you can find in different forums and sites.
To help you take the 1911 to the next level, I'm going to help you find the best 1911 upgrades. What are we waiting for? Let's get started.
How To Decide What To Upgrade In 1911?
It's a tough ask, that's for sure. As there are so many upgrades involved, some of them are more important to competitive shooters while some are for casual shooters. Here is a rundown of how you should decide the upgrade order.
Competition shooting or casual
Ask yourself this. Are you a casual shooter or a tryhard competitive shooter? If you are a competitive shooter, then you should upgrade the things that will aid you in competition. If you are a casual shooter, you can take any route.
How much are you willing to spend?
Are you willing to spend a ton of money behind the upgrade in one go? Then, by all means, go all out and buy everything you are seeing here. But if you are on a limited budget and want to take the slow approach, then upgrade the things that are not working properly on your gun right now.
Do you need a 1911 optic?
If you are a casual shooter, then you might argue with me that you don't need an optic. To some extent, that's true. But an optic will give you an edge in casual shooting as well. It will improve your aim. That's worth it, no?
1. Best 1911 Grips Upgrades
Grips are the first thing that most people upgrade in a pistol. Whenever you grab a pistol, grips are the first thing you experience. You base your judgment from the get go. 1911 grips are not the best thing in the world. Thus, people tend to upgrade it first.
i) Magpul MOE 1911 Grip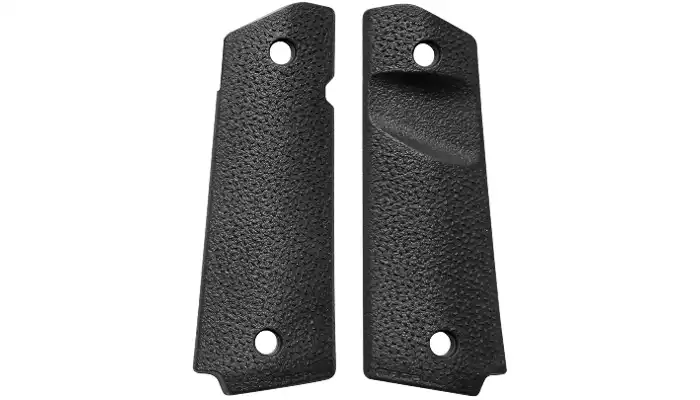 Magpul Grips are well-known for their durability and pattern on the grip. They are extremely comfortable as well. Despite not using any kind of rubber, their grips are extremely textured and easy to grip.
The 1911 grip of this brand is made out of reinforced polymer. A material well known for finding its way into pistol making. Rest assured, the durability isn't something you can dare to question about. They are extremely lightweight as well. Won't add too much weight on your pistol.
This grip is available in a total of 5 different colors. You can mix and match even if you want to. As they are quite affordable, it makes sense to go a bit funky and mix two colors together.
ii) VZ Grips Operator II Tactical 1911 Gun Grip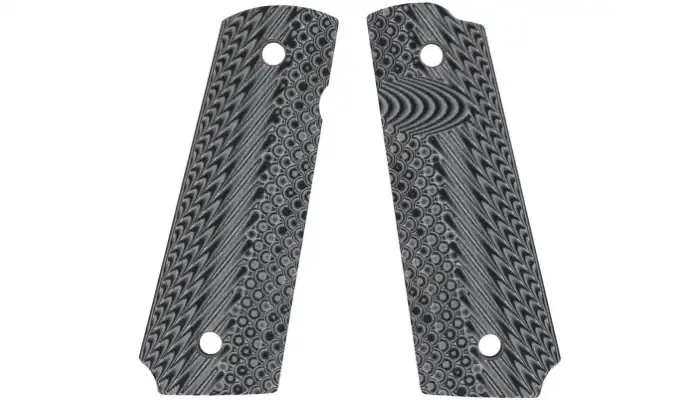 VZ Grips is another big name in the grips industry. Their Operator II grips are some of the most beautiful looking grips you will ever come across. While their beauty isn't the main selling point, their durability and used material certainly is.
With an aggressive goofball texture and thumb recess for the magazine pulling, these grips are widely preferred by competition shooters. The used material of these grips is G10. It's a synthetic polymer material that you find in many firearms.
Rest assured, the durability is quite good. If you are not vibing with the hyena brown color, you can go for a black or black-gray combination. All 3 colors look fantastic. Yes, they are more expensive than Magpul, but they are worth it. They are definitely a step ahead of Magpul in terms of longevity.
2. 1911 Magazine Catch
One of the most famous 1911 accessories is the magazine catch. If you are having trouble reaching the magazine or finding it a hassle to change the magazine on the fly, it's about time you buy a magazine catch. It will make your reload time faster and life easier.
i) Wilson Combat – 1911 Extended Magazine Release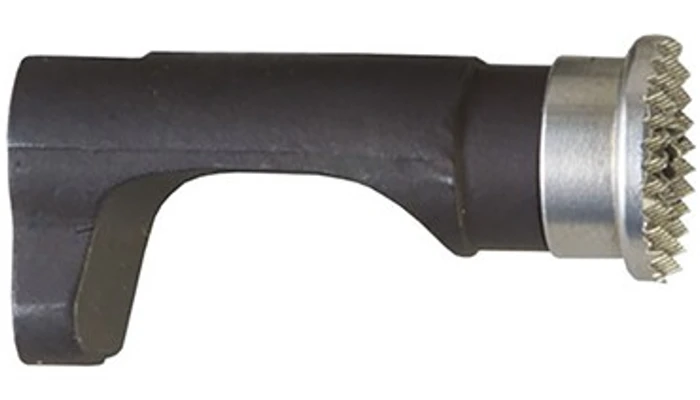 Wilson Combat is a trustee brand that has been around for a while. If you are looking into turning your 1911 into a completely 1911 custom model, you will come across Wilson at some point.
This extended magazine release is a crucial 1911 part. It's oversized to help you grip it better and has a quick-release button to change the magazine immediately. To make it easier to carry, Wilson made the round button removable.
ii) Egw – 1911 Heavy Duty Magazine Release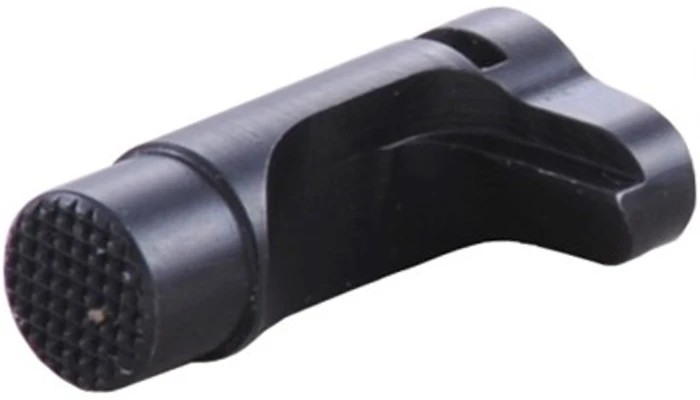 The next magazine release that I recommend is from EGW. This catch from Evolution Gun Works is made to decrease the reload time and animation you do in the process. Especially with hollow point ammo, the catch rate is highly reliable.
The magazine catch is made out of steel. It was made through CNC machining. Making it extremely durable and the ideal choice for folks who want their magazine catch to last an eternity.
3. 1911 Mainspring Housing
Your mainspring housing is probably fine. Even if you buy the gun secondhand, your mainspring is probably working. But it's another part that can benefit from modifications. Here are some 1911 housings that I recommend.
i) ED Brown – 1911 Drop-In Maxi-Well
If you are tired of visiting the gunsmith on every occasion, this mainspring is for you. It drops into the 1911 auto frame and you are pretty much done. With a straightforward installing process, ED Brown Maxi Well is one of a kind mainspring housing.
The material is stainless steel. It's corrosion proof and it is quite lightweight as well. As the processing is done with CNC machining, there is no room for error. The surface of the housing isn't sharp either.
ii) Stan Chen Customs – Shooter Installed 1911 Magwell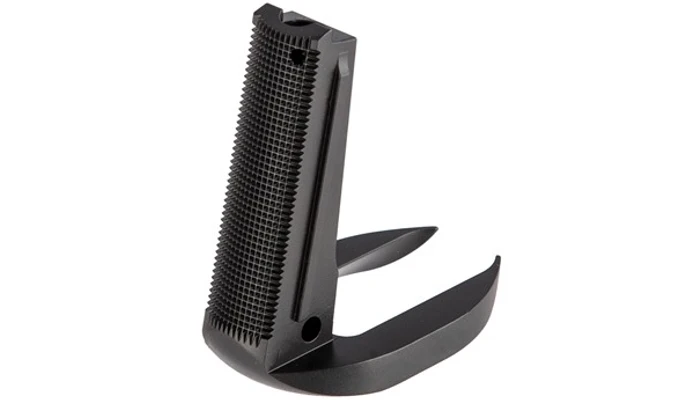 Ever tried to speed reload the 1911? If you did, you know how challenging it is to get that magazine into that single-stack magwell. Frankly speaking, it's more annoying than anything.
With installing this magazine, you are free from that annoying little problem. All of Stan Chen 1911 Magwell is available in either 416 stainless steel or 4140 chrome-moly steel finishes. Both of them are drop-dead gorgeous.
And their finishing is incredibly well done. There are no sharp edges. It doesn't feel uncomfortable to grip either. With any of the mentioned grips above, this thing can make your 1911 feel like an endgame.
4. 1911 Magazines
With the added magazine catch in your pocket, you might want to upgrade the magazine itself. An aftermarket 1911 magazine can improve the reload time and increase the bullet capacity.
i) Wilson Combat Magazines
Wilson Combat Mags for 1911 is available in plenty of different calibers. They are also available in different capacities as well. The two available sizes are compact or full size magazines.
The full size magazine has a capacity of up to 10 bullets per mag. While the compact has 8 at the most. The compact is lighter and low profile. If you prefer low-profile magazines, then you should go for the compact version.
But if 8 isn't cutting it out and you need those extra 2 shots, definitely go for the 10 bullet variant. As Wilson has tons of those available, do double check before purchasing the right caliber that you use.
ii) Chip McCormick Mags
Just like the Wilson Combat mags, this one is available in tons of different calibers and two different sizes as well. For the low-profile lovers, it has a compact variant model and for the folks that prefer higher bullet capacity, you got the full size one.
The Chip McCormick mags are capable of firing .45 ACP rounds and they are capable of firing up to 10 shots per mag. Of course, depending on the variant you go for, you might end up with 8 bullets max as well. Still, 8 bullets isn't that less.
If you are on a tight budget, you might like these magazines over most other offerings. They are not crazy expensive and they offer good after-sales service as well. The railed power mag is amazing to use. Reloading will be more fun for you. That much is guaranteed.
5. Best 1911 Sights
Whether you have the Kimber 1911, Tisas 1911, Rock Island 1911, I mean any 1911 models you might have, you need an optic to pair with this gun. The ironsight just isn't enough in modern day shooting.
Sure, your ancestors used this gun with an iron sight to slay enemies in war, but in modern day competition, if you have no sight you lose. Here are some of the best 1911 red dot sights you can purchase.
i) Meprolight Mepro TRU-DOT Fixed Tritium Day & Night Sight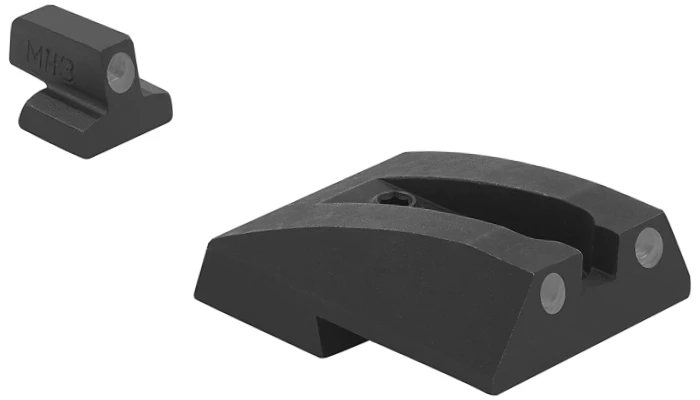 Night sights are one of the most used pistol sights to date. They are affordable, they are easy to learn, and they are super fun to use. Think of them as a better version of your ironsight.
But with the capability of shooting during the night. While this won't give you night vision all of a sudden, it will glow in the dark and give you a proper idea of where you are aiming. Thus, giving you the opportunity to shoot in the right direction.
Meprolight is an Israeli company and they have been making weapon sights for American defenses and other military defense for a while now. In terms of reliability, they are up there with American brands on the top. Overall, the performance of this night sight is amazing. One of the best 1911 night sights for sure.
ii) Trijicon RM06-C-700672 RMR Type 2 Adjustable LED Sight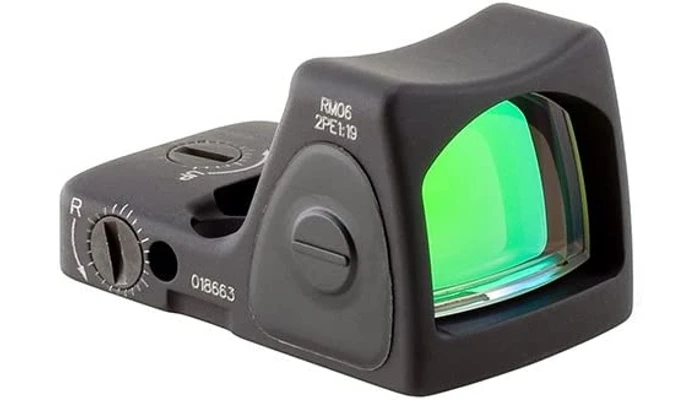 The default red dot sight recommendation for 1911 is from Trijicon. An American manufacturer making quality optics and riflescopes. RMR Type 2 is one of their most sold items.
The build quality on this is excellent. It's a lightweight and adjustable red dot sight. The red dot on this is illuminated. You will need a CR2032 battery to power it up. Once you do, the battery lasts for a long time at the lowest brightness setting.
But the RMR Type 2 doesn't come with any kind of mounting system. Don't forget to purchase a Trijicon RMR Mount for 1911 if you are purchasing this optic. Without a mounting device, the sight won't work.
6. Some Honorary mentions of upgrades
While these upgrades aren't an absolute must, you will still benefit a lot from any of these mentioned upgrades.
Trigger
1911 trigger upgrades are a common thing. While the stock trigger isn't bad by any means, people like aftermarket triggers. Can't blame them. The triggers are absolutely beautiful.
If you want beauty with performance, the Wilson Combat 1911 Ultralight Match Trigger is the perfect thing for you. It's light, it's flashy, and it performs impeccably well.
Adding a rail
Are you running your 1911 without accessory rails? Even though you have tons of 1911 accessories to choose from?
It's about time you add in a grip system with rail. Keep in mind, that if you add this, you cannot use the grip system I mentioned earlier. It's a tradeoff, but you have to decide if it's worth it for you or nah.
Recover Tactical 1911 Rail is the one I recommend you to guys. It's not that expensive and it adds the option to add some more accessories down the line that you might find fancy.
Conclusion
Would you look at that, we are at the end already. While I could go on for a decade about 1911 and how you should do 1911 cosmetic upgrades, add in some snake oils as well, but it won't be in your benefit. But the ones that I have mentioned here will definitely benefit you and improve your shooting.
It's a long list, but I'm sure you can digest it. After all, it's up to you to decide the best 1911 upgrade order. With that said, that's all for now. I will see you guys with more upgrades on another one. Till then, take care.