As the name suggests, this special forces combat assault rifle is not a child's game when it comes to firing it. With the heavy duty 8.0 lb weight range and high muzzle velocity, even professional shooters find it difficult to maintain stability with this firearm.
Now there are many ways of confirming more stability and consistency when it comes to handling a rifle. Of course, you can always use the traditional way of carrying a rifle or using a gun bench for firing more accurately with your SCAR gun.
But tell me why you would want to stick with some random old tradition and not move to something new and easier. Technology is progressing and so should we. This is why I have come up with the best stable and consistent product for your rifle that will change your firing game forever.
And the star of today's show is bipods. They are versatile and easy to handle and carry around with your gun. The SCAR 17 rifle is a high-performance gun, it is very important to select bipods that are strong and durable enough to take charge with your gun. And for that, you will need all the information you can get on bipods.
For this reason, I have added all the points you need to check before you search and select a bipod for your SCAR firearm. After that, we can move on to finding out which bipod will be perfect for the assault rifle you are carrying. So, without further adieu let's get started!
Buying Guide For SCAR 17 Bipod
The buying guide for bipods that will match your SCAR 17 firearm has all the essential points you need to keep in mind before purchasing one for yourself. It will be best to go through the checklist below and find out what these bipods really need to have to steady an assault rifle like the FN SCAR 17.
Types
You will find different types of bipods since the market has been producing them with various benefits. The traditional bipod that comes with two legs to keep your firearm aloft is the most common among shooters.
But with the growing industry, there are other kinds such as the Rifle grip pod, which is a hybrid between a foregrip and a bipod, and monopods which only come with one leg and support you mostly for holding the gun forward.
Which one will suit your SCAR rifle will mostly depend on your personal preference and its usage.
Mounts
Another important thing to look at is the mounting system of the bipod you are selecting. You will easily find Picatinny-rail mounted bipods in the market as most of the guns have Picatinny rail bases for mounting most of the external devices.
However, there are bipods that support different mounting styles such as the sling stud-mounted bipods and ARCA rail-mounted bipods. Now these mounting system bipods are pretty rare and do not go with every firearm. Especially, when it comes to the SCAR 17 rifle, Picatinny rail-mounted bipods will fit perfectly.
Height
The next thing you need to ensure is the height of the bipods which basically means their lengths. The most common ones that work with most rifles are the bipods with 6/9 inches in height. These have the perfect height for any target shooting. But in case you need something a bit taller, there are also 9/13 and 13/24 inches height bipods. So, choose the height that goes with your preference and shooting needs.
Body Construction and Weight
I generally like to put emphasis on the body construction and weight range of the bipods I am using. Mostly because I want something durable and can take up several strong hits without losing the grip.
Therefore, the housing material needs to be resistant to corrosion and durable. Besides, getting a low weight range bipod will also work as an added benefit because then you can carry it around without too much hassle.
Reviews Of Top 5 Bipods For SCAR 17
Now that we have looked at the checklist for SCAR bipods, now it's time to find out which of the following products will be a perfect fit for your shooting needs and prove to be a solid companion for your SCAR 17.
1. Accu-Shot BT46-LW17 PSR Atlas Bipod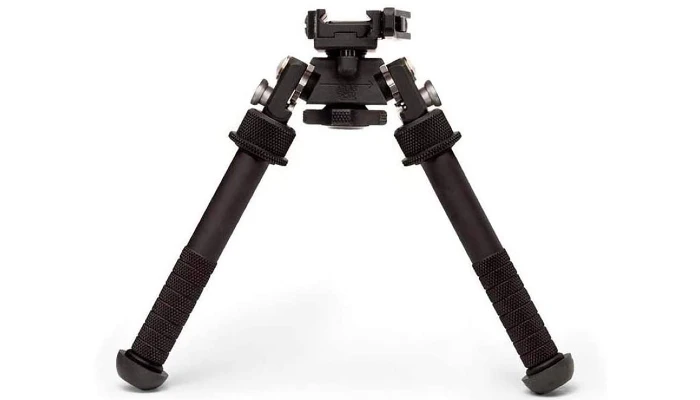 With the 40% stronger inner leg and 5 to 9 inches height adjustments, my first recommendation for your SCAR 17 rifle is the Accu-Shot PSR Atlas Bipod. You can easily change the leg positions to five different positions which include 0, 45, 90, 135, and 180 degrees.
There is a 0.5 inch position button that will help you readjust to your desired position every time you want to change it. The Picatinny rail mount interface will attach the bipod with any rifle that has a Picatinny mounting system, including your SCAR 17 and 17S.
Other than that, you are also getting an optional ARMS 17S lever mount in order to make it as inclusive as possible for a wide range of firearms. Besides, you are getting optional 3 inches leg extensions so that you can easily increase the overall height of the bipod. I also like how the solid leg positions allow the shooters to load effortlessly.
When talking about durability, the high strength aluminum construction makes the product compatible with any harsh situations. By attaching it directly to your SCAR 17 gun using the base clamp, you will be set for a really long time.
Will this bipod fit the Ruger Precision 338?
Yes, you can easily mount this on your Ruger Precision 338 using the 3 or 5 slot Picatinny rail.
Does this product have a pan side to side and swivel left to right and up to down?
This Atlas bipod has a cant that rotates freely along with adjustable legs for achieving your desired height.
Will this hold up on a heavy rifle?
Yes, the bipod can take even the 30 lb weighted .338LM ELR gun.
2. Atlas V8 BT10 Bipod – Two Screw 1913 Rail Clamp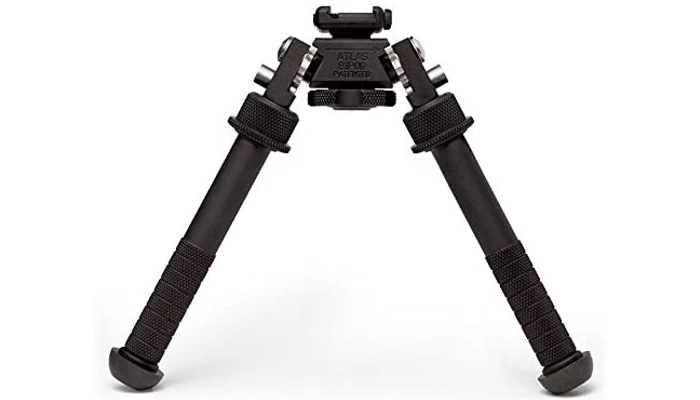 My second recommended product is another great candidate for your SCAR 17 bipod search operation as this directly mounts to any 1913 Picatinny rail using the two low profile screw clamp assembly.
You are getting standard soft, durable rubber feet that fit on any surface giving you the freedom to experiment with your firearm in any circumstances. The independent, intentional, and non-oriented leg positioning allows you to use either of your hands to move the leg into any of the five positions in order to achieve your desired angle.
Other than the five positions from 0, 45, 90, 135 to 180 degrees, you also get the 0.36-inch diameter position button. The outer leg slides on the inner leg have a location for each of the five positions which are ¾" apart from each other.
Coming to the housing construction, this Atlas bipod uses high grade 6061-T6 aluminum that has a MIL-Spec Type III hard coat anodized finish along with a heat-protected stainless steel surface, making it quite durable for any kind of situation.
Can you attach this bipod on a sling attachment?
You cannot directly attach this bipod to a sling slot. However, you can use an adapter for its Picatinny rail interface.
Does the product turn 360 degrees?
No, the bipod pans 30 degrees and cants 30 degrees at most.
Do the feet of this bipod swivel?
The feet of this Atlas bipod spin freely. In case you want rigid feet you can check out the PSR version of this model.
3. GG&G Tactical Bipod Stand w/Swivel Gun Stock Accessories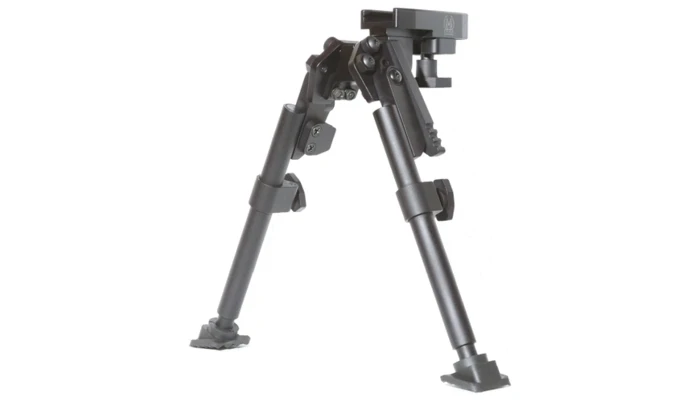 The next product I have for your SCAR assault rifle is the GG&G Tactical Bipod which is best for any military mission and critical circumstances. This tactical bipod has the highest military requirements which makes it rugged and durable enough to take on a long mission with you.
The minimum 7 inches to maximum 9.5 inches height adjustment gives you the freedom to experiment with the product itself and find your desirable position. This will not only give you the steadiness you want but also make your shooting quality better than before.
The tactical version of this model comes with a stronger pivot mechanism, tension mechanism, and adjustment knob so that you can easily adjust the position of the bipod using just one hand. In addition, you are getting 25 degrees of cant in either direction of the center.
In case you are still in doubt about the military standard quality, this bipod has a 6061-T6 aluminum housing along with the Type III hard coat anodized finish which can vouch for its durability. The Quick Release MIL-STD-1913 rail adapter attaches the product with a wide range of firearms including the SCAR FN 17 rifle.
What is the minimum height of the AR15 XDS model?
The GG&G XDS AR15 Bipod has a minimum height of 7 inches to a maximum of 9.5 inches.
Does GG&G Tactical Bipod have any adapter?
Yes. You can use the "GG&G INC. – Picatinny Bipod Adapter" on this bipod.
Can you mount this bipod to the FN SCAR 17S?
Yes, you can easily attach the GG&G bipod to the bottom rail of the FN SCAR 17S rifle since it also has a Picatinny rail mount.
4. Harris Engineering S-BR Hinged Base 6-9″ BiPod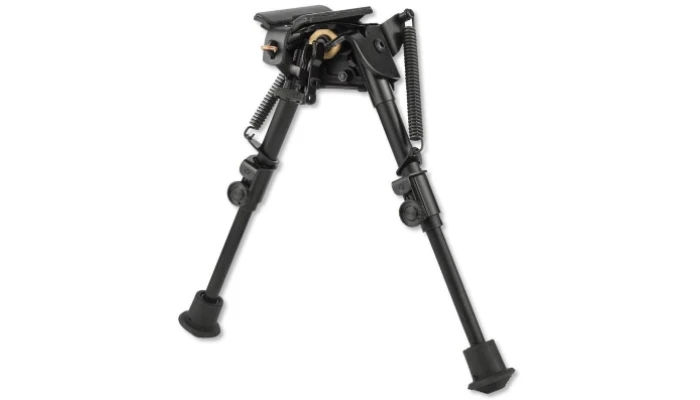 Since some firearms have a sling attachment system as well, I thought why not add something that goes well with that mounting system. This is where the Harris Engineering HInged Bipod comes in.
Although the bipod attaches to a sling stud, it does not mean you cannot use it for your SCAR 17 rifle. With the right Picatinny rail adapter, it is easy to install the product on your SCAR gun. Besides, you can also use the sling attachment provision and adjust it for off-center studs.
The product has a basic height adjustment of 6" to 9" range. The best part of this bipod is the spring loaded folding legs which you can quickly adjust for height whenever you need. Plus, you are getting a total of seven different height positions so that it can satisfy all your desired shooting angles.
The Harris Bipod is also durable and gives a great sense of stability with its high strength anodized aluminum alloy. The stress parts are tempered with spring steel to make them more durable.
What is the difference between the S-BR and the S-BRM Harris 6-9" Bipods?
The Harris S-BRM bipod has all the similar features as the S-BR bipod except the former one comes with notched legs.
What will you need to attach this bipod to the Magpul Hunter 700?
Since the Magpul Hunter 700 comes with an M-LOK mounting system you will need an M-LOK adapter to attach the Harris Bipod to your weapon.
Does this product include the Picatinny rail for mounting to Keymod Forend?
No, this product does not include a Picatinny rail. You will need either the Keymod Bipod Adapter (KMBA) or the Keymod Rotating Adapter (KMRA) for it.
5. Magpul Bipod for Hunting and Shooting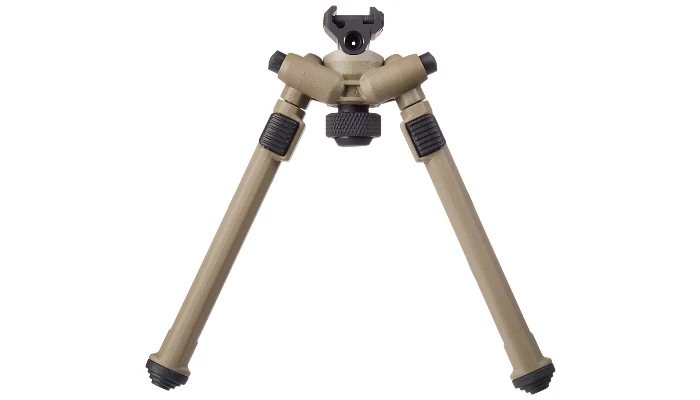 Last but not least I am going to talk about one of my favorite bipods that I prefer using for my firearms. The Magpul Bipod which you can use even for hunting. This lightweight high-strength 6061-T6 aluminum and injection molded polymer bipod has some awesome features that you will want to have in your collection as well.
Its low profile design and rapid one-handed adjustments make it easier to handle the product without the need of both hands. Now you can easily load the bipod with stabilizing forward tension without worrying about failure or warping.
Another great feature is the spring tension legs which stow neatly forward and snap down without much effort and that too using only one hand. This facility works best when you are in a hurry or even in a critical situation. The product will attach to your SCAR 17 as it has a separate Picatinny rail version for this rifle.
Besides, the leg extensions you are getting with this bipod slide and lock securely just by pushing one of the buttons of seven half-inch spaced locking detents. You are also getting industry exclusive 50 degrees of total tilt and 40 degrees of total pan, giving you the freedom to experiment with it in any position you want.
Can this bipod handle .300 Win Mag?
Yes, the Magpul bipod is capable of handling the AR15 size, G3 size, and FAL size rifles. Therefore you can purchase it for any type of gun without worrying about the durability.
Does this Magpul bipod attach to the M-LOK barrel guard directly?
You can find the M-LOK version of this Magpul Bipod model which attaches to the M-LOK hand guard of your firearm.
Do all the versions of this bipod pan?
You will only get the pan facility with its M-LOK and Picatinny rail versions. The other two QD sling and Swivel stud models do not have this feature.
Conclusion
If you want more stability with your SCAR 17 rifle, the answer is very simple. All you need to do is find the perfect bipod for the gun and you are all set to go. But before you go on a search operation to find that perfect one, you need to gather all the information you can get about bipods.
For that my suggestion would be to go through the buying guide I have added in this article. After you are all knowledgeable about this small tool, you can then move toward the reviews of the best bipods you will find in the market for your SCAR 17 firearm. That way you can choose the one that fits all your needs and makes firing with this rifle easier than ever!