Pardon the pun in the title, but it was begging for it. Ha-ha! Jokes aside, Kriss Vector even to this day is one of the most loved SMGs out there. Even newer gen games like PUBG include a video game variant of the same gun. While I can talk about this gun for ages, that's not exactly why you are here.
Then why are we here? To find out the best optic for Kriss Vector. Sounds easy, right? After all, how much can a SMG handle? You would be surprised how much they are capable of handling. Let's find out a bit more about some optics and why they are suited for Vector.
What will you learn here today? Maybe some tips and tricks about the Vector that you never knew before. And definitely about optics that are good for Vector.
Spoiler alert, there are optics listed here that you probably didn't know Vector supported. Anyway, let's find out about those optics, shall we? Well, Before that let's see the buying guide:
How To Choose The Best Optic For Kriss Vector?
Now that you know what are the best optics for Kriss Vector. How do you decide which one is the right one for you? Here are a couple of tips that I keep in mind while purchasing a new optic.
Build Quality
First and foremost, the housing. If we compare the optic with a building, the housing is the base and it needs to be durable. Otherwise, the building on top of it won't be able to last for a long time. That's why, you should invest on a sight that is extremely well-built and quite durable in rough conditions as well.
Lens Quality
The most important part of an optic is for me. It's your second pair of eyes. If they are not working properly, you won't be able to see them properly. If you get a sight with good lenses, your eyes will thank you.
Mounting System
Make sure the mounting system matches the rail on your gun. If it doesn't, you need to buy a separate mounting system to fit on your gun. That's quite easy and most companies make mounting systems for their existing optics.
Budget
Let's not forget our budget. Depending on how much you can or want to spend on the optic, your choices will narrow down to one or two at best. This is a great way to make the list shorter and make your decision easier.
What Type Of Optic Does Kriss Vector Support?
The Kriss Vector supports a lot of different optics. But all of them aren't used by all users. The ones that are mostly used are:
Holographic Sights
Why holographic? This is a question that I've been asked a lot in the past. After all, doesn't red dot synergize better with SMG? You are not entirely wrong there. As we are used to seeing red dot sights with smaller guns, we still believe that red dot is simply better.
But holographic sights are incredibly accurate and well built and work well with guns like the Vector. It's no wonder that I'm recommending you a holographic sight for Kriss Vector.
1. EOTECH EXPS3 Holographic Weapon Sight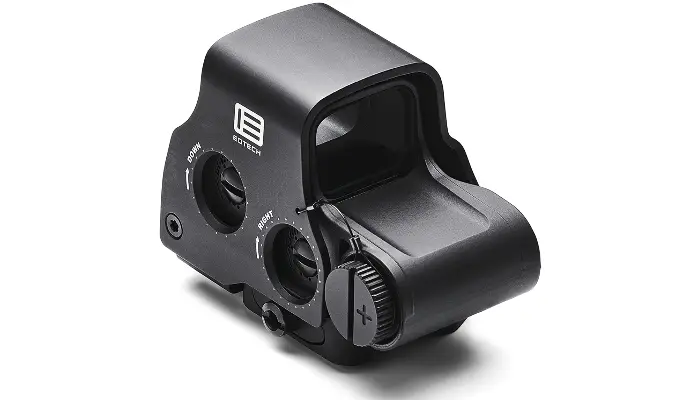 There isn't a better sight to start the list with. Eotech is a brand that most of us can put their trust in blindly. But recently there's been a bloodbath in the optic scene.
A lot of Chinese manufacturers have been cloning Eotech left and right. Don't worry, I'm not here to recommend you some clones or anything. This one here is the real deal.
The EXPS3 is made out of aluminum entirely. The housing is extremely durable and lightweight as well. Durability has always been a crucial part of Eotech's success. Clone ones just aren't that durable.
Sometimes the clones are even made out of plastic. The weight of the EXPS3 is only 317.5 grams. That's extremely light. You won't feel like you are using a brick on top of Vector.
The lens on this sight is fully multi-coated. The idea behind multi-coating is to eliminate any kind of glare from light from the sight and make it durable as well.
The coating works as the first layer of protection against dust and oil. It also makes the lens scratch resistant to some degree.
The entire sight is water, fog, and shockproof. Yes, you can use this with an AR15 if you want to. That's another benefit of purchasing this sight, if you are going for a rifle in the future, you can carry this sight from the Vector to your new rifle.
The sight is available in 3 different reticles. The red dot in the middle has a different depth in each variant of the sight.
If you prefer a thicker red dot, by all means, go for the thicker one. But if you are okay with 1 MOA, stick to that. Take whichever makes you feel comfortable.
Can I use a magnifier with Eotech EXPS3?
Yes, you can. Eotech themselves make magnifiers that support this optic as well. The one you should get for EXPS3 is the G33 magnifier. It will increase the magnification to 3x. Give you a bigger headroom to shoot.
Can you submerge this optic?
Yes, you can. The maximum depth this optic can handle is 33ft. I don't see why you would want to submerge it, but hey! You do you.
Is the reticle illuminated?
Absolutely. You will need a CR123 battery to turn on the illumination. There are a total of 20 daylight settings present on the sight. There are also 10 additional settings for night vision devices.
Red Dot Sights
The easiest sights to recommend to any Vector owner is a red dot. It's a type of optic that most of us are quite familiar with. We know the ins and outs of this type of sight and know how to utilize one as well. Let's find out some of the best red dots for Kriss Vector.
2. Aimpoint PRO Red Dot Reflex Sight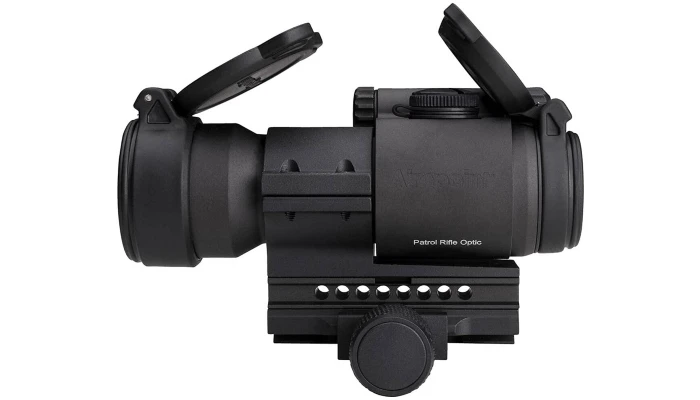 Aimpoint aims to please you. No pun intended. The idea behind this brand was to make premium red dots affordable and give a newbie to the scene a spectacular experience on a budget.
The Aimpoint Pro is a red dot sight that is quite popular among reviewers and users alike.
The optic is made out of aluminum completely. The housing is made through CNC machining. There are no sharp edges or imperfections present on the sight. It's all basking in the glory. The weight of the sight is 330 grams.
The sight comes with a QRP2 mount. It's a patented mounting system that belongs to Aimpoint. It comes with a detachable mounting base that fits on most Picatinny rails. You can easily take it off the gun and carry the sight in a safety box while not using it.
This way, you can ensure the sight stays safe and potentially increase longevity.
The lens of the optic is fully multi-coated. It's extremely clear and gathers plenty of sunlight. That gives you a good vision at any time of the day.
There isn't a single bit of glare related issue present on the sight at all. The front of the lens is quite durable. It resists dust and oil too.
If you are worried about using this in low light conditions or during the dark, you don't need to worry at all. This sight has an illuminated reticle etched directly on the lens.
You can run and gun with this on and your reticle won't move around in the slightest. It gets bright enough during the dark to give you a proper view of the target as well.
Is it hard to install Aimpoint Pro on Vector?
No, it's not hard at all. In fact, it's not hard to install the Pro on any gun. It has pretty straight forward building instructions and like I said, you can easily detach the sight from the gun.
Does it have any magnification?
No, it doesn't have any magnification. The base magnification is 1x and it is fixed at that. But if you want to increase the magnification, then you must buy an Aimpoint magnifier.
Can you submerge this?
Yes, you can. The maximum depth this sight can handle without letting in water is 150 ft. Of course, that rating isn't valid for extremely polluted water and drains. If you are worried about regular uses in cold or rain, no need to worry. It can handle those.
3. HOLOSUN – HS510C Reflex Red Dot Sight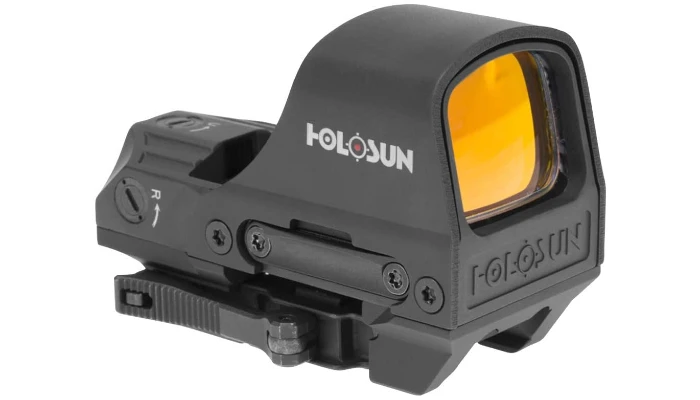 The next red dot is from Holosun. I know a lot of you were expecting a Holosun by now. After all, Holosun makes some of the best red dot sights on the market.
Given at most price brackets, Holosun gives a good competition to other brands. That's what we love to see, healthy competition. That benefits us the consumers.
The HS510C is the latest iteration of the 510 series. It can be considered the flagship red dot from Holosun. The sight is constructed purely from aluminum. Aluminum is the perfect choice for this optic.
As it's lightweight and a durable material. Will cooperate with you for a long time.
A sight can only go so far without a good lens to accompany it. Holosun has always used good quality glasses for their lenses. The trend continues here.
It's a durable glass that has been coated multiple times with different chemicals to strengthen it and removes some weakness of regular glass. There aren't any glares from the sunlight anymore. It is also more resistant to dust and oil compared to a regular glass.
The optic by default comes with a quick release mounting mechanism. This makes the installation process much easier. When you are not using this, you can just store it inside a safe compartment to prevent scratches.
Is this sight illuminated?
Yes, the sight features an illuminated red dot reticle. The reticle size is 2 MOA and it has a 65 MOA red circle around it. The sight features 10 levels of adjustable brightness settings.
Is the battery life good?
Yes, the battery life is excellent. You can expect around 50k hours of battery life at the lowest brightness with a single CR2032. That's great for regular users.
Is the HS510c and HS510c-GR the same sight?
Yes, they are both the exact same thing. The only difference is the reticle. GR in HS510c-GR stands for green. Yes, a variant of the HS510c comes with a green reticle instead of red.
4. Vortex Optics Strikefire II Red Dot Sight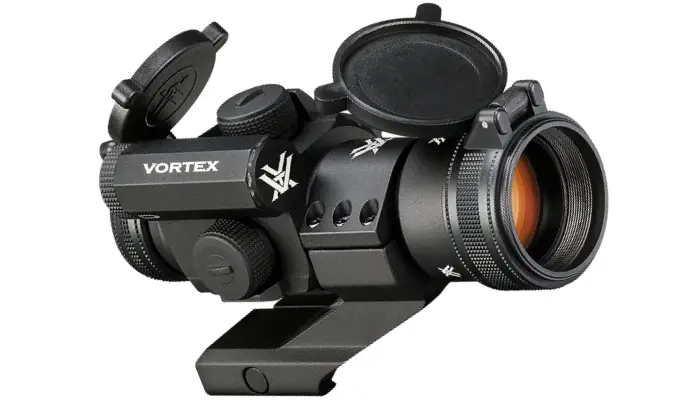 The second iteration of Strikefire was an instant hit. It nailed the price-to-performance ratio and people started to go crazy for this. Even in 2022, Strikefire II is an incredible red dot for Kriss Vector and similar guns.
The optic is made out of aluminum completely. Vortex's CNC work has always been admirable. They tend to create flawless housing for their optics.
There are no sharp edges present on the optic. The anodization finish on this is spectacular to say the least. All while still being 205 grams only.
That's incredibly light for a red dot sight. You need to keep in mind that Kriss Vector isn't a heavy gun.
Naturally, you want a lightweight sight to pair with it. This way, the weight balance will be nice and you don't need to worry about modding the gun to shred some weight from it.
The lens on the sight is quite good. Vortex is quite well-known in the industry for their lenses and glasses.
Their optics have some of the best lenses in any given price bracket. The lens on Strikefire II is fully multi-coated. It has no glaring or chromatic aberration issues at all. The viewing experience is mind blowingly good.
The combination of this sight with Kriss Vector is nice to have on hand. They are both lightweight and they both perform as you expect them to. Incredibly well. Fast focus on the target gives you an edge over your opponents in competition. If you change the gun for some reason, you can keep this sight to use with the newer one as well.
Does Strikefire II require a battery?
Yes, it definitely does. After all, the reticle is illuminated by electricity. You will need a single CR2 battery to turn on the illumination of the sight.
Is the brightness adjustable?
Yes, it is. You get a total of 10 adjustable brightness settings on this optic. The reticle size is perfect for day and nighttime usage. With the lowest brightness, you are expected to get around 80k hours of battery life.
Can I use a magnifier with this?
Yes, 100% you can. By default, it comes with 1x magnification and that's fixed. If you are feeling uncomfortable using 1x in your preferred range, it's time to invest in a magnifier. Get a Vortex VMX-3T 3X Magnifier and you are all good.
5. Sig Sauer SOR52001 Romeo5 1x20mm Red Dot Sight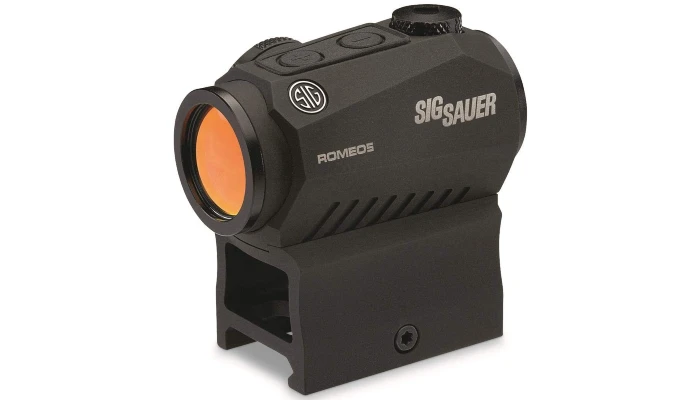 Let's not forget this miracle creation. What Sig did with the Romeo 5 is nothing less than a miracle on the current market.
The price it goes for, you pay that much for fake Eotech. It's a bracket where most people don't want to compete as they need to cheap out on many things.
Bring out the Romeo 5, a sight soaring high without being held back by unnecessary cheapness. The sight is constructed from aluminum. A lightweight and durable material that cuts no corners when it comes to longevity.
The weight of the sight is only 144 grams. That's extremely light and can be used with much smaller guns if needed.
The selling point of this sight for me is the lens. They are fully multi-coated with zero glaring issues. There is no hint of discoloration or artificial saturation present on the optic either. It's as if you are using an enhanced version of your eyes. The reticle is small and helps you focus on the target almost instantly.
Speaking of reticle, it's etched on the lens directly. 2 MOA red dot reticle with no inner or outer circles around. It won't feel distracting at all.
If you prefer a wider FOV with no reticle obscuring your vision, then you will absolutely love this.
Is Romeo 5 really worth it?
100%! The price to performance value of this product is unreal and it doesn't make any sense why it's not more popular. It deserves all the love it gets and I'm well aware of the minority of negative reviews. Those are present in every sight, can't really make a sight with 0 negative sides, can you?
Is the brightness adjustable?
Yes, it has 8 daylight and 2 night vision settings present on the sight. You can change it to your heart's desire.
What's the expected battery life?
You can expect around 40k hours of run time with a single CR2032 battery. Keep in mind that expected battery life is calculated based on the lowest illumination.
Conclusion
And that's a wrap. Woho! That took longer than I anticipated. Initially, I was like, how hard could it be? Right? Well, you saw how tough it was to decide between these few optics.
There are more Kriss Vector sights out there, but they didn't make the list for obvious reasons. But these are the best optics for Kriss Vector you could buy right now. They won't break your bank or make you take a loan from your bank.
Jokes aside, Hopefully, you found the answer you were looking for. That's all for now, I will see you guys again soon enough.