Aimpoint Pro is one of the most recommended red dot sights out there. Whether you are using a rifle or an SMG, Aimpoint Pro is one of the top contenders as the main sight of tact shooters.
There is one slight problem with the Pro. It has a fixed 1x magnification. No matter how good your eyesight is, it's hard to shoot medium range on 1x magnification.
You can easily solve this problem. Just by adding a magnifier, you can instantly improve your shooting capabilities with the Pro.
Aimpoint Magnifiers are not a new thing. There are tons of them and you can easily find them from a third party or maybe a random dude on the internet.
Here, I have gathered 3 of the best magnifiers for Aimpoint Pro. Without further ado, let's get to know them.
How To Choose The Best Magnifier For Aimpoint Pro?
Before buying a magnifier for your Aimpoint Pro, Take a look at these facts; which will help you to choose the right one.
Build Quality
You can see, I have even included a magnifier made out of plastic. Plastic magnifiers work. Only when it is made properly. If the craftsmanship is good, then the material can be plastic. Just keep in mind if it is durable enough or not.
Magnification
Well, duh! The magnification needs to work. If the magnifier has adjustable magnification, then the diopter and adjustment knobs need to work. Otherwise, don't consider something like that.
Optical Capability
Some magnifiers tend to use low quality glass and call it a day. Just because it is capable of zooming, doesn't mean it's capable of generating good vision. Make sure to take a magnifier that doesn't cheap out on lenses.
Warranty
Magnifiers are a fragile subject. You can break one at any time by accident. Or it might stop working. Having a warranty is very important.
Best Magnifier For Aimpoint Pro [Editor's Picks]
1. Aimpoint 3XMag Magnifier w/39mm TwistMount & Base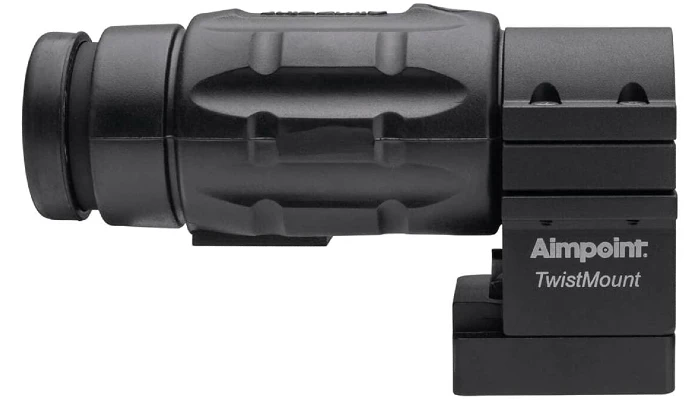 Can't really make a list of a magnifier for Aimpoint without including one from themselves. This 3x Aimpoint magnifier is the go to recommendation for most Aimpoint red dot sight owners.
After all, it's easier to just get one from the manufacturer instead of looking amongst thousands upon thousands.
The magnifier isn't made out of aluminum if you are wondering. Instead, Aimpoint used rubberized plastic material that passed on the shock and waterproofing testing.
That's right, this magnifier is submergible up to 3 feet without breaking the magnifier completely. Just because it's not made out of metal, that doesn't mean it's not durable. You can consider this as a proof of how good craftsmanship matters over a choice of material.
The magnifier has a fixed 3x magnification. You cannot adjust the diopter to increase or decrease the magnification. 3x is plenty enough for target practicing and open firing at the range. It's enough for plinking as well in my opinion.
If you are using this setup on an air rifle for airsoft games, you will have a blast shooting your opponents from afar.
You don't need to zero this every time you decide to take it off and use the red dot instead of magnification.
This is something a lot of cheaper magnifiers fail to do consistently. That makes them an easy pass as a shooter. Not this one, this one is more than capable of such feats.
Does this magnifier come with a mounting system?
Yes, it comes with a twist mount and a base for the mounting system as well. The twist mounting system is compatible with Picatinny rail. It holds the magnifier in place. When you don't need the magnification, you can quickly detach the optic.
How much eye relief does this magnifier offer?
It offers around 60 to 65 mm of eye relief. This is plenty fine to use on a rifle. Even if you wear glasses, you won't have any issues dealing with this.
Does Aimpoint offer a warranty?
Aimpoint offers up to 10 years warranty for civilians and 2 years for professional shooters and competitive shooters.
2. Sig Sauer SOJ41001 Juliet 4 Magnifier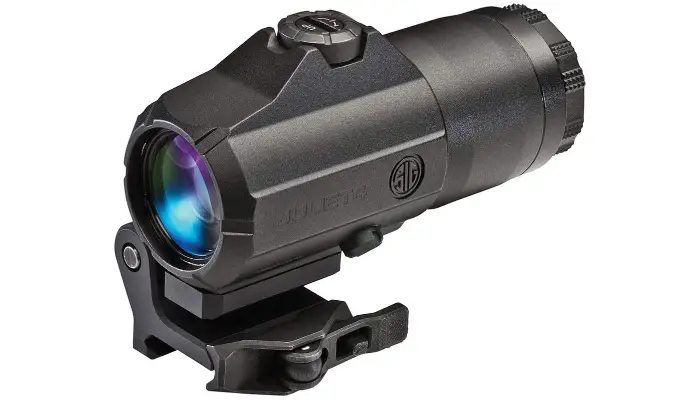 Sig Sauer Romeo red dot sights are as popular as Aimpoint Pro. Their Romeo 5 is one of my favorite red dot sights. It's incredible how less it costs. The Juliet series is a lineup of magnifiers made by Sig for red dot sights. This one here Juliet is a 4x magnifier. This is compatible with sights like Aimpoint Pro as well.
The Juliet is made of aircraft-grade CNC aluminum. That makes it as durable as the sight you are using this with. Despite being built like a tank, it doesn't weigh like one. It weighs around 355 grams only.
That's quite light considering how big of a magnifier this is. The magnifier is shock, water, and fogproof as well. With an IPX 8 rating, you can submerge this for up to 20 meters.
The magnification is fixed at 4x. You are essentially using an ACOG at that point. 4x magnification is plenty fine for all sorts of shooting and stuff.
There is no visible distortion or color related issue present on the magnifier. You will see the targets naturally like you did with the red dot only.
The quick release base of this magnifier is compatible with Picatinny rail. You can easily install it or take it off with minimal tool usage. You definitely don't need a gunsmith to install this on your weapon.
The Powercam 90 mount allows you to quickly flip the magnifier on the side and use the Pro only. This is such a great feature! You will fall in love with the convenience once you start using this.
Is the mounting system quick release?
Yes, the base is a quick release one. Besides, you can always flip the magnifier on the side instead of just removing it completely.
Do you need to zero every time?
No, you don't need to do this. Even if you flip it towards the side and use just the red dot, you don't need to zero it again after using the magnifier.
Does Juliet 4 come with a warranty?
Sig Sauer is known for their lifetime warranty. On top of that, they allow you to transfer ownership of the weapon as well.
3. Vortex Optics VMX-3T 3X Red Dot Sight Magnifier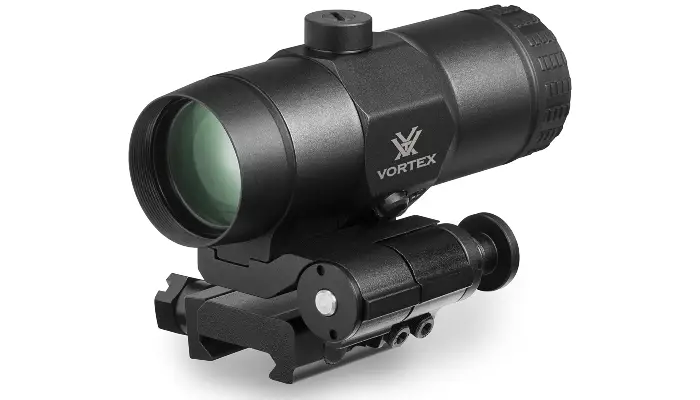 Vortex is mostly known for their optics. That includes red dot sights as well. To accompany those sights, they make magnifiers as well. This VMX-3T supports the Aimpoint Pro as well.
This magnifier is fixed at 3x magnification. 3x magnification is plenty enough for any kind of tactical shooting you may want to do.
The magnifier is made out of high-quality aircraft-grade aluminum. It's a lightweight material and is the main choice when it comes to making any kind of optical accessories.
Unlike most other magnifiers, this one here is submergible and has O-ring sealings on the lenses. Make sure it is 100% waterproof and fogproof at the same time. Vortex is aware that users use the red dot with rifles and SMGs alike. So, they made sure this is shockproof as well.
The hard anodized finish on this magnifier makes it look extremely premium. Frankly speaking, you can expect a good finish for the money you are paying.
The inside of the magnifier is purged with nitrogen as well. There won't be any moisture leaks happening here at all.
The lenses are fully multi-coated. They are clear, bright, and extremely vivid. They gather plenty of light through the red dot in front and convert them to lifelike images.
Even at fixed magnification, you won't see any blurriness on the corners or any colors rendering differently. Just the optical performance alone, this is a masterclass.
Does this come with a mounting system?
Yes, it has a flip style mounting system. You can flip it towards the side to keep using your red dot when you don't need it. And it locks in place when you do use it.
Does Vortex provide a warranty?
Yes, they do. Most of the time they tend to offer a lifetime warranty with their products. You can find the full rules and regulations at their website.
Is this compatible with an AR?
Definitely. It can handle the recoil of an AR with relative ease. You don't need to worry about that.
Conclusion
See, that wasn't too hard. A magnifier is a sensitive subject. You and I both know that. Cheaping out on something like that may end up hurting us more than we anticipated.
I hope you end up choosing the best magnifier for Aimpoint Pro. That lovely sight deserves nothing but the best. With that said, I will end this journey of ours here. I hope you return to read more. Till then, take care and stay safe.