The Sako 85 is a bolt-action hunting rifle manufactured by a Finnish company named Sako. The model 85 is one of their premium weapons and is very much preferred for hunting competitions.
While we are basking in the glory of this great rifle, you can't ignore the fact that the gun doesn't come with any scope let alone a mount. If you are coming from a different weapon and already have a scope that you want to mount on the Sako 85, you cannot do that without getting a scope mount for Sako 85.
So, what are the best scope mounts from Sako 85 and how do you find one among them? Don't worry, I'm here to help you guys. With that said, let's start before I get sidetracked again.
How To Choose The Best Scope Mounts For Sako 85?
The Sako 85 is a very interesting gun. Of course, it has tons of options in mounting rings to choose from. If you are confused, don't think you are alone. There are tons of other folks who are equally confused.
But you shouldn't be confused. Choosing the best scope mount for your Sako 85 shouldn't be as hard as you are making it. Here, let me show you a simple equation by which you can easily choose the best.
Dovetail mount: If you don't want to go through the hassle of installing a weaver rail on your gun and want to just install a pair of rings and be done with it, then dovetail rings are your best friend. But if you are feeling a bit adventurous and want to try out different things then,
Weaver Rail: Grab the Contessa Picatinny Rail in Hardened Steel for Sako 85 and install it on your gun. With this, you can use almost any mounting ring you can think of. As weaver is the preferred mounting system to many, it makes sense if you want to go through this route.
Ease of Access: Last but not least, the ease of access. It's underappreciated. To newbies, if it requires drilling, pinning, or even the help of a gunsmith, then it might steer them away from choosing that ring.
Best Scope Mounts For Sako 85 [Editor's Picks]
1. Leupold Mark 4 Scope Rings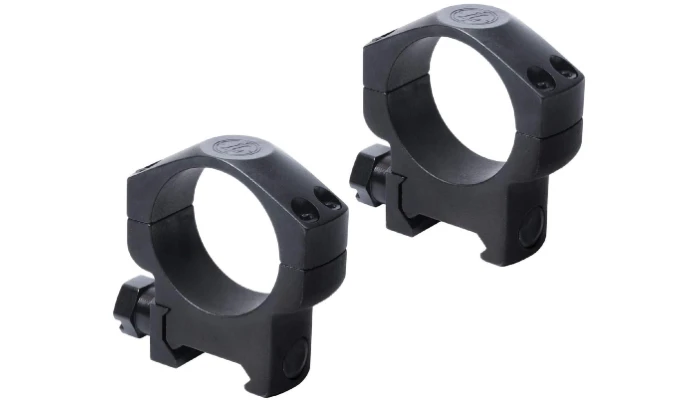 Leupold is a manufacturer that you know very well. They are known to be reliable and well-performing among hunters. Specially, their scopes and the mounts that they make to install their scopes. The Mark 4 scope rings are rather a premium pair of scope rings from Leupold.
While the price tag might seem a bit high, don't forget it's one of the best pairs of mounting rings for any high-end scopes you may want to pair this with. With long-range scopes, it's recommended to have a good pair of mounting rings. As you don't want the zero of your scope to move around.
The pairs are quite easy to install. You don't need a gunsmith for this. The best part is, you don't need a plethora of tools either. Just a wrench and an Allen key are enough to install this or take it apart. Ease of access is always a welcome gesture.
Does this scope ring come with a warranty?
Yes, this does. It is part of the lifetime warranty provided by Leupold. Their customer service has always been spectacular.
Will this support Leupold VX-5HD?
Of course, it will! Actually, Leupold themselves suggest you to pair the VX-5HD and other VX series scopes with Mark 4 rings.
Is this made out of plastic?
No, it's not! It's made out of durable steel. It's stainless as well. It won't rust or color won't fade either.
2. Beretta Sako Optilock Scope Ringmount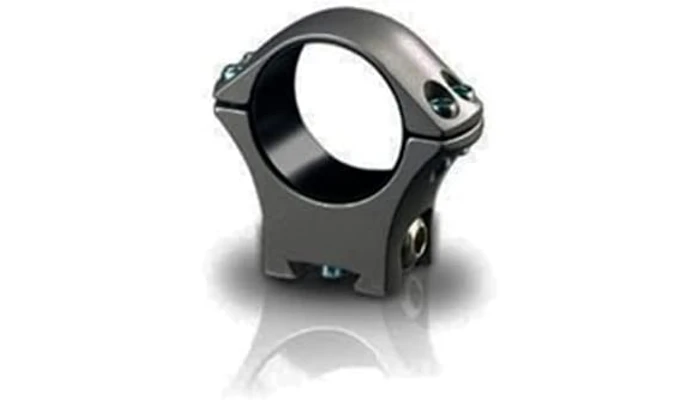 With over 500 years of history, Beretta is the world's oldest gunmaker. And making it the world's oldest manufacturer of any kind. The Sako Optilock rings from Beretta are definitely one of a kind and are one of the best scope mounts for the Sako 85.
The rings are created from solid blued steel. One of the most durable materials for scope accessories making and it has a history of being long-lasting. The pair of rings come with a hex key that you can use to install this on your gun.
While you can get help from a gunsmith, it's not mandatory to do so at all. The rings are also available in two diameters and three heights. Making it a perfect choice for both Tikka and Sako rifles.
Where is this made?
Beretta is an Italian company. All of their scopes are made in Italy and they have branches all over the world. From the USA, you can get yours serviced or replaced as well.
Will this fit any dovetail mount?
If your dovetail mount is like the Sako, then it will fit your gun as well.
Will this work with a Zeiss scope?
Of course. You just need to make sure the diameter of the scope is the same as the ring you are about to purchase.
3. Talley Fixed Rings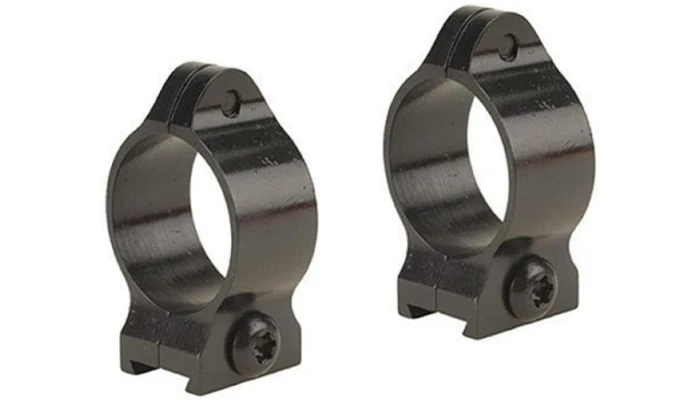 With over 40 years of experience, Talley is one of the best scope accessories makers on the market. While the scope rings thus far can withstand magnum calibers as well, this one from Talley does come with a magnum caliber rating.
The scopes are constructed with deep blued steel. A very durable material that is known to be rust free and working under tough conditions. The pair of rings are available in multiple diameters and height.
If you want low height, that's also possible with this pair of rings. As they are made with rigid constructions, they ensure your zero won't be moved around at all. The best thing is, you can choose from 5 color options. But keep in mind, the colors will cost extra and they can get expensive real quick.
Should I get the multi-color or hardened finish?
In my opinion? You definitely should. The multi-color looks insanely good and it will give you an option to be different from others. On top of that, you can get it in a different color as well.
Does it come with any warranty?
It's Talley we are talking about. Of course, it does. It comes with the Talley warranty. Satisfaction guaranteed.
Will this fit on a Picatinny rail?
No, it won't. It's made for Dovetail rails. That does include the Saka 85 that you have on your hand right now.
4. Warne Maxima Quick Detach Rings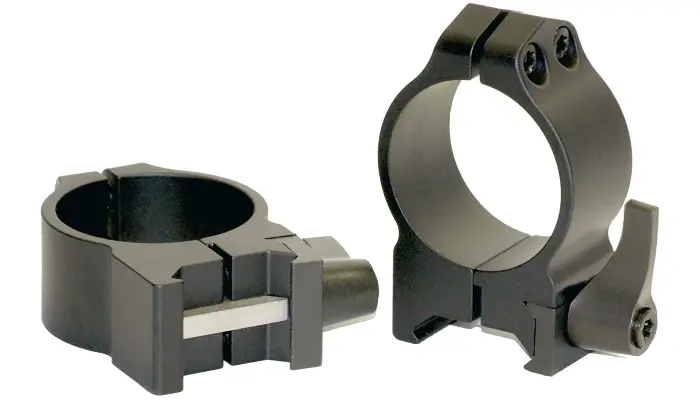 If you are someone who is constantly worried about the safety of their scopes or you just like having the opportunity to take off your scope+rings effortlessly, quick-detach rings are the best thing to have.
The rings are made out of steel. They are rust proof and they are usable in any given condition as well. If the scope you are pairing this with is also waterproof, then you can take it to the jungle and hunt there to your heart's content.
Speaking of hunting, the scope rings sit tightly with the scope in them and don't even flinch when you shoot. With steel everywhere on the ring, it's truly one of a kind of mounting ring made for guns such as the Sako 85.
Will this fit on the Sako 85?
Out of the box? No. It's not made for the dovetail. It's made for Picatinny/weaver mounting styles. If you already have something like the Contessa Picatinny Rail in Hardened Steel for Sako 85 installed, then you can use this and every other Picatinny mounting ring I mention.
Does this come in a pair or do I need to buy two?
It does come in a pair. You don't need to buy two of them separately to pair them. If you do end up buying two, you will be sitting with one extra pair.
Where are Warne scope mounts made?
The Warne scope mounts are made in the USA. They also provide great after-sales service.
5. Burris Optics Signature Zee Rings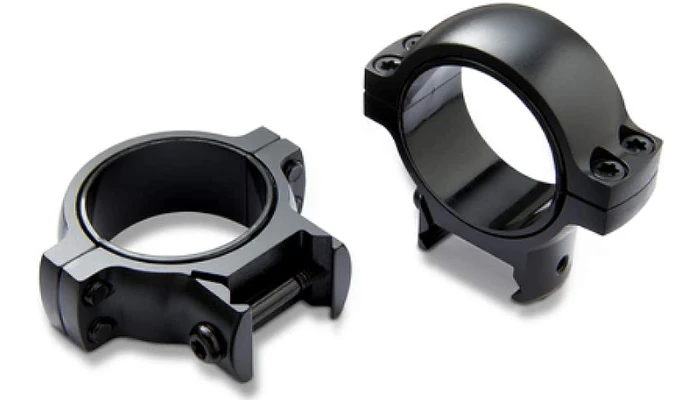 The Signature Zee rings for Burris is a wonderful pair of mounting rings that fit on the dovetail, double-dovetail, and weaver-style bases. The signature ring is an affordable option that is suitable for hunting rifles and riflescopes.
The Signature rings are made out of solid steel. They are ideal for hunting but suitable for tactical shooting as well. The pos-align inserts offer an unimaginable gripping power without damaging the scope or your base.
While it's available in 1 inch base and 30mm size, it's not available in 34mm or higher unfortunately. For extremely long-range riflescope users, tough luck buddy. But what it does offer is multiple different heights. If you like extra height, then you can get with this as well.
Where are Burris rings made?
Just like their scopes, the rings are also made in the USA. Burris is a trustee brand among hunters.
Does this ring come with any warranty?
Yes, they do. They are covered by the Burris Forever warranty. Burris believes in customer service above everything. This is the reason hunters choose Burris with their eyes closed.
Is this ring suited for Airguns?
Yes, they are. They are also suited for Rimfire as well. Doesn't really matter what kind of shooting you want to do. It's capable.
Conclusion
And there you have it. Those are some of the best scope mounts for Saka 85 and it clearly shows why they are best. No matter which route you go on, there are no wrong choices here. If you feel like you are interested in spending a lot, by all means, go for it. If you don't feel like it, go for the budget options.
Ultimately, the choice is in your hands. I just narrowed down the options to make that choice easier.
With that said, that's all for now. I hope you enjoyed the read. I will be back with more interesting guides in the near future. Till then, take care and have fun.