As a professional shooter, it is normal that you will have different models of handguns, rifles, shotguns, and many other firearms. When you have the opportunity to turn a pistol into something similar to a shotgun, then why not? Pistol Carbine Conversion kits such as Micro Roni can make this wish of yours come true.
In addition, this will give you the feeling of using a firearm just the same.
Commendable as the most preferred pistol conversion, with Micro Roni you get a better grip and stability along with a solid platform for external accessories. The conversion comes with a long Picatinny rail base that can adjust two of the external devices such as red dots, night sights, and magnifiers at the same time.
Along with the long Picatinny rail on the Micro Roni conversion, you are also getting two additional rails to place accessories on the left and right sides of the platform. This will give you more freedom to experiment with the optical sights. But today we will only focus on the optics that you can mount on the center base of your weapon.
Since using a pistol with a conversion kit can lead up to difficulties such as heaviness, it is best to stick to optics that are smaller in size and easy to control.
With that intention, I am going to introduce you to some of the best MCK red dot sights and let you find your own perfect one. But before that, we need to know the basic things about red dot sights which you can find in the buying guide section. So what are we waiting for? Let's begin!
Buying Guide For Micro Roni Sights
Whatever MCK sights you find in the market, all of them need to have some basic features that will help you upgrade your shooting experience. And in this section, I am going to talk about those points so that you can take notes for your own sight.
Footprint/Mount
The first thing you need to look for in a red dot sight is the mounting style of that particular sight. This is important because red dots come with a special type of cut that attaches to a specific range of guns. This is called footprint or mounting standard.
Now, since the Micro Roni conversion has a Picatinny rail base on it, the best thing would be going with a red dot that mounts on this kind of rail. In other circumstances, you will need to add an extra adaptor to mount your red dot sight on the Micro kit.
Lens Quality
Next comes the lens quality and it is as important as the mounting option if not more. When it comes to checking the lens quality of a red dot sight make sure it has anti-reflective, multi-coatings so that the lens can transmit light as much as possible for better visibility of the targets.
Reticle
The reticle of a red dot sight is not that complicated. You just need to match the dot size with your hunting/shooting purposes. What I am trying to say is if your target is something close by and fast moving then go for reticles with 4-6 MOA dot size. Whereas for covering longer distances and precise aiming you will need something around 2 MOA dot reticle.
Design & Weight
Next up is the housing design or structure of your red dot sight that you need to know you are comfortable using. I personally believe the surface design of a sight can change many things. For example, having ambidextrous buttons and easy brightness set-ups are a few of them.
Plus, we all want to have something that is not too heavy to carry around. With the Roni micro conversion, you will need something that is lightweight so you don't lose your posture while shooting.
Durability
Last but not least, you need some solid housing materials for your Roni red dot. You don't want to spend your money on something that wouldn't even last that long. Reliability and durability are two points I take very seriously when purchasing a sight and you should too. So look out for something that is strong, waterproof, and usable during tough times.
Best Red Dot For Micro Roni [Editor's Picks]
1. Vortex Optics Venom Red Dot Sight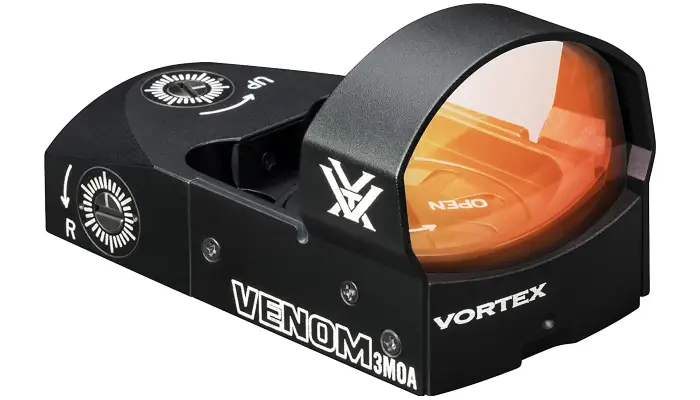 The first candidate as the best red dot sight for MCK is the Vortex optics Venom red dot sight. What is so special about this sight is that you will find this red dot recommended for almost all the firearms in the market. Well, one thing is definitely the brand quality.
If you are a regular member of the optics world you will know Venom red dot is one of the most mentioned sights for any weapon. This is because you are getting the best features for the price you are paying.
One thing I like about this product is the reticle options. You are getting 3 dot sized reticles- one is the 3 MOA dot which you can use to aim at a longer distance, especially the big targets.
Then there is the 6 MOA dot reticle that gives you enough coverage to precisely aim for close quarter, fast moving games. The versatility is what made me consider this sight at first.
Other than this facility, you are getting an anti-reflective, scratch resistant, fully multi-coated lens that will provide you with a wide field of view for faster target acquisition and situational awareness.
Then of course there is the clear and crisp image quality of the targets and it is because of the high contrast light transmission quality of the lens.
In case you are looking for something to go with any time of the day, this Micro Roni red dot has 10 different brightness settings that will let you use it in any lighting condition. It's left side operation button makes turning the power ON/OFF easy.
I actually appreciate this feature more than you can imagine. That is because red dots having rear buttons, make it difficult to use them with other optics.
Oh, how can I forget to mention that this sight also detects auto-brightness motion? That means you don't even need to change the brightness settings most of the time. The auto brightness mode will adjust it depending on the lighting setting.
Then, there is the 1 MOA adjustment click value to change the windage and elevation settings. Although 1 MOA will be a big leap for adjustments, but it's still not bad considering that it is easier to do the math.
Lastly, the sight uses a CR1632 battery which has a pretty decent lifespan from 150 to 30,000 hours and it is not that difficult to get hold of these lithium batteries. You can mount this on any weapon that has Picatinny rail and you will be set.
The sight also comes with a low mount and one optional riser mount for co-witnessing. Considering the reputation Vortex holds for durability, I am not going to question that at all.
Just by evaluating the other factors I will say, that the Venom red dot gives solid competition to other sights for Micro Roni carbine conversion.
Is the red dot sight compatible with night-vision devices?
Yes, the Venom red dot sight comes with night-vision compatible brightness settings so you can use it with night vision sights.
Does this red dot sight co-witness with the iron sights of Micro Roni?
In case you use iron sights on Micro Roni, the Venom sight actually comes with a low profile mount and also has the option to choose a riser mount for it. Therefore, it shouldn't be difficult to adjust the height for co-witnessing with the iron sights.
How can you change the windage and elevation adjustments of the sight?
In order to adjust the windage and elevation of the Venom sight, you need to turn the dials up and down for the elevation and left or right which you can also take as clockwise and counterclockwise for windage. There is an arrow to indicate the direction. You can also follow that to make the necessary changes.
2. Sig Sauer SOR52001 Romeo5 1x20mm Red Dot Sight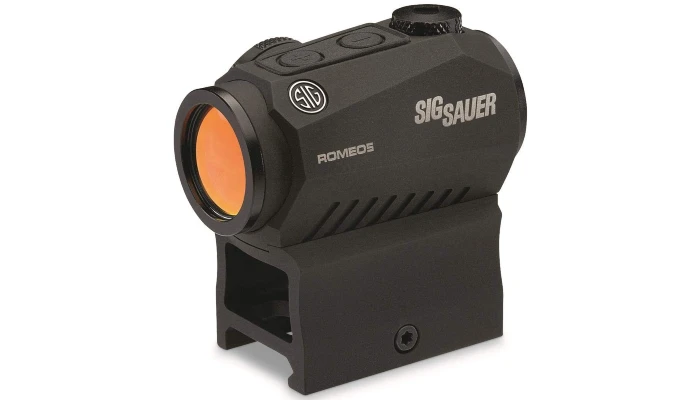 Next, we have the infamous Sig Sauer Romeo 5 red dot sight. Calling this red dot infamous is merely because of the popularity it holds, nothing negative by the way.
This sight offers only positive sides which can make you confused about which one to choose. Anyway, my reason for recommending Micro Roni with this red dot is actually its battery life and lens quality.
First, let's talk about the general features of this red dot sight. The sight has a 1x magnification which is not different from other red dots.
For the objective lens, you are getting 20mm diameter size. For a red dot, this size is considerably good, giving you a wide field of view. It will also transmit enough light for clear visibility of the targets.
This has a 2 MOA dot reticle which I love when aiming for long range big games. The center dot is very precise and accurate for better target acquisition.
The Romeo 5 sight also gives the option to choose a 65 MOA ring reticle along with the dot. This circle works great for close quarter targets. Hence, you can opt for that version in case you want both coverage.
Coming to the adjustability with different light conditions, the sight offers 8 daylight brightness settings to adjust with any daylight situation. This also works for any low light condition, especially during the twilight.
Now other than the 8 settings, you are also getting 2 extra brightness options for night vision devices. This means the Romeo 5 red dot sight is night vision compatible which makes it easy to use the sight during night.
About the battery quality, the red dot uses two different battery types- the one with a 65 MOA ring uses a CR2032 lithium battery and the other versions use a AAA battery. Although they are different both batteries have the same lifespan- giving you a solid 40,000+ hours of continuous use for a nominal setting.
The sight also has something called a MOTAC feature that detects motion to power up the sight automatically.
Its integrated M1913 Picatinny interface makes it compatible with any industry standard mounting base including the Roni micro conversion.
There is also a low mount riser and a co-witness 1.41" riser mount options with this red dot in case you want to have the opportunity for co-witnessing in different positions.
Along with the highly efficient, ultra-wide broadband for the dot intensity, this Romeo sight swears on its durable capacity to handle strong impact.
It is also O-ring sealed and shock-mounted for you to use in any condition. I would say considering buying this sight will be one of the best decisions of your life.
Other than the MOTAC feature, can you start up the sight manually?
Yes, you can. There is a power switch which you can use to turn the red dot ON/OFF. You just need to hold it for 2 seconds and the sight will power up or down.
Will this work well with a Glock pistol?
To be honest, the Glock pistols are quite small for this Romeo 5 red dot sight. However, you can use the MCK with your Glock handgun and mount the sight on top of the carbine conversion.
How many rail slots will you need for this sight?
You will need at least 3 slots on an M1913 Picatinny rail in order to mount this Romeo red dot sight.
3. Crimson Trace CTS-25 Compact 4 MOA LED Red Dot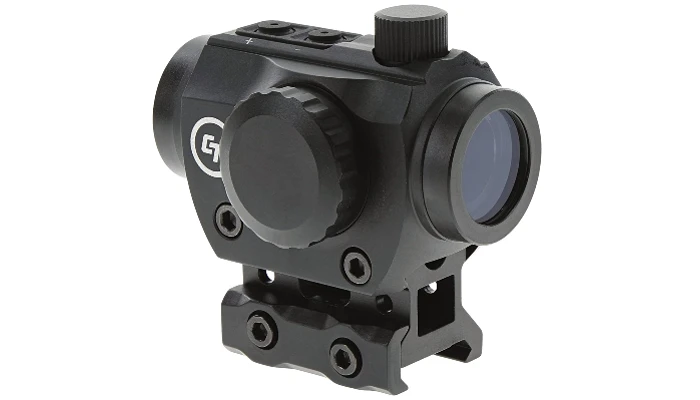 When talking about the best red dot for MCK, Crimson Trace also holds a superior position. I wanted to talk about the CTS-25 model specifically as this version of Crimson Trace works great on long guns, carbines, and rifles.
This only 4.8 ounces sight will give little to no interference when you are carrying this on your Micro Roni.
You are getting a 25mm diameter objective lens which is pretty good for a red dot sight. This will give you enough light to cover a decent field of view for situational awareness.
But similar to any other red dot sight this also has 1x magnification so you are not getting any zooming facility. If you want to try this sight with a magnifier, definitely give it a go because Micro Roni has a long rail base.
Coming to the reticle, this sight comes with a 4 MOA dot reticle. Compared to the Romeo 5 sight this dot size might seem a bit lacking. But I would say having a 4 MOA reticle works for both close to mid and long distance aiming. This is best when you want something of a middle ground and 4 MOA does that for you.
Now the sight uses a CR2032 lithium battery like most of the red dots and you have a 1 year lifespan warranty which is pretty decent.
However, this may seem less compared to the Romeo 5. From my perspective, this is not bad for the price range you are getting. Also, there is a side-accessible battery compartment that allows you to replace the batteries without taking off the sight.
There are large function buttons that control the brightness settings. And with the removable turret caps, it becomes very easy to adjust the windage and elevation for an accurate and precise point of aim. The windage adjustments are covered from the side meaning left and right whereas you need to go up and down for elevation adjustments.
Finally, the Crimson sight attaches to any M1913 Picatinny rail sections making it easy for you to mount this on a Micro Roni.
In addition, you will find a riser mount in case you want to co-witness with other sights. Besides, the sight is resistant to shock, impact, fog, water, and vibration. Therefore, there is no doubt that it will make a great companion for MCK.
Does the sight have a Shake Awake feature or an auto switch off?
No, this sight does not feature the Shake Awake option. You have to use the power buttons to turn the sight on. You need to press either of the buttons to turn it on and both the buttons at the same time to turn the sight off.
What is the best magnifier for this on the riser?
Since the Crimson red dot sight comes with a riser you can try using the Vortex 3X Magnifier or the Holosun HM3X Magnifier if you have a good budget.
What size are the turret caps?
The turret caps included with the sight have a dimension of ⅜ inches and 0.5" of diameter.
4. Feyachi RS-30 Red Dot Reflex Sight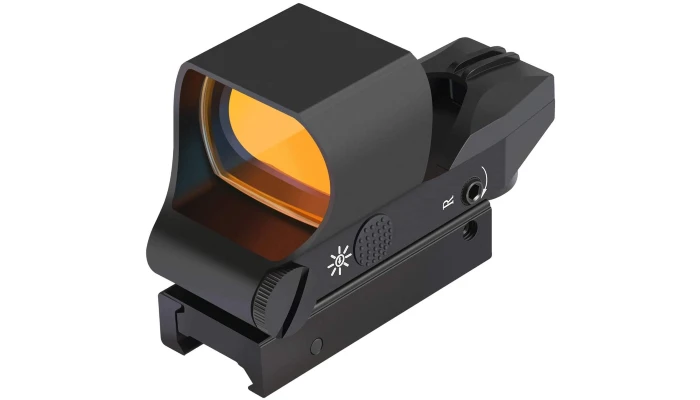 This time I will be reviewing the Feyachi Reflex Sight for your Micro Roni conversion. The tubeless design of the red dot sight makes it easy for the light to pass through in order to get clear and crisp image quality along with a wide field of view for better sighting of the targets.
This gets even better with the large 40mm diameter reflex lens aperture that makes acquiring the targets faster. The wide field of view will also maintain situational awareness. This will help you capture any peripheral movement making the aiming more precise and accurate.
The best feature of this sight is actually hidden in the reticle. You are getting a total of 4 different reticle options in this sight. This multiple reticle system is perfect when you want to go for different games of various sizes. You can very easily change and adjust the reticle type depending on the target you are aiming for.
Along with 4 different reticle types the sight also offers 5 brightness settings for adjusting with different lighting conditions.
Now this part to me seems lacking because with other sights like Romeo 5 and Vortex Venom, you are actually getting almost 10 brightness options including night vision compatible options.
But you get lucky on the battery part as the sight ensures less power consumption with the AG13/LR44 battery for long battery life. Plus, there is an updated press button on this model which controls both brightness and power setting. You can also easily adjust the windage and elevation of the sight using the tools included in the package.
Last but not least the Feyachi red dot optics come with an integrated mount that attaches to any standard 20mm Picatinny or Weaver rail also giving you the option to adjust height. Considering this point you can use this sight for your Roni carbine conversion.
Therefore, the durable shockproof, waterproof, and lightweight 5.4 oz red dot sight stands with a good deal with the budget friendly precise tag.
Do you need to re-zero after replacing the batteries?
No, you don't. The battery compartment of this red dot sight is actually situated at the front which has a separate drop knob. This allows you to change the batteries without dismounting your sight. Therefore, you do not need to zero every time you change the battery.
Will the Feyachi sight work with the M37 Magnifier?
Yes, you can easily mount this sight with the M37 Magnifier. It will absolute co-witness with a .83" riser mount. However, the red dot sight does not have a lower ⅓ co-witness option.
Does the sight co-witness with the iron sights of MCK?
Yes, with the .83" riser mount and because of its low profile the sight can easily fully co-witness with any iron sight with standard height including the Micro Roni carbine. But you can not lower ⅓ co-witness with this sight.
5. CVLIFE 1x22x33 Red & Green Dot Reflex Sight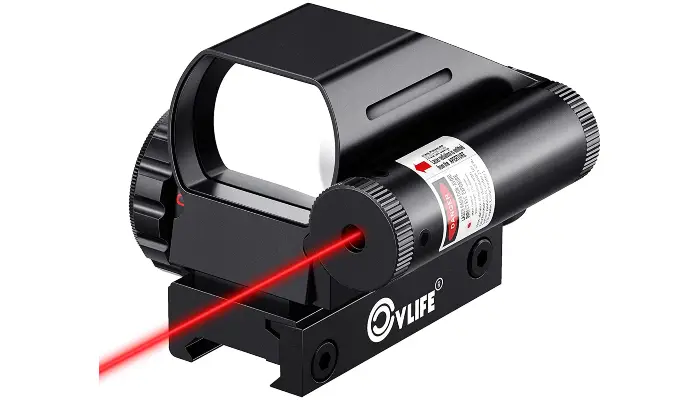 Choosing the CVLIFE Reflex sight for your MCK is mainly because of the features this sight offers within the amazing price range. This product might seem like a red dot optics but in reality, you are getting a laser along with a dot reticle that has two different illumination.
So if you think about it you are actually getting a 2 in 1 product or a laser light combo for your conversion.
Similar to the Feyachi red dot sight, this red dot also features 4 different reticle options including a combination of crosshairs, circles and dots. But this is where similarities with the Feyachi sight end.
The CVLife sight actually takes it a bit higher providing you with the option of changing the illumination of the reticle from red to green. Yes, you are hearing it right! This is not only an illuminated reticle but also a dual illuminated multi-reticle system.
And how can we forget about the 2 in 1 feature of this sight? Including the red/green illuminated reticle, this CVlife red dot also has a red/green laser sight of class IIIA putting out 2mW power.
I love the fact that you can choose between the laser/light option and adjust it according to your shooting needs.
Now that we are clear about the reticle part of the sight, let's talk about other noticeable functions of this product. The tubeless sight has a 33mm reflex lens aperture that will provide you with a wide 15.8 at 100m field of view.
Personally, for me, this field of view works best when I'm trying to aim a small fast-moving target at a decently close distance.
In addition, the sight features two different switch options so that you can operate the sight in a faster and easier way. You will be getting a switch button which works like any other button. Along with this, there is also a pressure pad that you can use for both changing brightness and powering up the gear.
This sight also fits any standard 20mm Weaver and Picatinny rail base. Unlike some red dot sights that need a specific footprint, this sight is made for versatility.
It uses a CR2032 lithium battery that also has a separate compartment. And what can I say more about the reliability and sturdiness of this sight? The high strength aluminum housing answers for all. I am telling you that you should seriously consider this sight for your Roni weapon.
Do you need to use the remote switch for this sight?
No, you do not need a remote switch. The CVLife red dot sight uses the button on the body and a pressure pad that comes with it.
Can you replace the laser sight from this product?
Yes, you can. The laser sight works as an additional piece as it is attached to the sight using two screws. You just need to take off the screws and it will come off. You can also replace the red laser with a green one using the same method.
How can you put the battery in for the reticle?
There is a screw cap on the knob of the battery compartment on the right side. You can use a can or flathead screwdriver to unscrew the knob and install the battery.
6. MidTen Micro 1x25mm Red Dot Reflex Sight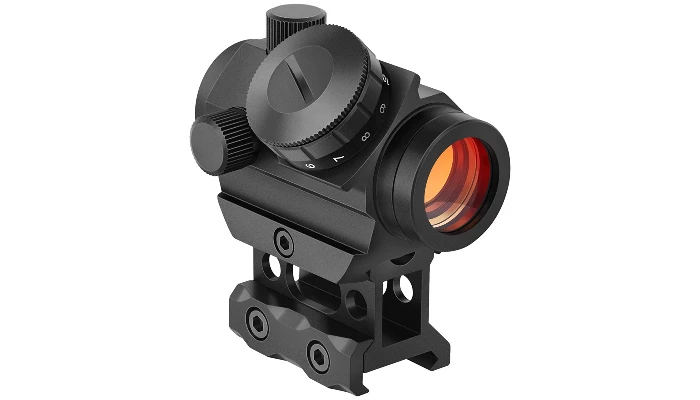 One of the last two sights that I want to include in the best red dot sight options for Micro Roni is the MidTen Micro Red Dot Sight.
I recommend this sight is mainly because of the price range. This sight actually offers all the general features of a red dot sight but within a budget friendly category.
Then let us check out the features we are getting within the price point. First of all, let's look at the reticle of this MidTen sight. You are getting a 2 MOA dot size reticle which will allow you to go for longer range targeting as you know 2 MOA is quite precise and accurate. This is perfect when your targets are large and slow paced.
Moving to the lens quality, you are getting a 25mm diameter objective lens that has scratch resistant multi-coatings. This is for enhancing the overall quality of the image. The lens also ensures high-contrast resolution quality as it reduces the red glare in order to match with the general eye comfort.
Next comes the brightness features and what the sight offers in accommodating the changing light conditions.
This MidTen red dot sight features 11 different brightness options for adjusting with various light settings in different stages of the day. They give specific divisions for the settings to match with those conditions. Let me section those for your better understanding.
Setting 1-5: works for any dim light which you will mostly experience during a rainy day.
Setting 6-9: these options are to comply with bright lighting conditions that you will encounter during sunny days.
Setting 10-11: these options are there for moderate days when the weather is normal and the lighting condition is not too drastic.
The sight uses a CR2032 lithium battery and although I couldn't find the specific lifespan, for me it worked for a long time.
Hence, you are getting a generous amount of battery support from it. There are two mounting height options with this sight. Along with the low profile mount that attaches to Picatinny rails, you are also getting a lower ⅓ co-witness riser mount making the sight versatile.
This amber-light optics has a high-strength aluminum housing with nitrogen purged interior that keeps the sight lens fogproof during humidity and cold. The sight is also shockproof and therefore you don't have to worry about mounting it on your Roni Micro carbine.
How can you put in new batteries inside the sight?
You will find a large knob on the top right of the sight which has a notch cut on it. You just need to use a flathead screwdriver to open the knob. There you can put the new battery and screw the knob back in its place.
Will this sight work with a 42mm tall magnifier?
The sight comes with a riser and including it, the sight measures almost 38.1mm in height from the rail. In case you put a 42mm magnifier which is its height from the center, it will be approximately 3.9mm higher than the sight's dot center. If you are comfortable with this height then you can combine the red dot with a magnifier.
Does the model fit CAA MCK 2.0 or Micro conversion kit 2 and Glock 17?
Since the MCK features a Picatinny rail, the sight should attach to it. It will also work on Glock 17 but in my opinion, it will be a bit too large for the handgun alone.
7. Feyachi Adjustable Reticle Red/ Green Reflex Sight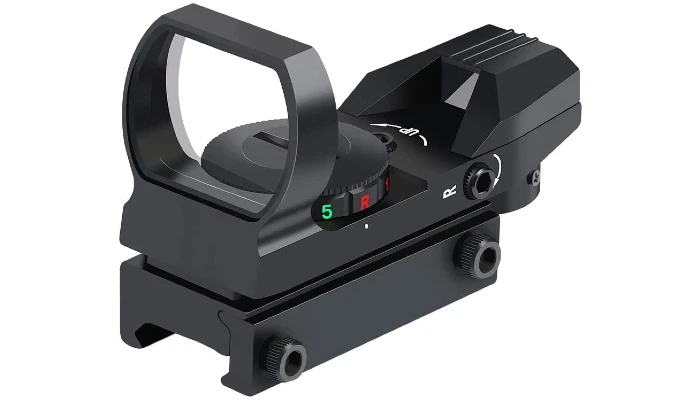 As the last optics for the MCK firearm, I have kept another Feyachi Reflex sight. This is because this sight is well compatible with Micro Roni and I wanted to give you an option with an extra illumination facility in case some of you want another light option for the reticle.
Plus, this sight is beginner friendly as it provides you with dual illumination without putting a dent in your pocket.
Now with this sight you are also getting multiple reticle systems like the Feyachi RS-30 sight. But this sight goes an extra length by adding another light option for its users. In this reticle system, you will be able to change the illumination between red and green. Therefore, you are getting an extra option to use during bright sunny days.
Looking at the multiple reticle systems you are getting the option of changing the reticles into 4 different styles. These styles include-
Dot reticle
Circle/Dot reticle
Crosshair/Dot reticle
Crosshair/Circle/Dot reticle
All these options will give you the freedom to experiment with your shooting and target different games from various positions. This gets even better when the sight offers you 5 brightness options to accommodate your current lighting condition.
With the large 33mm objective lens, you are also getting a wide 15.8m at 100m field of view that will create situational awareness for close range targets. The whole illuminated reticle options are supported by a single CR2032 lithium battery that is capable of providing a decent amount of battery life.
About the windage and elevation adjustments of the sight, you can change them by 1 MOA click value to reach the perfect point of aim.
Considering that you need to mount this on a Micro Roni, it will easily attach to its Picatinny rail base. Besides, similar to other red dot sights, this Feyachi light is also shockproof and waterproof.
I personally believe getting all these features in the price range works for any new shooters who are looking for something good on a limited budget as a starting point.
How does the sight power on?
There are "G" and "R" points on the dial in the center of the red dot. You need to turn them clockwise or counter clockwise to change the brightness settings and also power up the sight. There is also a switch on the rear that changes the reticle.
What is the length of the mounting base of this product?
The mounting base of this Feyachi reflex sight is 2.25 inches.
Will this sight work with an 11mm Picatinny rail?
It is not impossible but the sight does not mount directly on an 11mm Picatinny rail. You will need an adaptor to adjust the difference. In that case, you can check out the UlightFire Low Profile Rail Adaptor for this sight.
Conclusion
I think having a conversion kit in hand always acts as an added benefit especially when you are short of different types of firearms. With the Micro Roni conversion, you can easily turn your pistols into something better and more versatile.
That being said you would also want to mount a great versatile sight that will match your professional needs perfectly.
The buying guide checklist is there to help you jot down those needs along with the features you will find in a red dot sight. In the review section, you will find all the important points of the 7 top best red dots for Micro Roni so that you can choose the perfect one from them. Now the decision is yours. Which one will you prefer for your Micro Roni conversion?