The model 1894 is a lever-action repeating rifle. It's also considered as one of the most famous hunting rifles of all time. Designed by John Browning all the way back in 1894, it was designed to fire 2 metallic black powder cartridges.
While the Model 94 isn't actively made nowadays, I'm sure you can find one quite easily or you may already have it in your possession from your predecessors. While the gun is made for hunters and it hunts quite well, the gun doesn't come with anything besides an iron sight.
And an Iron sight can only do so much. To remedy that problem, you will need to purchase and install a scope on your gun. This is exactly why you are here. I know you are looking for the best sights for Winchester 94. Ask and shall receive. Without further ado, let's jump straight into it.
Best Sights For Winchester 94 [Editor's Picks]
1. Williams 5D Series 94/36 Receiver Peep Sight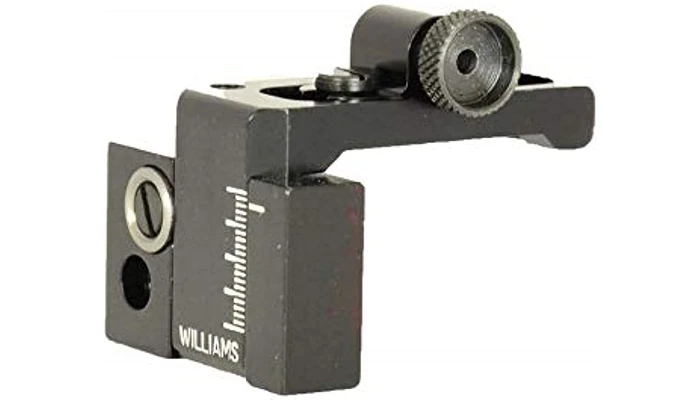 Peep sights are the most common options for a Winchester model. There are quite a few of them available but not all of them are the best peep sight for Winchester 94. This one made by Williams is part of their 5D series. It's a very well made peep sight with lots of adjustments.
The sight is made out of durable alloy. The alloy used here has a tensile strength of 85k pounds. Still, the sight is quite light, durable, and weighs only at 1.5 ounces. If you are using your Winchester 94 for big-game hunting, then you will definitely find this peep sight clutch.
If you want target knobs for your FP sight, then you can always purchase them as extra. Williams has them available always. Peep sights are not like a rifle scope. They will not magnify your target or give a wide field of view. But what it will give is a clean view of your target with focus assist. And that's good for hunting.
Should I go with or without target knobs?
It's not like the standard without target knobs edition is bad by any means. But if you used target knobs before and like them, then you must go for the target knobs edition. You will feel at home.
Does this peep sight come with any warranty?
Yes, it does. Williams provides a lifetime warranty with their optics. It doesn't contain any fiber optics, so you don't need to worry about replacing it or getting it fixed every other year.
Do I need a gunsmith for this?
If your gun already has drilled holes for optics like this, then you don't need a gunsmith. Most modern adaptations of the 94 have pre-drilled holes.
2. ATN X-Sight-4K 3-14x Pro Edition Smart Hunting Scope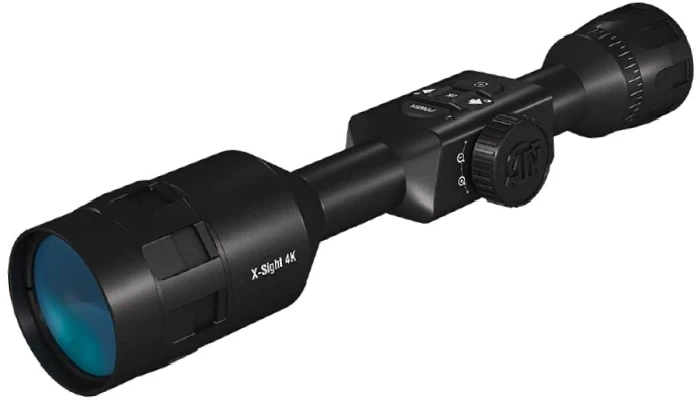 Let's just say, you are feeling fancy and you hunt a lot during the night. If you are feeling a bit adventurous and want to go all out on your choice of scope, nothing better than the X-Sight 4k for Winchester 94.
The scope is made out of durable hardened aluminum alloy. The scope also has a rubberized texture around it. That makes it feel soft to the touch. The matte finish suits the scope a lot. Instead of using a prism as its chamber, the ATN X-Sight 4k uses a low-power consuming processor that captures footage through the objective lens and shows the user a crystal clear footage of the target.
The scope is rated to be usable for over 18 hours straight. The X-Sight 4k also has a feature called RAV. It stands for recoil activated video. The moment the scope will sense you shot something, it will start recording automatically. Using an SD card on the scope, you can record all of your adventures for a long-time.
Do I need a mounting system for this scope?
No, the scope comes with standard rings that are quite stable and will hold the scope steady in long-range rifles even.
Where is this scope made?
Yes, they are. All thermal products from ATN are made here in the USA.
Does ATN offer any warranty with their X-Sight?
Yes, they do. They offer a limited 2 years warranty with the scope. It does seem short, doesn't it? But it's an electric scope whose parts can be damaged from silly mistakes. So, giving a lifetime warranty on something like this is hard.
3. TRUGLO Fiber Optic Winchester 94 Rifle Sight Set
Truglo night sights are not a new thing in the scene. For years they have been making quality fiber optic night sights for pistols and shotguns. They also make sights to replace your stock Winchester sights.
This one here comes with a red/green combination of optic fiber for your Model 94. The fiber optic sight set is not that expensive. And installing them is quite easy as well. Built through CNC machining instead of a casket, the sight is extremely durable.
On top of that, they went with stainless steel as the base. That makes it a perfect choice for the model 94. It's a good sight only if you are doing close to medium-range shooting. Don't expect to max out your Winchester or have accurate bullet drop compensation at long-range.
Where is this made?
From designing to machining to assembly, all of that is done in the United States. They don't make or import their products from other countries.
Can I change the tritium sticks?
Of course, you can. Tritium sights will dim down as time goes on. But when it dims down completely, you can grab a pair of tritium sticks from Truglo and replace them.
Does this sight come with any warranty?
Yes, it does. Truglo offers a 12 years warranty to their tritium sights starting from the manufacturing date. Which is a bit odd, if you buy it 3-4 years after it releases. But still, it's not a small warranty.
4. Sightmark Ultra Shot R-Spec Reflex Sight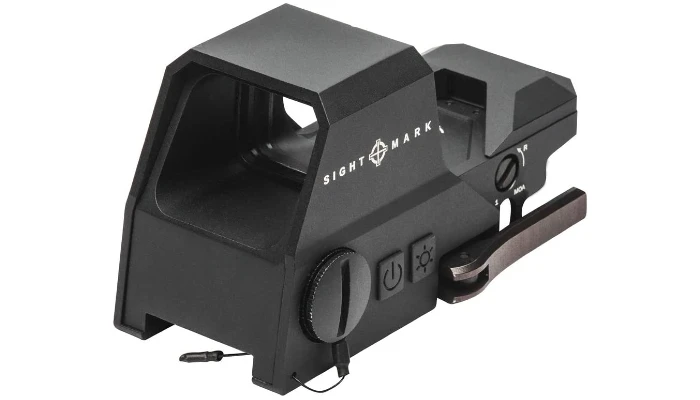 While Winchester may not be the best first choice for long-range hunting for most folks out there, it's still a popular choice for short and medium-range. The Ultra Shot R-Spec Reflex sight from Sightmark is a red dot reflex sight that is suited for all kinds of tactical, military, or hunting.
The optic is made out of durable aluminum. It's lightweight and extremely durable. The aluminum of choice was 6061-T6 and it was done with CNC machining. With advanced optical coatings, the lenses are quite strong and durable. While they are not scratch proof, they are resistant to some degree.
It also features an illuminated reticle that has an auto-shut down feature. It turns off the illumination to save the battery when it is not sensing any movement. This is a very useful feature if you are a hunter that is stalking its prey for a long time and moving stealthily.
Is the brightness of the reticle adjustable?
Yes, the reticle is adjustable. You will find 4 red or green reticle options and 10 adjustable brightness options.
Does this optic come with a mount?
Yes, it does. You will find a quick detach mounting system built in the scope. You don't need to buy any riser or different mount.
Does this support a magnifier?
You bet it does! It supports the Sightmark T-3 Magnifier with flip to side mount. You can just flip the magnifier on the side when you are not using it. Very convenient.
5. Leupold VX-3HD 1.5-5x20mm Riflescope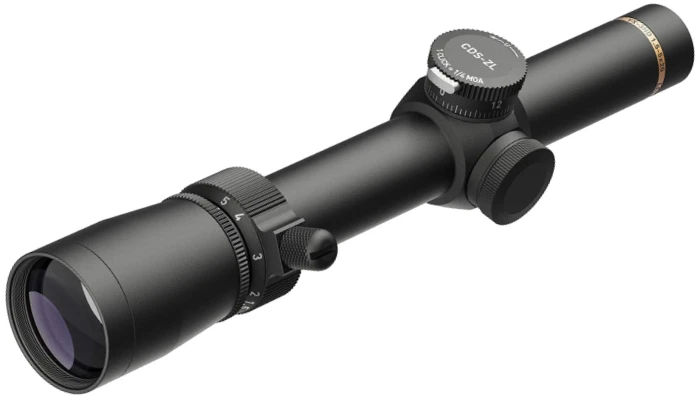 Leupold VX series of hunting scopes are known as bang for the buck. They are inexpensive scopes that perform excellently in all sorts of weather and environment. The VX-3HD is a budget friendly offering for hunting rifles.
The scope is made out of durable aluminum. It's a lightweight and CNC machined scope that will last you a long time on top of whatever gun you may have in your mind. The lenses of this scope are also fully multi-coated. They are extremely bright and vibrant. They have no distortion or blur present on them at all.
As the scope is purged with nitrogen, it makes it fogproof. The scope is also shockproof and waterproof as well. On top of that, to improve low-light performance without increasing the cost much, they used Leupold's Elite Optical System. It improves dawn to dusk performance without implementing ED glasses.
Do I need a mounting system for this scope?
Definitely. The scope doesn't come with any mounting system whatsoever. So, you will need to purchase your own. If you are looking for some inexpensive scope rings to pair this with, can't go wrong with Leupold Rifleman Scope Rings.
Where is this made?
This is made in the USA. From designing to machining to assembly to selling, all done in the USA.
Is this good for tactical shooting?
It's a versatile scope. Whether you do the tactical shooting, hunting, or even competitive shootings, this scope will show you its class.
How To Choose The Best Sight For Winchester 94?
Now that you are aware of all the good sights and scopes for Winchester 94, how do you choose the best among them? Well, let me help you out here a bit.
Peep Sight: Do you like using a peep sight? Have you any experience of using one before? If the answers are an astounding yes, then you must take the peep sight. As it will feel right at home to you and you will have a ton of fun with this sight.
Reflex Sight: If you used red dot or reflex sights before and would like to stay on that platform, then you should go for the Sightmark optic. As it's a reflex sight and also allows you to use a magnifier if you want to increase the magnification. It's a good choice for QCB and tactical shooting.
Hunter: If you are a hunter and want a wide FOV with plenty of magnification, then you will need to take a scope from the list. The red dot or peep sights will be good for close range. But it will fail you when you try to push it to mid or long-range even.
Conclusion
If you know what kind of shooter you are and what kind of shooting experience you are after, then choosing the best sight for Winchester 94 is a child's play. Just like the gun is friendly to beginners, the scopes here are also beginner friendly and they have a great reputation to support users for a long-time.
With that said, that's all for now and I hope you enjoyed the read as much as I did writing it. Till we meet again with more guides like this. Take care and have fun.