Canik Mete is an extremely affordable handgun that is often considered as the benchmark of budget handguns. While not costing much, the Mete offers a lot of features that you can find in other expensive handguns.
The Mete however doesn't come with any kinds of red dot optics. While purchasing the gun you might be confused about what red dot fits Canik Mete? Does it accept any red dots at all?
If it does, what is the best red dot for Canik Mete? A lot of questions that you need answers to. I can promise to answer most of them. Before I get into the red dots, keep in mind the Canik Mete follows the footsteps of Trijicon RMRcc and Shield RMS/RMSc for red dots. So, you might not be able to install every single red dot out there, but here are some that you can.
Best Red Dot For Canic Mete [Editor's Picks]
1. Trijicon RMRcc Sight Adjustable LED Red Dot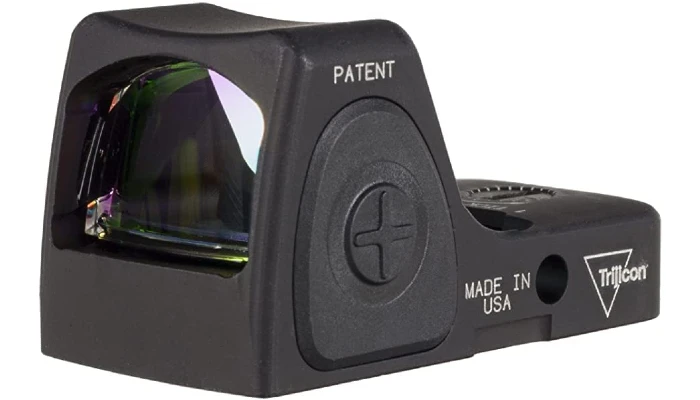 Trijicon is a wonderful and trustable brand when it comes to red dot optics. They work closely with the military and take suggestions from the experts as well. Resulting in incredible sights that are available to the public.
The RMRcc is a small adjustable red dot sight with LED illumination. You can adjust the illumination of the optic from 1 to 8. Among those 8 adjustment levels, two of them are for night vision compatibility.
That's right, you can use this red dot sight during the night as well. Whether it's for self defense or using the gun as an optional/companion to hunt, combining the RMRcc with the Mete will provide you with an incredible close quarter shooting experience.
The RMRcc also offers you 150 MOA Total Travel adjustments. A much needed feat in red dots to compensate for the elevation. The body of the sight is made out of aluminum and the lens is made out of glass.
The whole structure is durable and will last you a long time for sure. Crystal clear coating provides an excellent field of view with a great viewing angle.
Will this red dot work on Canik Mete?
Yes, the RMRcc footprint is supported by the Canik Mete. You don't need to do anything weird to fit it on the gun.
Is it designed for concealed carry?
Yes, it's designed for concealed carry. It will fit most of the popular concealed carry pistols on the market.
How long will the battery last?
If you use it within the 4 to 8 levels of brightness, you can expect to have around 4 years of battery life out of a single battery.
2. Shield Sights 4-MOA Reflex Mini Sight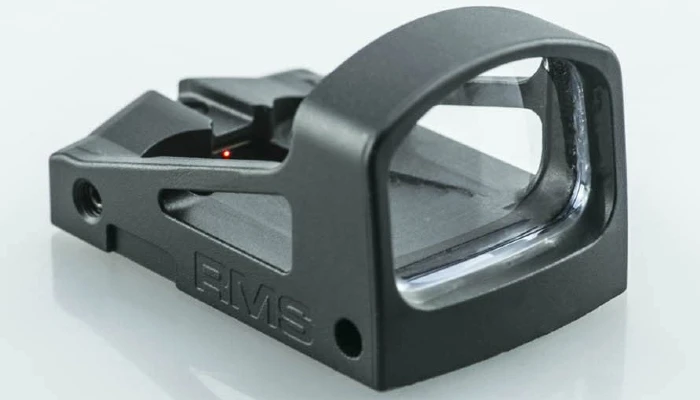 Shield Sights is not a new name in the industry. Mostly used with the Hellcat, their sights have slowly made their way to Glock and other similar handguns as well. The RMS is a small and concealed red dot optics for your handgun.
The RMS has a 4 MOA reticle. It's quite big and noticeable in tight spaces as well. The reticle won't overshadow the target if you were wondering that. With the help of a CR2032 battery, you can power up the RMS for around 2-3 years in average usage.
The body of the RMS is created from aircraft-grade aluminum. Extremely durable and lightweight material. It makes perfect sense to go for this quality of aluminum for a red dot. The lens of the optic is also fully multi-coated.
The RMS is completely fogproof, and waterproof. There have been some complaints about lens shattering, but Shield Sights took care of that and they provide a pretty good warranty service as well.
What kind of mounting does this use?
This uses a universal mounting system that supports almost every single gun out there and other mounting brackets as well.
Is it true that the lens shatters on this?
Yes, there have been some complaints regarding that. But due to manufacturing, it can cause that issue and Shield takes the blame for it. You can ask Shield Sights to fix it for you if you are unfortunate to face this issue.
Is it too heavy?
No, it weighs only 0.61 oz. It's extremely light.
3. HOLOSUN HS507K-X2 Classic Multi Reticle Red Dot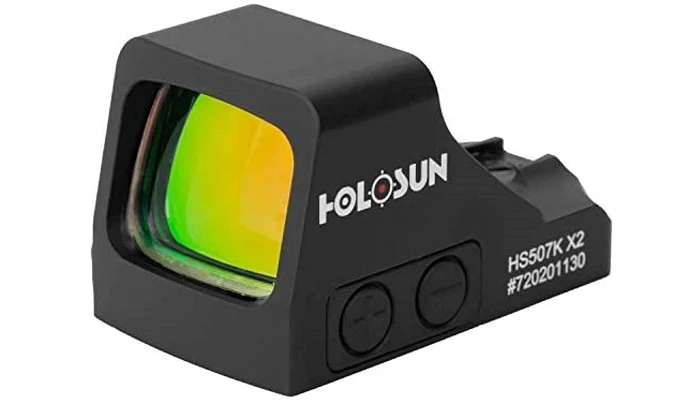 Holosun red dot sights have always been innovative and quite well-loved by the community. They are not American, yet they have been providing good service in the US. Their sights are some of the best for the money you can purchase.
This HS507K-X2 is a fairly recent release of Holosun. They tend to upgrade their previous optics more often than any other companies in the market. The HS507K-X2 is made out of aircraft-grade aluminum.
A very durable and lightweight material Holosun loves to utilize. The CNC machining process is flawless and you won't notice any uneven surface or sharp edges on the sight at any point. The lens is quite incredible on this as well.
A fully multi-coated lens for better clarity and better low-light performance. The objective lens is fairly big to gather plenty of light and offer you a great viewing angle. The long battery life at low-medium brightness setting is also good. Around 50k hours of battery life is nothing to take lightly.
Does Holosun offer any warranty at all?
They do. They offer a limited lifetime manufacturer warranty. You can claim replacement or repair within the warranty period. More information is on their website with T&C.
What kind of mounting system does this use?
It uses a modified RMSC mounting system.
Is the brightness adjustable?
Yes, it is. You can adjust it within 10 daylight and 2 night vision brightness settings.
4. Vortex Optics Viper Red Dot Sight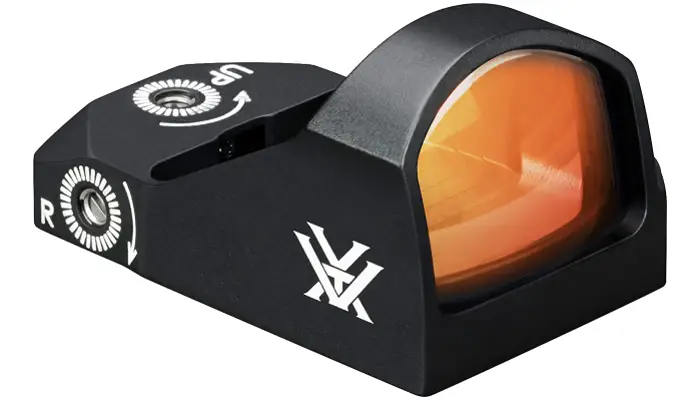 When it comes to red dot sights for pistols, Vortex Viper is undoubtedly one of the best ever made. The Viper series has always been a lovechild of the community. The red dot offering is no different.
It's made out of high-quality aluminum through CNC machining. The machining process is flawless and there are no visible flaws/defects present on the optic. There are no sharp edges and the coating on the exterior is excellent as well.
Installing and sighting in the optic is quite easy as well. The Viper uses a high-quality glass and that glass is multi-coated. Multiple layers of chemical coating remove all sorts of glare from sunlight and make the vision brighter and cleaner. There is no distortion at all and it performs great at CQB.
The 6 MOA reticle can be a bit big for some. But you get used to it with time. The targets are clear and visible during the day and night through the 6 MOA reticle. Yes, it's a bit bigger than standard 1 or 2 MOA, but if you get used to it, it's awesome to use.
Will this fit on the Canik Mete SFX?
Yes, it will fit Canik Mete SFX. It's a great red dot for Canik Mete SFX.
Will this fit on the Picatinny rail?
Yes, the mounting base supports standard picatinny/weaver rail. It will work with rifles/SMGs if you are implying that.
Can I adjust the optics windage?
Yes, the windage and elevation are adjustable.
5. Swampfox Sentinel Micro Reflex RED DOT Sight
Swampfox Sentinel is a duty ready red dot optic made to last in any kind of environment you throw at it. Constructed from high-quality 7075 T6 aluminum, the chassis is extremely durable and lightweight.
Instead of using polymer lenses, they use glass lenses and multiple layers of chemical coating. There is no glare visible on the optic. Direct sunlight doesn't block the red dot reticle either.
Speaking of the reticle, the reticle has an adjustable brightness setting. On top of that, the illumination is also automatically adjustable. If you don't want that, then you can adjust it between 10 levels.
The optic also comes with a shake to wake feature. It's a technology that is often used in many expensive red dot optics. Whenever the optic records any movement, it turns on and after a time it shuts down to save battery.
What kind of battery does this use?
It uses a CR2032 battery to operate. And the battery life is around 2 years of real life usage.
Is it too heavy?
No, it's not. The weight of the Swampfox Sentinel is only 0.62 oz.
What kind of mounting system does this use?
It uses an RMsc pistol cut mounting system. Yes, it supports Canik Mete.
6. Crimson Trace CTS-1550 Reflex Pistol Sight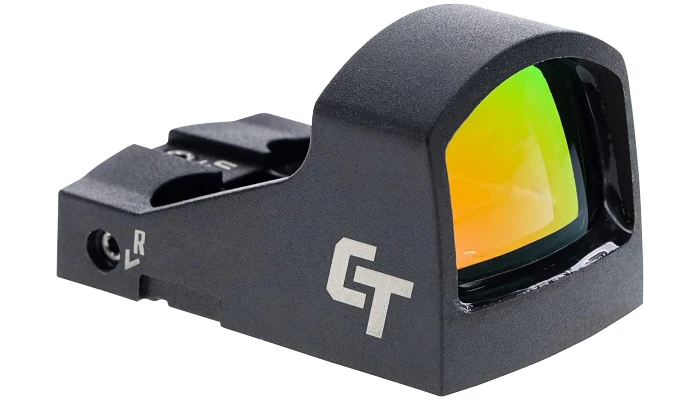 The CTS-1550 Ultra is a small, lightweight, compact, and concealed carry sight for pistols. Crimson Trace is not a new kid on the block and they are quite good in after sales service as well.
The CTS-1550 Ultra is made out of durable polymer. The lens used here is coated as well. While it's not 100% scratch proof, it can survive drops quite easily. Thanks to this feat, Crimson Trace's red dot makes more sense in the budget range.
The vision clarity is there. There is no distortion or color inaccuracy present on the optic either. These two things are very much needed in good red dot optics. Otherwise, you won't be able to enjoy shooting through it.
The CTS boasts a highly efficient LED. The LED illuminates the 3.0 MOA red dot. You can expect around 20k hours of battery life in general usage. You might face less if you use this at high brightness 24/7.
What kind of mounting system does this use?
It uses a J-Point or RMsc mounting system. So, it can be installed on Canik Mete.
Is Crimson Trace American?
Yes, they are an American brand. All of their products are designed in-house and made in the USA as well.
Will this fit Glock MOS?
Yes, it will fit the Glock MOS lineup.
7. Sig Sauer Romeo Zero 6MOA Micro Reflex Sight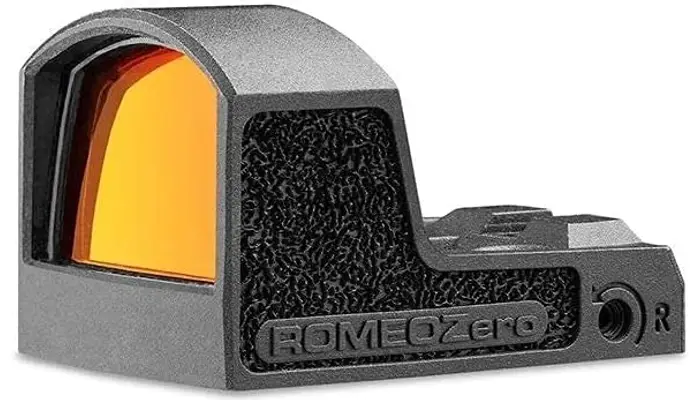 Last but not least, the Zero. By now, you have probably heard of the Romeo series for a while now. Their Romeo 5 is one of the most recommended budget red dots for rifles. The Romeo Zero is not made out of aluminum alloy.
Instead, the chassis is made out of polymer. A textured polymer through good precise machining to make it durable and good looking in the same process. Even though the chassis is made out of plastic, it's not poorly made by any means. After all, the price-to-performance ratio is there. But if you are looking for an aluminum chassis, you are not getting it.
The lens is constructed from Polymer. And the lens has SpectraCoat HD coating to it. This coating enhances the clarity of the optic by a lot and it also makes the polymer lens a bit more durable.
You can adjust the brightness of the red dot as well. The red dot is 3 MOA in size. The size is perfect for self defense or any kind of shooting task you may think of. Yes, the sight is suitable for airsoft tasks as well.
What kind of mount does this use?
It has direct to mount system and Shield RMS-c footprint, J-Print footprint as well. In short, it will support your Canik Mete.
Does Sig Sauer provide a warranty?
They do. They offer a 5 years limited warranty with this optic. If you somehow receive a manufactured defect unit, you can claim a warranty immediately.
Is this a good optic for hunting?
Yes, this is quite good. Don't let the polymer lens fool you. It's pretty clear and on par with other glass made lenses.
How To Choose The Best Red Dot For Canik Mete?
Now that you know what red dot fits Canik Mete SFX, how do you choose the right one for you? Here are a couple of tips that I think of while purchasing a new optic.
Durability
While most of the optics here are made out of aluminum, some of them are polymer as well. Despite being made out of polymer, they are extremely durable and often do well paired up with a pistol. Thanks to modern machining and composite materials, the polymer is good enough as well. The bottom line is, to make sure to take a sight that is durable.
Lens
The lens of the optic needs to be incredible as well. Most lenses of red dot optics are made out of glass. But some are also made out of polymer. Ultimately, the process and coating makes the most difference. While it's true that polymer is more prone to scratches over glass, coating makes them a bit more durable and makes them scratch resistant to some degree.
Illumination
Red dot optics with illumination is way better than a red dot optic with no illumination. Even for QCB, the illuminated reticle makes worlds of difference. Make sure to take one with an illuminated reticle as well.
Budget
Now that you are aware of some red dots for Canik mete, you also know how to choose them, the ultimate decision will depend on how much you can spend on the optic. If you can spend more, you will get more. If you spend less, you will get less. It's simple math. So, make sure about how much you are willing to spend.
Conclusion
There you go. Some of the best Canik Mete red dot sights and how you should approach your decision making. Keep in mind, at the end of the day your satisfaction is everything. If your needs are less and you can find satisfaction in lesser priced products, that's very good for you.
But if you want the best out of your sight and want a bit more than what budget offerings can do, then go all out. It's your decision to make.
With that said, I hope you found the red dot you are looking for and enjoy using that as well. That's all for now, I will see you guys back with more soon. Till then, take care and stay safe.