The FNX 45 Tactical is a one of a kind .45 ACP firing pistol. While the Tactical does come with Trijicon green tritium sight, some folks do tend to change the optics to something else.
And I can totally see the appeal of doing that. After all, there is no guarantee that you will like the stock night sight. But as it's a tactical pistol, choosing the right optic is quite crucial. Finding the right balance of weight and performance is something that you should think twice about.
So, what is the best optic for FNX 45 Tactical? And how do you select the best one for you? Let's find out.
Best Sights For FNX 45 Tactical [Editor's Picks]
1. Trijicon SRO Adjustable LED 2.5 MOA Red Dot Sight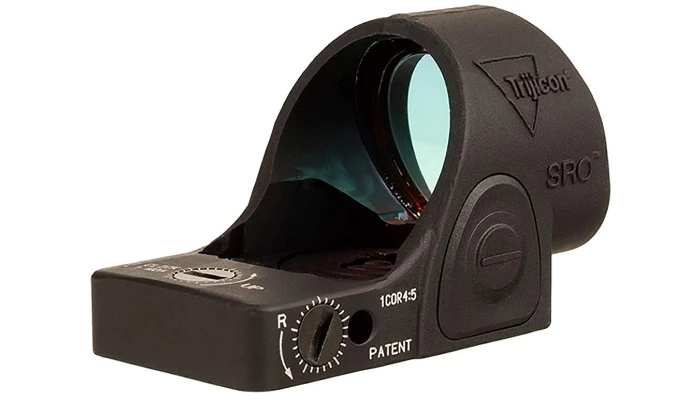 The first optic that I recommend to you is from Trijicon as well. It's their flagship red dot called the SRO. The SRO is one of the most durable red dot sights present on the market. With a huge 20mm objective lens, you will have a clear vision of your target during different lighting.
The optic is made out of aircraft grade aluminum. It's a similar material that is also used in Trijicon ACOG and other night sights made by the company. This red dot is available in three different reticles.
One is 1 MOA, another 2.5 MOA and the other one is 5 MOA. As you can guess, the 5 MOA is suitable for folks who can't see the 2.5 MOA reticle properly. While the 5 MOA reticle sounds huge, it's not that big in reality. You can easily get used to it.
The sight is also fogproof. Besides being fogproof, it's also shock and water resistant as well. That's why often people use this as a canted sight. The battery compartment is tucked in a safe position to keep it away from water.
Is the reticle illuminated?
Yes, the reticle is illuminated. There are a total of 8 adjustable brightness settings available in the optic.
What is the battery life on this optic?
You can expect around 3 years of battery life at 4 brightness settings.
Does Trijicon offer a warranty?
Yes, they do. They offer a 5 years electronics warranty on the optic. They will take care of any other manufacturing defects as well.
2. Leupold DeltaPoint Pro Reflex Sight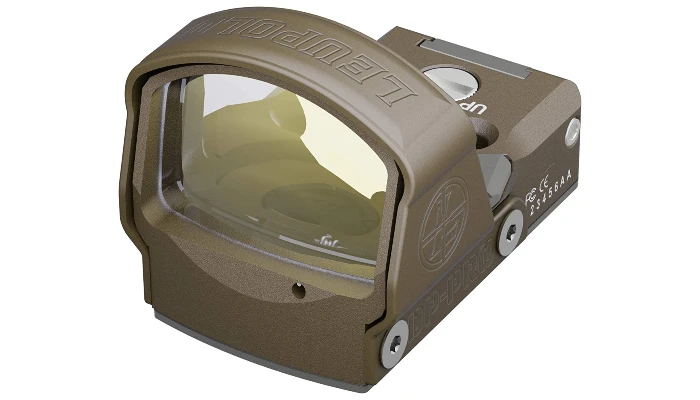 DeltaPoint sounds like it came from a futuristic TV show. While the optic didn't appear from the future, nor does it look from the future, it's a really good red dot sight for pistols.
This American designed and manufactured optic is made out of rugged aluminum through CNC machining. The machining process is flawless and there are no visible defects present on the optic at any point.
The lens is multi-coated as well. You won't notice any glare on it. You won't find it having issues with color either. Leupold is known to make great low-light performing optics. This red dot is no exception either.
Paired with an illuminated reticle, the 2.5 MOA red dot is everything you need on a pistol optic. This performs excellently with tactical pistols. That does include the FNX 45 Tactical as well.
Is Leupold really American?
Yes, they are. They design and manufacture their products in the USA. If you heard otherwise, then it's fake.
What kind of battery does this require?
It requires a CR2032 battery to operate. You can expect a good amount of usage out of this as well.
Why does this optic use a motion sensor?
The motion sensor is used to save the battery. If the optic doesn't see any usage within 5 minutes, the sensor automatically turns off the illumination to save the battery.
3. HOLOSUN HS507C X2 Circle Dot Solar Failsafe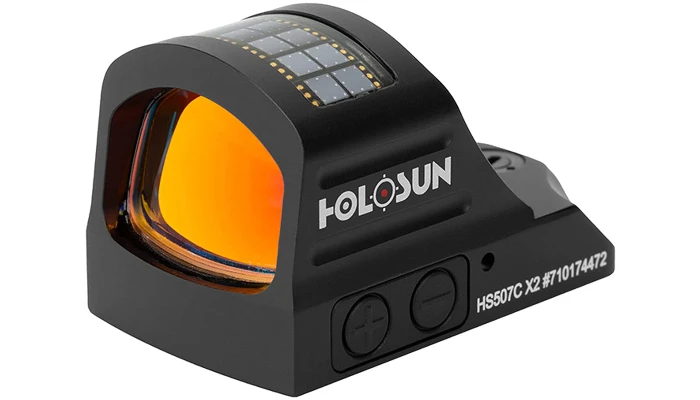 Holosun is known for their red dot optics. The HS507C X2 is a unique red dot optic that is used with many pistols and rifles. The HS507C X2 is made out of durable and lightweight aluminum.
The most unique part of this optic is definitely the solar failsafe. It has a small solar panel on top of the optic to gather sunlight and store it as energy. When your battery fails on the field, the optic uses the gathered energy and illuminates the reticle.
That's right, the reticle here is illuminated as well. The 2 MOA dot with a 32 MOA circle around it is quite a beautiful sight. You will find a total of 12 levels of adjustable brightness settings present on the optic.
Starting with 10 daylight levels and 2-night vision levels. The fully multi-coated lens portrays the illuminated reticle super well. You will have a great time with the optic on top of any capable weapon.
What's the expected battery performance?
You can expect around 50k hours of battery life with this optic. That being used in low-illumination that is. However, high illumination will chew through the battery much faster.
What kind of battery does this optic use?
You will need a CR1632 battery to operate this optic.
Does Holosun offer any warranty?
Yes, Holosun offers a limited lifetime warranty with all of their products. They do offer a replacement for manufacturing defective units as well.
4. Trijicon RM06-C-700672 RMR Type 2 Adjustable LED Sight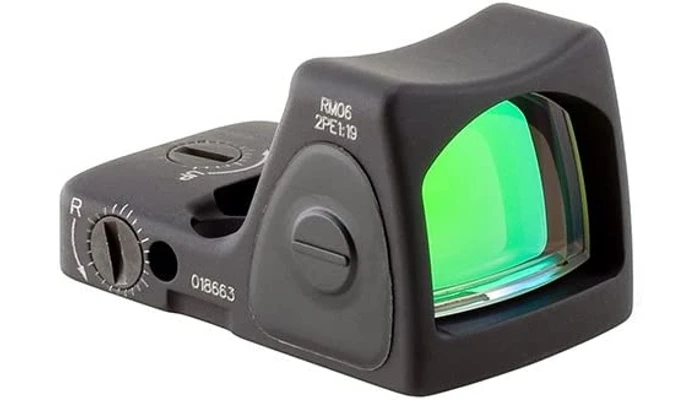 Yes, another optic from Trijicon. That's because they make some of the best FNX 45 Tactical optics on the market. Otherwise, you wouldn't find them included in the stock to begin with.
The RMR Type 2 is made out of military-grade aluminum. It's a lightweight and durable material. The Type 2 also features an illuminated reticle on a multi-coated lens. The 3.25 MOA adjustable LED reticle is quite visible during low light as well.
The reason this housing looks unique is due to the patented design that belongs to Trijicon. From the housing shape to the weight balance, everything of this optic is quite unique.
There is a unique feature to the RMR Type 2 called button blackout. It locks all the buttons and prevents any accidental adjustments from happening. This optic is suitable for all kinds of self-defense acts and hunting. A perfect match for FNX 45 Tactical.
What kind of battery does this require?
You will need a CR2032 battery to operate this optic.
What's the expected battery life?
The expected battery life is around 4 years at 4 to 8 brightness settings. If you keep maximum brightness, then you will have less battery life.
Does it require any special mounting system?
No, it doesn't. It supports most mounting systems out there.
5. Vortex Optics Venom Red Dot Sight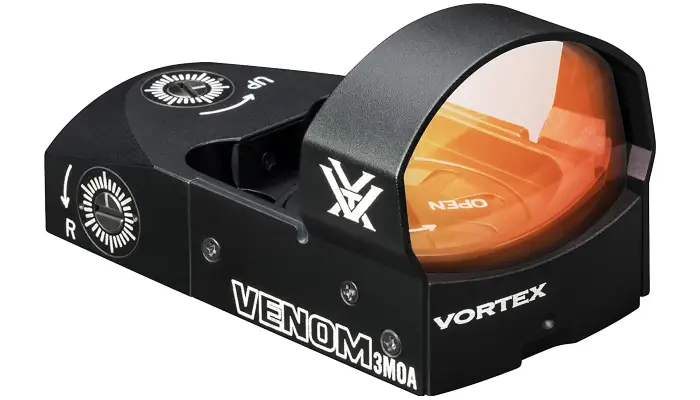 Last but not least the Venom. It's a red dot sight from Vortex. The Venom is a clean looking minimalistic red dot optic. Its shockproof design allows it to be used with plenty of different firearms. In fact, you will find people using this on top of existing rifle scopes or rangefinders.
The optic is made out of aircraft-grade aluminum. The same type of material is used in other Vortex optics as well. It's a lightweight and durable material. On top of that, the lens is fully multi-coated as well.
The Venom is available in different reticles as well. One is available in 3 MOA and the other one is in 6 MOA. Both of them have the same optics, just different sized reticles. The durable housing protects the lens from any kind of outside harm.
The battery is also tucked inside a safe compartment. Water can't get inside the housing either. The quick detach mechanism mounting system of this optic is quite efficient as well. You can easily take it out from one gun and place it on another on the fly.
Does Vortex provide any warranty?
Yes, they do. They offer a lifetime warranty with their products. You can find the complete guideline about the warranty on their website.
Is this optic good for hunting?
Yes, it's really good. As the low-light performance of this is quite impeccable and accurate, it's great for hunting.
Can I use this on airsoft guns?
Yes, you can. It will be able to handle the harsh kick of an airsoft gun with ease.
How To Select The Best Optic For Fnx 45 Tactical?
Now that you are aware of the best FNX 45 Tactical optics, how do you choose the right one for you? After all, some of them are quite expensive and you may not want to spend that much money. The decision will solely depend on you, of course. But allow me to help you make that decision making a bit easier.
Lens Quality
The lens is the most important part of an optic for me. If the lenses aren't good, then the performance won't be good. They won't be accurate either. That's why, taking an optic that has the best lens is a must for any weapon.
Weight
Red dot sights are usually light as a feather. That's the reason why they are used with pistols so much. As the pistol itself is a lightweight weapon, taking a lighter sight makes more sense. As you don't want to put unnecessary weight on the weapon.
Build Quality
The housing material is often aluminum in optics. It's a lightweight and durable material. And it's quite easy to work with the CNC process. While some plastic sights are good, most of them aren't. That's why, make sure to take an optic that is durable and will last you a good while.
Budget
Last but not least, is the budget. Having a specific budget in mind will lower the available options for you. That means, you will have an easier time choosing the optic. If you have a budget in mind, then it will also help you stay at ease while spending some cash. After all, mind satisfaction plays a huge role in the process.
Conclusion
As you can see, there are so many good FNX 45 Tactical optics available on the market, it's clear as day why so many ditch the Trijicon night sight for an optic. After all, you cannot really compare an optic with a night sight.
So, make sure to choose the best optic for your FNX 45 Tactical. Your gun deserves nothing but the best. And I hope you found the right one you are looking for above.
With that said, that's all for now. I will be back with more for you guys soon. Till then, take care and stay out of trouble. Keep on shooting.