The Sub 2000 is a very famous pistol caliber weapon. While pistol calibers are not known for medium or large range performance, they are quite well-known for short-range specialties.
Pistol carbines are often paired with a red dot sight. As red-dot sights are accurate and made for short-range competitive shooting and anything else you might want to try out. That's why, it's a good idea to buy a red dot for Sub 2000.
But finding the best red dot for Kel Tec Sub 2000 may not be as easy as you are thinking. It's a good idea to get help when you are indecisive. That's why I'm here to help you decide on this matter. Let's find out the answer to this question together.
Best Kel Tec Sub 2000 Red Dots [Editor's Picks]
1. Trijicon MRO-C-2200004 1x25mm Miniature Rifle Optic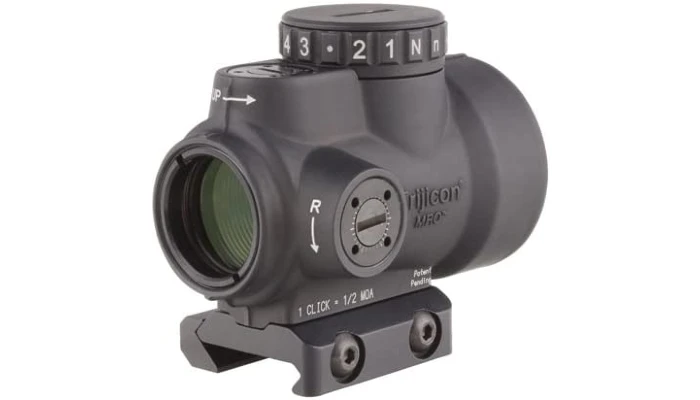 Trijicon MRO is one of the best red dot sights in the market. That goes for any rifle or pistol. It's a versatile red dot that is super easy to install and even easier to use. That's why, newbies love this so much.
The material here is aluminum. A very well-built CNC machined housing is protecting the lenses from any kinds of harm. Inside of the optic is also purged with nitrogen to make it immune to fogging issues. This lightweight red dot optic features an illuminated 2.0 MOA reticle.
The lenses used on this optic are fully multi-coated. Multiple layers of coating removes any glares from the lens and allows it to remain functional in windy and cold weather. As water can't go inside the housing, the sight is usable in rainy weather as well.
Trijicon is a great brand when it comes to making optics for tactical shooting, this is one of those products. This red dot here isn't recommended only for shows. It's a beauty that performs excellently.
Does this sight come with a mounting system?
Yes, it has a built-in mounting system. You don't need to purchase a separate one to install this.
Is the reticle illuminated?
Yes, it is illuminated. You can adjust the brightness of the illumination with a simple knob as well. You will find 8 adjustable levels for the brightness settings.
What is the expected battery life?
With the stock CR2032, you can use the optic for around 5 years at 3 brightness levels. It will be less if you use it at higher brightness.
2. HOLOSUN – HS510C Reflex Red Dot Sight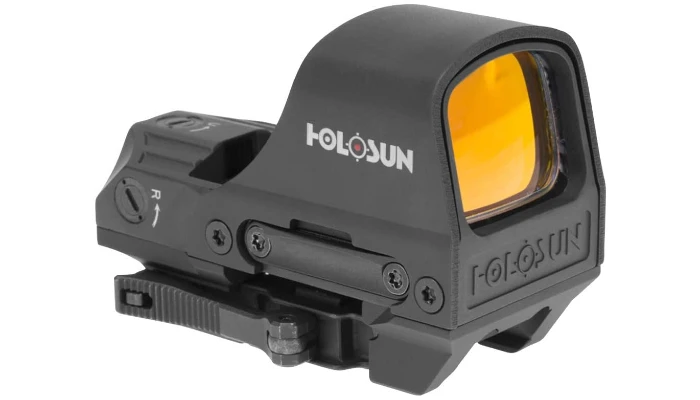 When it comes to making good red dot sights, Holosun is up there on the top. Hailing from Texas, this company makes their products in China. While they are designed and distributed in the USA, they are not manufactured here. That doesn't mean they lack in quality by any means.
The HS510C is well-built, durable, and lightweight red dot sight. The material used on this sight is aluminum. The construction is waterproof, fogproof, and shockproof as well. A pistol caliber like Kel Tec Sub 2000 won't be able to harm the optic in any way possible.
The lens here is fully multi-coated as well. With a reticle clear as the sun, this optic is great for CQB. A great thing about this topic is Holosun's solar failsafe technology. This works as a spare battery, by gathering power from sunlight, the optic holds it as safety measures.
If the battery fails on you while working, this failsafe has your back. The multi-reticle system is another reason why shooters like this. When you want, you can use the 2 MOA. Or you could use it with a 65 MOA open circle as well.
Is the reticle illuminated?
Yes, the reticle is fully illuminated. The brightness has an automatic sensor. It adjusts the reticle brightness based on sunlight.
Is it motion activated?
Yes, it is. With a slight shake of the weapon, the reticle brightness will be turned on. When it gets no motion, it will turn off automatically to save battery.
Does this come with a mounting system?
Yes, it has a built-in quick detachable mounting system. You don't need to buy a separate mounting system.
3. Vortex Optics Venom Red Dot Sight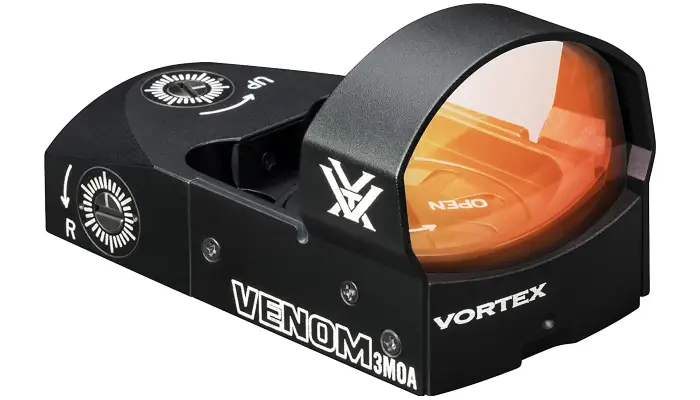 The naming of Vortex optics has always been unique. This is no exception either. The Venom is a 3 MOA red dot optic from Vortex. This beautiful looking red dot sight is one of the best budget red dot sights in the market.
The sight is made out of high-quality aluminum. A very durable and lightweight material known for its reliability in harsh conditions. The optic is water, fog, and shockproof simultaneously. Making it an ideal choice for any kind of environment you might want to put this through.
The lens is bright and clear. It generates visually enticing images. With dead accurate reticle, you don't need to customize the sight much to have a match with the Sub 2000. The lens on the optic is fully multi-coated.
The Venom is suitable for AR rifles as well. If you change your weapon down the line, you don't need to invest in a red dot again. As the warranty of Vortex will cover you fine for a long time. Overall, it's an investment that will make your Sub 2000 great and improve your aim on the way.
Are the windage and elevation adjustable here?
Yes, they are adjustable. You will find them on the side of the optic. You will need a flat head screwdriver to move them though.
Is the reticle illuminated?
Yes, the reticle is illuminated. And you will find 10 levels of adjustment settings present in the optic.
What kind of battery does Venom use?
You will need one CR2032 battery to run this optic. You will find one included and you can purchase them from quite literally anywhere.
4. Burris FastFire III Red Dot Sight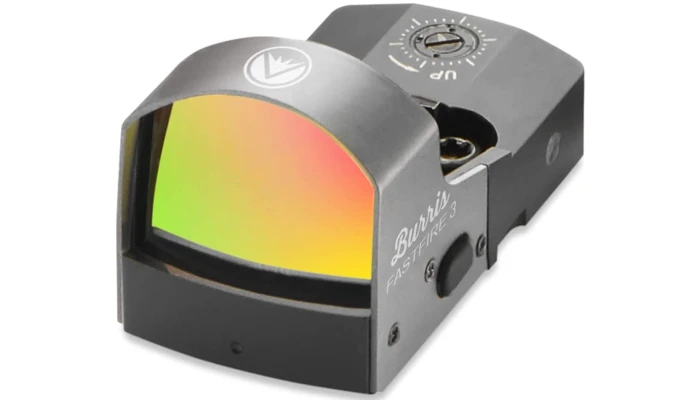 Burris optics are quite popular among hunters. They make good scopes and price them appropriately where newbies don't think twice before purchasing them. As they make good scopes overall, naturally people will think they make good red dots as well.
And yes, they do make good red dots. The FastFire series had some issues in the past which got fixed almost immediately. The 3rd iteration of the sight comes with refined features and better overall structures. The optic is made out of aircraft-grade aluminum.
A very durable and lightweight material. The optic is shock, water, and fogproof. The reticle here is illuminated and you can amidst the illumination level as well. You get a total of three adjustment levels.
And the optic features an automatic brightness sensor. It reduces or increases the brightness depending on the environment. This can be a double edged sword if the sensor doesn't work. But it does. So, you don't have anything to worry about.
Does this come with a mounting system?
No, it doesn't. You will need to purchase a Burris FastFire Mounting system to install this on your gun.
Does Burris provide any kind of warranty?
Yes, all of Burris products are under their lifetime warranty policy. No matter the problem, if you don't break their T&C, they will take care of you.
Why are there two FastFire 3?
One variant of the FastFire 3 comes with a 3 MOA red dot reticle. While the other one comes with a huge 8 MOA red dot reticle. That's it.
5. Vortex Optics Crossfire Gen II Red Dot Sight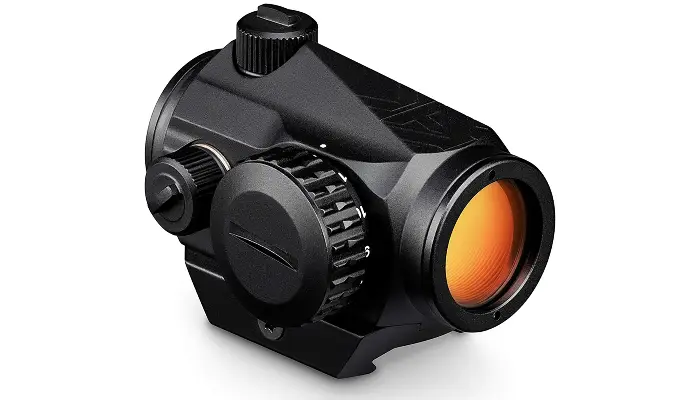 Now we are hitting the extreme budget range. The Crossfire series from Vortex has always been catered to budget enthusiasts and newbie shooters. They are super easy to use and install. Ease of access is what makes them so appealing.
The Crossfire Gen II is made out of aluminum. It's not as heavy as other red dot sights either. Despite having an affordable price tag, Vortex didn't skimp out on the quality department.
The lens here is coated as well. Coating protects this from fogging and unwanted glares from the target. Under different light, the lens remains clear. The reticle here is 2 MOA. It's illuminated as well.
With the lowest two settings, you will be able to use this optic for around 50k hours. That's a long-time! On top of that, this optic is compatible with night vision. Yes, you can use a night vision device with the optic if you want to.
Does this come with a mounting system?
Yes, a mounting system is built-in to the optic. You don't need to purchase one separately.
Are the lenses good in low-light?
Yes, the lenses are great at low-light. With proper coating, they are quite effective against debris and oil as well.
Is the windage adjustable?
Yes, both windage and elevations are adjustable on this optic.
6. Sig Sauer Romeo 5 Red Dot Sight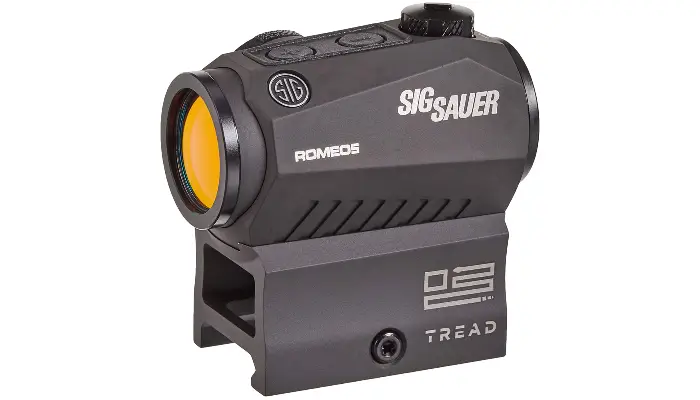 Romeo 5 can be considered as the national red dot sight. After all, it's hard to find a shooting range where a gun with this doesn't exist. Sig Sauer is known for their weapon craftsmanship and they honed the skill of making optics as well.
The Romeo 5 is made out of durable aluminum. Aluminum isn't a new name in the weapon industry. It's a lightweight material that is easy to work with CNC machining and quite durable in hardcore environment as well. That's why it's so popular.
The Romeo 5 is water, fog, and shockproof. All of the jazz you expect is there. After all, it's one of the most sold Sig optics ever. The lenses are coated with multiple layers of chemicals. The views are clear and they don't fail under low-light conditions either. Overall, a great purchase for any dusk time shooters.
Sig Romeo 5 also features MOTAC aka motion activated illumination. It's a sensor based feature that gets activated from slight motion of the gun. And it automatically turns off when there is no movement.
Does this support magnifiers?
Yes, it does. Sig Sauer Juliet is a great magnifier to pair this optic with. Giving you access to mid-range potentially.
Does this optic come with a mounting system?
It does come with a mounting system. The built-in one is supported by the 1913 picatinny interface.
Is the brightness adjustable?
Yes, it is. You get a total of 10 levels of adjustments. 8 being daylight and 2 of them for night vision.
7. Bushnell Trophy TRS-25 Red Dot Sight Riflescope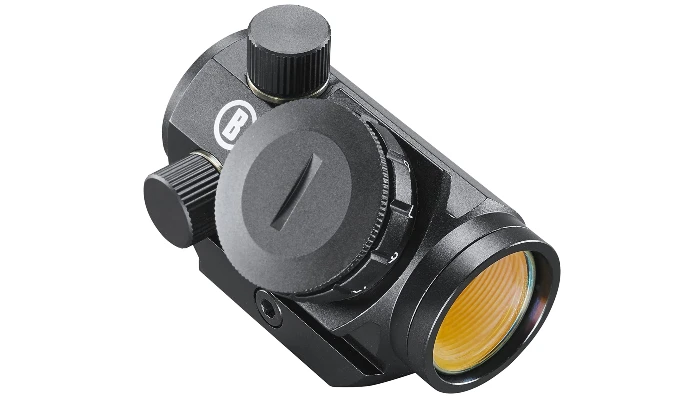 Last but not least, a red dot from Bushnell. Bushnell is another one of those budget friendly companies. They are known for providing some quality rifle scope at an absurdly low asking price. TRS-25 is the cheapest Kel Tec Sub 2000 red dot you can buy. What's even more surprising is, it's not bad at all.
With this low price tag, you expect some caveats. But the caveats on this unit are not that much. The housing isn't plastic. It's still an aluminum build. The fact that it's not poorly made makes it an immediate choice of any budget shopper.
The lens is also coated with chemicals multiple times. It's vibrant, there is no color alteration and it's extremely beautiful to look through. Cheap scopes tend to suffer from distortion, this doesn't happen here either.
The 3 MOA red dot reticle is visible under direct sunlight as well. Low-light performance wasn't anything special. Then again, can't expect this to excel in everything out there, can we? Considering this costs pocket changes. Have to say, this is the only cheap red dot for Kel Tec Sub 2000 that is worth getting.
Does Bushnell offer warranty?
They do. They offer a limited lifetime warranty with their product.
Does this come with a mounting system?
It has a low-rise mount built-into the sight. But that mounting system is not suitable for many shooters. For that, you should invest in a Compact Riser Mount. Either in 0.83″ height or in 1" height.
Is it illuminated?
Yes, it is. You will find up to 11 levels of adjustment settings present on the optic.
How To Choose The Best Red Dot For Kel Tec Sub 2000
Kel Tec Sub 2000 is an amazing gun. No denying that. But finding a good red dot for the gun is quite hard. After all, there are so many options to choose from. On top of that, a lot of red dots aren't even compatible with the gun. So, here is my take on how you should approach the decision.
Build Quality
Make sure to take an optic that is built to last. There are cheap optics available on the market that are built like papers. Don't fall for those honey traps. Make sure to take a red dot made out of metal. No plastic is allowed.
Weight
Kel Tec isn't a heavy weapon. It's quite light. To add in an optic on it is to add in weight. You don't want to go overboard with that. Take an optic that is relatively lightweight and durable at the same time. Lighter weight allows you to explore magnifiers or NVD down the line as well.
Lens Quality
Lenses are the life of an optic. They are your second set of eyes. If they are not good, then you will have a very hard time using the optic. So, make sure to never skimp out on the lenses. Fully multi-coating glass lenses make a huge difference. Bigger than you think.
Budget
The biggest concern while buying an optic is always the budget. If the budget is too tight, you are then limited to choices. And when you have a high-budget, you have countless options. So, make sure to fix a budget in your mind. It will make your decision making easier.
Conclusion
Well, there you have it. The list you have been looking for. The best red dot for Kel Tec Sub 2000 with a little bit of heads up about how to switch it. It's not an easy task, I know. But the task will majorly depend on you and what you want from your optics.
After all, I'm just a mere messenger who can show you the path. But you have to walk on that path yourself. If you can just identify one or two options from the list that suits your needs, then you can easily make the right decision.
With that said, that's all for now. I will be back with more helpful guides in future. Till then, take care and stay out of trouble.