The Beretta Px4 Storm gun series is a growing favorite firearm in different law enforcement and military organizations. Since it provides reliable and accurate performance, military personnel or law enforcement agents like to use the gun in various tactical situations.
However, it doesn't mean you can't use the firearm for self-defense or target shooting purposes. The gun series includes a number of options in firearms to meet the necessity of the target shooters or personal use.
Regardless of your shooting needs, if you want fast and precise target acquisition, it is better to use an optic with your gun.
Therefore, I have brought you the reviews of the 5 best Beretta Px4 Storm optics. Plus, I have added a buying guide at the end of this article to help you to choose the right optic for your firearm. So let's start!
Buying Guide For Beretta Px4 Storm Optics
There are a few factors you should consider before buying an optic for your Beretta Px4 Storm. It will help you to find the right optic for your firearm. Below is the list of factors that I suggest you to take a glimpse of:
Shooting Needs
Whenever you're looking for optics, always ask when you're planning to use the optic. Each optic is made to serve you in different shooting situations.
So, you could be someone who mostly uses the gun in either daytime, nighttime, or in all lighting environments.
Therefore, look carefully at the optic features and try to understand which one will be more appropriate to fulfill your shooting needs.
Construction
As a shooter, you might use your Px4 Storm in various terrains and environments. Hence, it is essential that the optic you're selecting has rugged construction to withstand rough situations.
Battery
If you want to buy sights like red dot and laser sights, the battery is the factor you should not overlook. Because the sights are mainly operated by the batteries. So, make sure the optic is provided with a high capacity battery.
However, if you are interested in night sights, you don't need to worry about batteries because they don't need them to function.
Optic Color
The colors of the optics essentially depend on your personal preferences. The most popular optic colors are red and green. It is normally suggested that shooters with astigmatism should use green color optics. It helps them to aim better than red or any other color optics.
Best Optics For Beretta Px4 Storm [Editor's Picks]
1. Burris FastFire III (3 MOA Dot)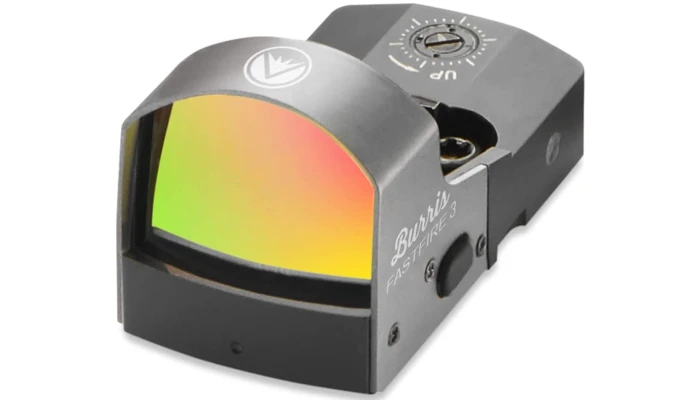 A red dot is always gun's best friend. It makes sure you can use the gun in different lighting conditions. The best part is it allows you to aim by keeping both eyes open.
As a result, you can acquire your target as fast as possible. Hence, adding this Burris FastFire III red dot sight with the Beretta Px4 Storm will be a great decision.
Especially, if you use your gun mostly in the daytime and low light conditions, this red dot will come as a big help for you. It features both manual and automatic systems to control the brightness level of the sight. The power buttons enable you to adjust the brightness in 3 levels.
On the other hand, the automatic brightness sensor works to adjust the dot intensity to match the shooting environment you're in.
Another good part of the dot sight is, that it has a rugged construction to endure any situation. It is also shockproof so that it can handle recoils produced by the firearm.
Interestingly, even though the sight is made of strong material, it is really lightweight. Hence, the red dot is also used with different rifles as an additional optic.
Moreover, the sight has high-grade optical glass, ensuring you have clear and bright target images. In addition, the glasses have index-matched, Hi-Lume multi-coatings for low light performance and glare elimination.
Besides, the optic is provided with a good quality CR1632 battery to function. The battery has a top-loaded access system. It means you don't need to face any hassle while changing the battery.
Plus, the sight offers a low battery warning indicator, allowing you to know the battery condition.
One thing to note is, that I have reviewed the 3 MOA version of the sight since it works perfectly in all shooting ranges.
However, if you are specifically looking for a red dot for close-quarter combat situations, you can check out its 8 MOA model. It includes all the features that I have discussed, except it has a larger dot size.
All in all, it can be one of the best choices for your gun if you primarily shoot in daylight and low light conditions.
Do you need any special tools to adjust the turrets?
To adjust the windage and the elevation turrets, you don't need any special tools. So, it means the red dot features a tool-less adjustment system so that you can easily and quickly change the adjustments.
Is the Picatinny mount removable?
The included Picatinny mount is easy to remove. It has been bolted down with two screws, so you just need to unscrew them to remove the mount.
Will it fit Beretta Px4 Storm full size?
The full size Beretta Px4 Storm comes with a "drift" rear sight. Hence, you will need a tool to push it out. Then, follow the company provided instructions to install the sight on this gun model.
2. ArmaLaser TR34G Designed to fit Beretta Px4 Storm Laser Sight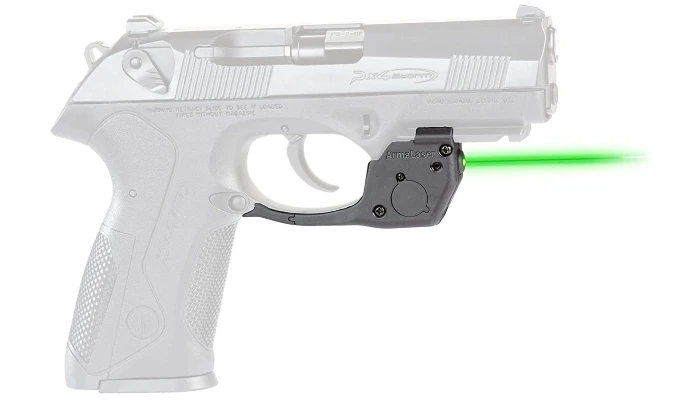 If you're someone who likes to have a visual reference of the aim on the target, laser sights are your best call. The sign of a good quality laser sight is, that it will provide excellent visibility of the laser beam.
Plus, it will incorporate a quick sight activation system. What makes the ArmaLaser TR34G a perfect choice for the Px4 Storm is, it offers you these two most important features to work with.
For starters, it is engineered to have a 5mW power output, 520 Nm, Class 3R Green Laser which doesn't exceed Class IIIA emission limits.
Additionally, it features a True-Touch Activation sensor to activate the laser sight. You just need to grasp the pistol normally to turn the laser on. So, it means you don't have to reach out for buttons or switches to use the laser sight anymore.
There are some additional features that you will absolutely love. For example, the sight has two beam adjustment systems such as a steady beam and a pulsing beam. It allows you to adjust the beam as per your preference.
Plus, it comes with a hex key so that you can adjust the laser for accuracy.
Moreover, this Beretta Px4 Storm laser optic is designed with a convenient battery door, eliminating the need of re-adjust the sight after battery replacement.
In addition, it has a master power switch, allowing you to shut the optic when you practice with iron sights or want to store the battery energy.
In terms of its durability, it can withstand rough handling. Since it is made of DuPont Zytel polymer pistol material, you can rest assured that it is strong enough to survive different shooting environments.
Now if you like red laser sights, this optic is also available in red laser beams. The reason I have reviewed the green laser sight is, compared to the red laser sights this color works better both in daylight and night conditions.
What accessories are provided with the laser sight?
The product is not provided with many accessories. So, along with the laser sight, you will get a Lithium CR1/3N battery, accessory Kit, and owner's manual & documents.
Which holster will work best for this sight mounted on a px4 storm?
There are a couple of options in the holsters to choose from for the gun with a laser sight. For example, if you have a Px4 Storm, buy "Beretta Storm PX4 Compact holster" from Feather Lite.
Where is the FLX strip placed on the gun?
The strip is placed on the grip. Whenever you make contact with the grip, it helps to activate the laser. The FLX strip is a good option that you can consider using with the gun.
3. Laser Kit for Beretta PX4 Storm Sub Compact w/ Tactical Holster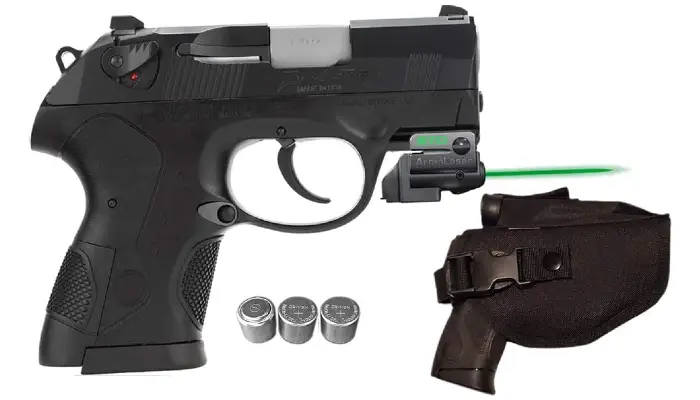 This laser sight is specifically made to be used with the subcompacts of the Beretta PX4 Storm series. Therefore, if you own a Storm subcompact and prefer to use laser sights, this is what you need for your gun! The highlighted part of the optic is, it is offered with a laser kit.
It means along with the laser sight, you will be getting a tactical laser holster and 2 extra batteries. Apart from these accessories, the optic comes with a quick grip activation system and high laser beam visibility. With the help of the True Touch Activation system, you can turn on the laser sight in a glimpse.
Just extend your finger and make contact with the touch sensor to activate the optic. Since it is ambidextrous, you can touch either side of the sensor's wing tip.
Similarly, to power it off, touch the sensor again. So no need for a switch to activate the laser sight!
Plus, it is provided with an optional FLX strip, allowing you to activate the optic by touching the contacts where the grip meets the trigger guard.
Moreover, it has excellent laser beam visibility. The laser sight features a 4.5mW power output, 635nm, Class 3R Green Laser without crossing the Class IIIA emission limits.
Additionally, it is quite an adjustable sight. For example, it has two options in laser beams; such as a steady beam and a pulsing beam. So, you can choose either of them to aim at the target.
Besides, the elevation and windage of the optic are also really easy to adjust.
Not to mention, it has strong durability to survive any environmental conditions. Hence, without worrying about the sight's compatibility with your Px4 Storm subcompact, buy it now!
What is the mount type of the laser sight?
It is compatible with the Picatinny rails. So, if your rail supports the Picatinny mount system, you can directly install it on the gun. No adapter is needed!
Is it difficult to install?
The installation process of the optic is quite simple. First place the optic on the accessory rail. Then bolt the screws down and you're good to go.
Does the optic come with a warranty?
Yes, the product is offered with a warranty policy. For the laser sight, they offer a 5 years of warranty. And you will also get a one year warranty for the holster.
4. MEPROLIGHT Mepro Tru-Dot Fixed Tritium Pistol Sight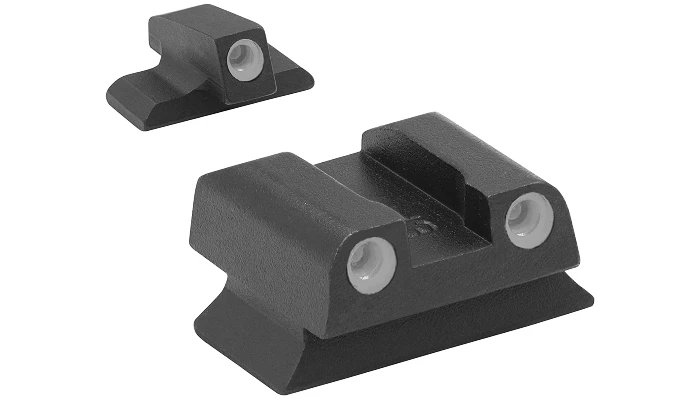 Looking for night sights for Beretta Px4 Storm full size? Well, you have got one! This Tritium night sight is highly compatible to use with different series of the Beretta PX4 Storm full size guns.
Since it offers the most reliable illumination for day or night shooting situations, you will be really impressed with its performance.
The sight comes with premium-grade green Tritium vials, ensuring the visible aim on the target in low light and nighttime conditions.
On top of that, Tritium vials are surrounded by white reflective material. It works to maximize the intensity and brightness of the Tritium source so that you can acquire your target as fast as possible.
Interestingly, the rear and front Tritium sources appear white in daytime but during low light and nighttime, they look green. As a result, you can have a perfect aiming point in all lighting conditions.
The fun of using the night sight is that it is maintenance free. You don't need to worry about batteries or any external power sources to operate the optic.
In fact, you can directly mount it on the gun, so no need for modification.
Plus, it is made of steel, making it drop and shockproof. Moreover, you can use the optic continuously for 12 years. So, if you want a reliable sight for your Beretta Px4 Storm full size, you can consider it a great deal for you!
Does it line up with the original rear stock for proper aiming?
It normally does. However, it sometimes depends on the individual's line of sight. Hence, it is better to check and be sure if it will perfectly line up or not.
Will it fit the Px4 Storm Subcompact?
Yes, it will fit the gun. This optic is designed to go with the full size and subcompact of the Beretta Px4. So, you can use the night sight on the gun without any problem.
Does this Beretta Px4 Storm front sight come with pre-drilled holes?
The front sight has two holes that can be drilled to install the Tritium vials. Don't forget to put the barrel in the vice before you start the drilling procedure.
5. TRUGLO Tritium Pro Glow-in-the-Dark Handgun Night Sight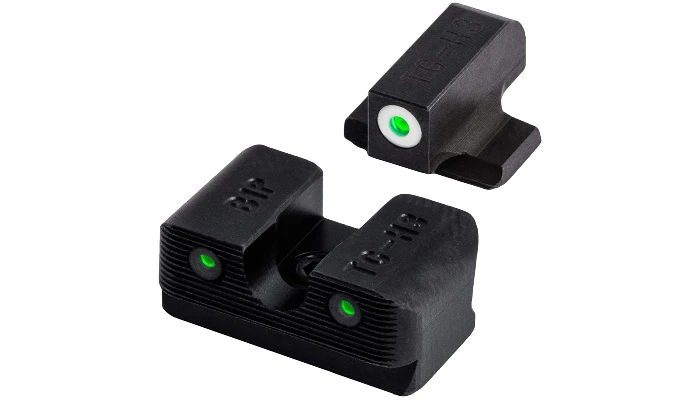 In case you have other gun models of the Storm series, you can consider this night sight. The careful construction of the optic to ensure brightness quality and durability is truly praiseworthy.
For instance, like the MEPROLIGHT night sight, the sights appear white during the daytime but glow in green color in the night environment.
However, it additionally comes with some pro features to help you shoot better in different shooting situations. To maximize the brightness of the sights, they are designed with Swiss Tritium.
As a result, you get an unmatched visibility to use the sights in all environments.
Plus, they don't even require external power sources or batteries to function. It makes them more convenient for you to use.
Moreover, the front sight features a white Focus-Lock ring surrounding the front fiber, allowing it to become more visible. It also encourages your eyes to rapidly focus on the front sight for a fast and accurate sight picture.
On the other hand, the rear sight has a U-notch, helping you to aim more precisely. So, if you like to use U-notch rear sights, you will surely love the optic.
Another good part of the sights is, that they have a compact design. Since this compact design maintains the factory sight radius, it allows the guns to fit standard holsters after mounting the night sights.
Besides, the angled edge of the rear sights works great in times of emergency one–hand operation. Overall, it works really well with the Beretta Px4 Storm series.
But note that, it won't fit Px4 Storm compact guns. Hence, you are suggested to look for other models of this night sight to use with the Storm compact guns.
Are these sights metal?
Yes, they are made of metal. So, they are durable to use in terrains and weathers. However, you are recommended to be careful while installing them on the gun. Otherwise, they can get scratched or damaged.
Will it fit the subcompact guns?
Since the sights don't fit with compact guns, many shooters sometimes get confused sometimes whether they will fit the subcompacts or not. But the sights do fit the subcompact guns. The only model they don't support is the compact guns.
Do they work with the Beretta 92F full size?
No, they won't work with this gun model. Because they are only designed to fit the Storm series guns. If you want a night sight for Beretta 92F, you can go for the "Meprolight 10662 Tru-Dot Handgun Night Sight".
Conclusion
To conclude, using an optic with the Beretta Px4 upgrades your shooting performance. Hence, in today's market, you will see multiple options in optics that you can choose to use with your Beretta Px4 Storm. To reduce your research load, I have reviewed the 5 best optics you can consider for your firearm.
So, by keeping your shooting needs in mind, go through the reviews. It will lead you to the perfect optic you need for the gun. Plus, don't forget to read the buying guide before jumping to the final decision because it will help you to make an economic purchase. Good luck!