Today's topic of my writing is one of my favorite subjects. Why you ask? It might seem nothing to you but for me, Canik pistols hold an interesting place. That is mainly because they give you a feeling of uniqueness.
You cannot use just anything with these handguns. Well, not all Canik pistols. This is the case for only this model which is one of the most popular handguns among shooters.
Maybe to justify its name, the Canik Tp9 Elite SC has chosen to become the elite member of the Canik family with its unique slide cut for optical attachment. This sub-compact handgun only attaches to a handful of red dots and reflex sights that have a certain type of footprint which you can only find in micro red dots.
My fascination with this pistol comes from this certain part where I personally believe this Elite SC has a similar high maintenance attitude as mine.
This Tp9 only takes red dot sights with SMS and RMS footprint/mounting standard. This is where the major difference is between the Tp9 Elite SC and Tp9 SFX pistols. With the Tp9 SFX you can mount any type of red dots as it comes with 4 different mounting plate options.
You will not get this facility with the Elite SC and that's what makes the firearm so unique and desirable. Interesting, isn't it?
Anyway, whether it seems fascinating to you or not we still need to find the best Canik Tp9 Elite SC red dot sight. For that, I have compiled reviews of the top 7 best Tp9 SC red dot optics for you.
But first, let's look at the checklist to understand the basic features of the Canik SC sights and find the ones you will need for your Canik handgun. So, let's begin!
Buying Guide For Canik Tp9 Elite SC Optics
This buying guide checklist will give you the whole picture of a red dot sight for your Canik Tp9 handgun as you will find all the important features you need in your red dot for Canik Tp9 Elite SC.
Footprint/Mount
The most important thing about a red dot sight before you purchase one for your handgun is the footprint of the mounting standard that particular sight follows. You need to make sure that this footprint matches the mounting plate of your handgun.
Otherwise, you will not be able to mount this on your firearm. And what's the point of having a sight if you can't attach this on the handgun right? Now Canik Tp9 Elite SC has a specific optic footprint when it comes to red dots.
This particular handgun only attaches to the Shield SMS/RMS footprint optics. So you will need sights with that footprint only.
Lens Quality
After you are 100% sure that your Canik Tp9 Elite SC mounting plate matches that optic, the next you will notice is the lens quality.
An objective lens with a good field of view, and fully multi-layered, anti-reflective coatings is the perfect combination you need for your Canik Tp9 firearm. This will ensure the perfect amount of light transmission for that clear and crisp picture you want.
Reticle
Reticle is another important thing you will need to know before purchasing a red dot sight. The red dot size is what decides the type of games you can target with your Canik Tp9 red dot.
The dot size can range from 2 MOA to 6/8 MOA where the larger dots are perfect for speed and close quarter aiming. Whereas, the small dots are good for precise and accuracy when you are targeting long distances.
Battery Quality
While we are talking about the red dots, there has to be something to light those babies up right? And that's where the battery comes into the picture.
When you are looking for a good red dot sight it is important that you choose one with good battery runtime, at least enough to get you through a decent amount of time.
Design & Weight
I always give great attention to the body structure and weight of any optical device especially when it is used with a handgun. I'll tell you why. Every shooter has a personal style of holding his gun and this is when you will feel comfortable using a certain type of sight.
Plus, this Canik Tp9 version has such a small space for red dots that it is very important to make sure you are choosing the correct size which you will only achieve with the micro red dots. At the same time, it is important to keep the weight on the lower side since handguns are pretty lightweight themselves.
Durability
Finally, after going through all the above points, the last thing you need to check is the durability and reliability of the sight. Although handguns do not have strong recoiling, it is good to have good housing materials for the sight to last for a long period of time. Also, make sure the sight is waterproof and fogproof to withhold through different weather.
Canik Tp9 Elite SC Red Dot Sights [Editor's Picks]
Now that you know what are the major qualities of an Elite SC sight, let's dive into the reviews of the top 7 best red dots for Canik Tp9 available in the market.
1. Leupold DeltaPoint Pro Reflex Sight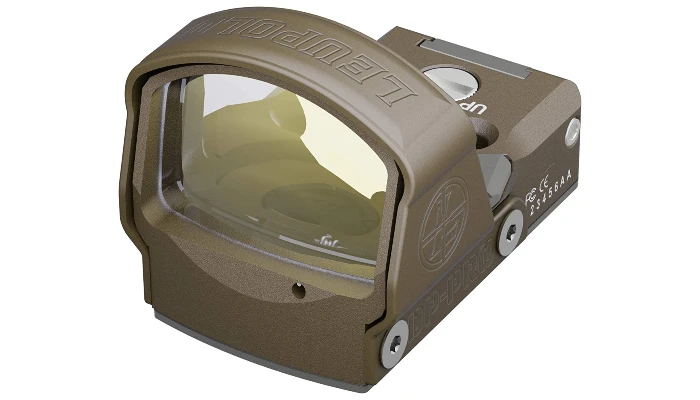 As the first candidate for best Canik Elite optics, I have listed the Leupold DeltaPoint Pro Reflex Sight. This is one of the most popular micro sights you will find in the market that has all the good features you will need to enhance your shooting experience.
The reticle of this sight has a 2.5 MOA central dot that can go a long way to produce a precise and accurate point of aim. Its crystal clear lens along with a wide field of view gives you the perfect view of your targets and eliminates any distortion at the same time.
This sight uses a CR2032 lithium battery which provides you with a long lifespan. But it goes an extra way by adding the feature of motion sensor technology. This power saving feature automatically deactivates the reticle illumination after 5 minutes of any inactivity.
It also helps to power up the sight with the slightest amount of movement.
Another good feature of this red dot is the Twilight Red Dot System. Because of this facility, the sight can adjust with various lighting situations throughout the day.
Along with the premium lens, the sight uses this system to present you with a clear and color consistent image of the targets to facilitate the faster acquisition.
When it comes to the housing quality of the DeltaPoint sight, the high strength aluminum housing and steel sheath make it strong enough to withstand three times the recoiling of a .308 rifle. In that sense, you can very easily carry this with your Canik Elite handgun.
Will this co-witness with the iron sights of a handgun?
No, the height of the DeltaPoint sight is not supportable for co-witnessing. But you don't really have to worry about co-witnessing in a handgun since the red dot will do most of the job.
How do you change the batteries in this sight?
The battery compartment is on the top of the sight. Therefore, you can replace the battery without removing the sight from the gun.
Do you need an additional mounting plate to mount this sight on Canik Tp9 handguns?
Since the Tp9 Canik handguns use SMS/RMS mounting cuts you will need some additional work to mount the DeltaPoint on this sight. It is best to let the gunsmith do this job since the micro Leupold sight needs a mounting ritual.
2. HOLOSUN HS507K-X2 Classic Multi Reticle Red Dot Sight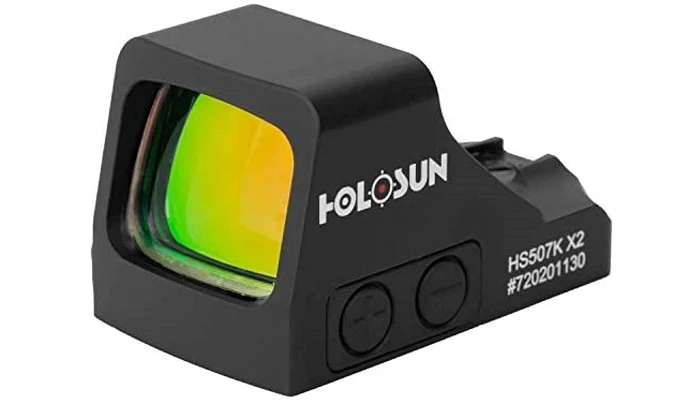 It can't happen that we are listing the best red dots for Canik Tp9 Elite SC and not adding a Holosun product. I mean that is like not mentioning Michael Jordan while talking about the NBA. Well, I am at least making that crime which is why the HS507K from Holosun is my next recommendation.
This multi-reticle X2 version comes with two different reticle styles to give you both close and long distance coverage. I know this might be confusing, I mean what would two reticles do right? Okay!
Let me explain it to you. The first reticle with 2 MOA dot size will give you a precise point of aim which you can use when aiming for objects from a far away distance.
Now there is another reticle option with 32 MOA circles. This circle is good for spotting targets from your surrounding areas giving you more access to the closer range of objects. This is perfect for creating situational awareness. I would give it a solid go if I were a law enforcement member.
Another point I want to mention is its high capacity CR1632 lithium battery which has the ability to keep this sight on for almost 50,000 hours.
Plus, with the Shake Awake feature you get to save more battery energy as it creates the perfect brightness according to the surrounding lighting.
There is also a Lock Mode which freezes all your settings so that your shooting does not get interrupted by unintentional pressing.
Besides, the side battery tray allows you to replace the batteries without taking the sight off your firearm.
With the modified RMSc footprint, mounting this Holosun sight will be easier than choosing your favorite ice cream flavor. The 10 daylight brightness settings and 2 night-vision compatible options make this Holosun the absolute partner for your Canik Tp9 Elite SC.
Can you rack the slide with this red dot?
Yes, you can rack the slide but it will put extra pressure on the mounting screws and the sight itself.
Does this sight have an automatic brightness mode?
No, this sight does not come with an auto-brightness mode. However, you can set up a brightness setting separately for both daylight and nighttime by holding the + button for 3 seconds. Once it flashes for 3 times the mode is locked.
How does the Lock Mode work?
You have to lock the sight after turning it on and pushing the + button down for 3 seconds. You also need to unlock the sight in order to turn it off.
3. Shield Sights 4MOA Reflex Mini Sight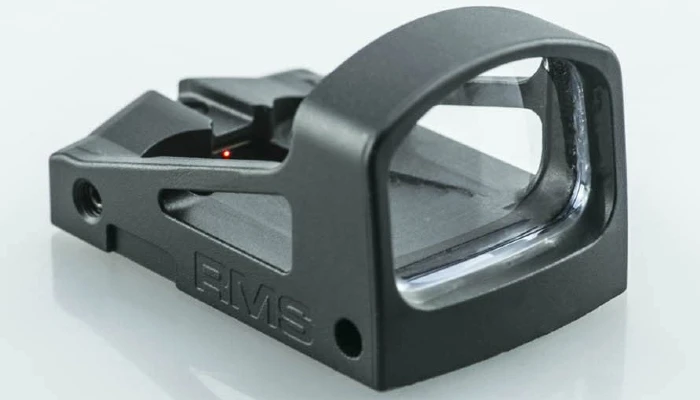 After searching for a long time, I found this Shield Reflex Mini Sight that perfectly matches the Canik Tp9 Elite SC mounting plate. There is no doubt with the RMS footprint of this sight which also cuts out the SMS mounting standard. I don't think this could get any better than this.
Other than the footprint matching, this polymer optic has an awesome objective lens that has a reflective filter on it which will ensure that you get the minimal visual signature for achieving possibly the best view of your targets.
What I like about this sight is that the red dot does not give you a laser like finish which can be extra pressuring on the naked eyes because of the radioactive rays.
The sight offers a solid 4 MOA dot reticle which I personally find very versatile. I'll tell you why. You see when we are dividing the dot sizes on the basis of distance, we know that smaller dots such as 2 MOA are perfect for precision.
But when you move to the middle tier category which involves 4 or 5 MOA, what happens is that you get double access from mid level to long range aiming.
The advantage you are receiving from the reticle is not the only good thing about this sight. The lowest brightness option of this sight is for night vision devices.
Therefore, you know you can go out and about with your night sights without worrying about using them with the existing red dot.
When it is shifting to its last breath, I mean battery-wise, just put on a CR2032 lithium battery and you will be good to go for another two to three years.
Although I don't like the fact that you have to demount the sight from your Elite Canik whenever there is a need for a battery change, you don't have to do it often. So, I guess we can compromise with this one thing, right?
But if you don't like the battery changing option, you can also opt for the optional battery draw that saves you from removing the sight while changing the batteries.
This freakishly tiny 0.61 oz red dot is perfect for the Canik Elite pistol with its aluminum housing. It will probably last longer than your gun xD.
What is the water resistance rating of this red dot sight?
There is actually no specific rating for the water resistance level of this sight but it can handle rain. However, it is not submersible.
Can this red dot go on an RMR cut?
No, the sight has an RMSc mounting standard that also goes on an SMS cut but not on an RMR cut.
Will this sight fit on the Hellcat OSP?
Yes, you can mount this red dot on the Hellcat OSP handgun with the RMSc mounting plate.
4. Swampfox Sentinel Micro Reflex RED DOT Sight
For our next product, I have added the Sentinel Micro Red Dot sight, which in my opinion will comfortably sit on top of the tiny space of your Canik Elite handgun.
This is very important to keep in mind we need a micro sight for your Canik Elite SC because of the small mounting space. This is when the Sentinel sight comes into the equation.
This sight has both red and green light options for different versions. Although it will completely depend on your personal preference, I would recommend going for the green light if your shooting time mostly involves daylight.
On the other hand, red illumination will work best for you in case you are a night owl.
With the auto brightness mode and a 3 MOA dot reticle, you are set to acquire targets that are hard to spot from a distance. The automatic adjustment of the illumination is one of my favorite items in every red dot.
This just simply makes my work easier as I don't have to constantly change the brightness levels depending on the lighting condition of that day.
The 16mm diameter objective lens creates a wide window to spot targets quickly and acquire them even faster. And with the multi-layers of coating, you shouldn't even worry about getting an image that is as clear as a sunny day.
What I don't like is that you have to change its CR2032 battery that lasts for 2 years by unmounting the sight since the battery door is underneath it.
This sight also has a Shake 'N Wake motion sensor technology just like the Holosun sight. For this feature, the sight will shut down when there is no motion for 4 minutes.
Besides, you can use the 10 brightness levels by manually changing them using the digital push buttons. The sight's photosensitive sensor captures the surroundings and adjusts the dot brightness according to the lighting conditions.
I think this Sentinel-M sight will make a great partner for your Canik SC pistol as you are getting quite a few features within a good price range.
Will this sight fit on a Canik Mete handgun?
Yes, the mounting cut of this sight will fit on the Canik Mete pistol's mounting slide.
What type of screws and tools are included with the sight for mounting?
You get all the necessary screws to mount this sight on a handgun along with an Allen key.
Does it include a Picatinny mount?
No, unfortunately, the sight does not come with a Picatinny mount. It is designed to mount directly on micro compact pistols.
5. Ade Advanced Optics Spike (RD3-018) Ultra Micro Red Dot Sight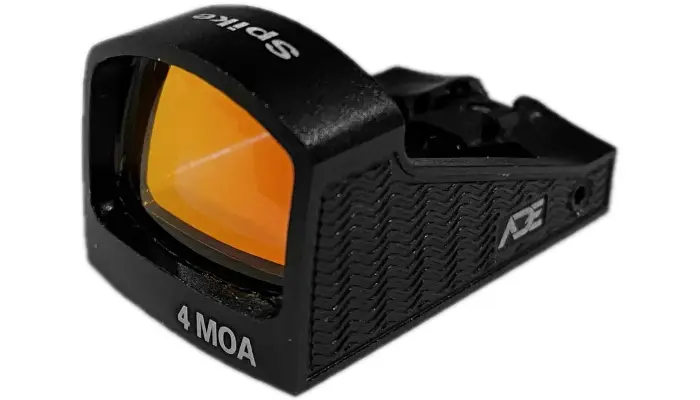 In the journey of finding the best micro red dot for Canik Tp9 Elite SC pistols, our last stop is at the Ade Advanced Spike Ultra Micro dot station.
I like the sound of ultra micro because this is exactly what we need- a sight that is made to match with your Elite handgun. Now let's see what other things this sight has to offer.
This 4 MOA dot sight is good for creating a common ground from mid range to long distance targeting. You can very easily aim at games that are not quite in the close quarter but you can also stretch it to take a bit further than that. Given the auto brightness system, it gets easier to handle the targeting process.
The advanced technology allows the CR2032 battery to stretch its lifespan to a longer period of time as it only draws about 700 microamperes of power. The multi-coated glass makes the objective lens a color consistent porter for better visibility.
One thing that is very different about this sight from the rest of the red dots is that it has an iron sight curve at the end of its body where you will find two white dots.
This actually makes the sight's rear part work as a backup iron sight which is perfect for those sudden moments when you badly need your iron sights. So, this is like a 2 in 1 offer.
The purpose of its ultra small design is to create enough space between the sight and the existing rear sights of any full sized optics ready pistol that will provide you with the opportunity to co-witness with the iron sights.
It is really a shame that you cannot use this feature on your Canik Elite handgun since there is little to no space for the iron sights. But the ultra micro size still worked in our favor. So, I am not complaining.
The aircraft grade aluminum housing with hard coating wins another point from me in this best micro dot race. With this kind of versatility, you will not be disappointed for choosing this sight.
How do you power up the sight?
There is no separate button to power up the sight. It turns on once you put in a battery.
Is the sight waterproof?
No, the Ade Spike red dot sight is not waterproof so you cannot use it under a strong flow of water.
Does the sight have a Shake Awake feature?
No, you do not get a Shake Awake feature with this sight but there is an automatic brightness mode in it.
Conclusion
To sum up, I just want to say that Canik handguns have their own specialty that demands extra attention from you. Especially with the Canik Tp9 Elite SC handgun, this point gets clearer as you cannot mount just any sight on this model. It only takes a certain type of optics that match with its Elite status.
This is why the buying guide section is here to help you with all the important information you will need to know about Canik Elite sights.
After going through the checklist you will know what you need to check in a red dot sight. Then, you can just read through the reviews to find the perfect Elite companion your Canik Tp9 pistol accepts.