Staccato has been a reliable brand of firearms that making good and affordable handguns for a while now.
Like many other manufacturers, they are also releasing updates of their weapons every once in a while. Which makes it tempting for existing users to get the latest and greatest models.
Something similar is happening between Staccato c2 Vs Staccato C2 Duo argument. As they both share the same name "C2", it's easy to confuse between the two. How about I help you find the difference between the two?
Staccato C2
The Staccato C2 is a modern and high-performance compact pistol designed to deliver exceptional accuracy, reliability, and speed in a concealed carry or self-defense context.
Developed by Staccato, a renowned manufacturer in the firearms industry, the C2 is built upon the foundation of their innovative 2011 platform, known for its double-stack magazine design and superb ergonomics.
At the heart of the Staccato C2's design is its impeccable craftsmanship and attention to detail. The pistol features a compact slide and frame configuration, making it easily concealable without sacrificing shootability.
The 2011 frame, designed with input from competitive shooters, offers a comfortable and contoured grip, allowing for a secure hold and reduced felt recoil during rapid fire.
One of the standout features of the Staccato C2 is its exceptional trigger system.
The pistol is equipped with a crisp and clean trigger pull, providing a short reset that enhances follow-up shots. This is particularly crucial in high-stress situations where split-second accuracy and quick target reacquisition are paramount.
Staccato C2 Duo
The Staccato C2 Duo is a modern marvel in the realm of firearms, representing a significant advancement in the Staccato C2 series.
As a gun expert, I can confidently say that the Staccato C2 Duo builds upon the solid foundation set by its predecessor, the Staccato C2, to deliver a firearm that offers enhanced performance, accuracy, and versatility.
The Staccato C2 Duo retains the compact and concealable profile of the original C2, making it an ideal choice for concealed carry and personal defense.
It incorporates the principles of ergonomics and user comfort that the Staccato brand is known for. The grip texture, controls placement, and overall design of the Duo are optimized for a secure and comfortable shooting experience.
What truly sets the Staccato C2 Duo apart is its innovative dual-optic capability. This feature enables the firearm to accommodate both a micro red dot sight, like the popular Trijicon RMR, and traditional iron sights.
The Staccato C2 Duo is engineered with precision and quality in mind. Its build quality, fit, and finish are a testament to the craftsmanship Staccato is known for. The pistol is designed to withstand the rigors of regular use, ensuring reliability and durability even in challenging conditions.
Staccato C2 And Staccato C2 Duo – Key Differences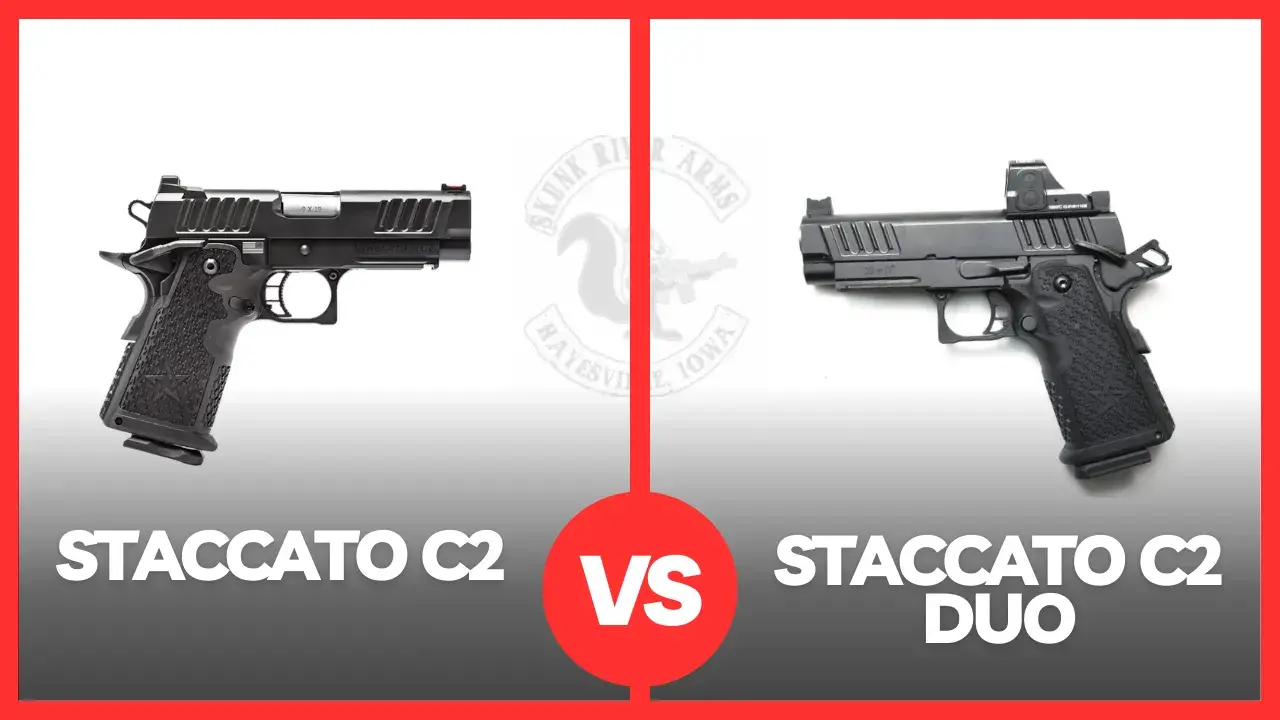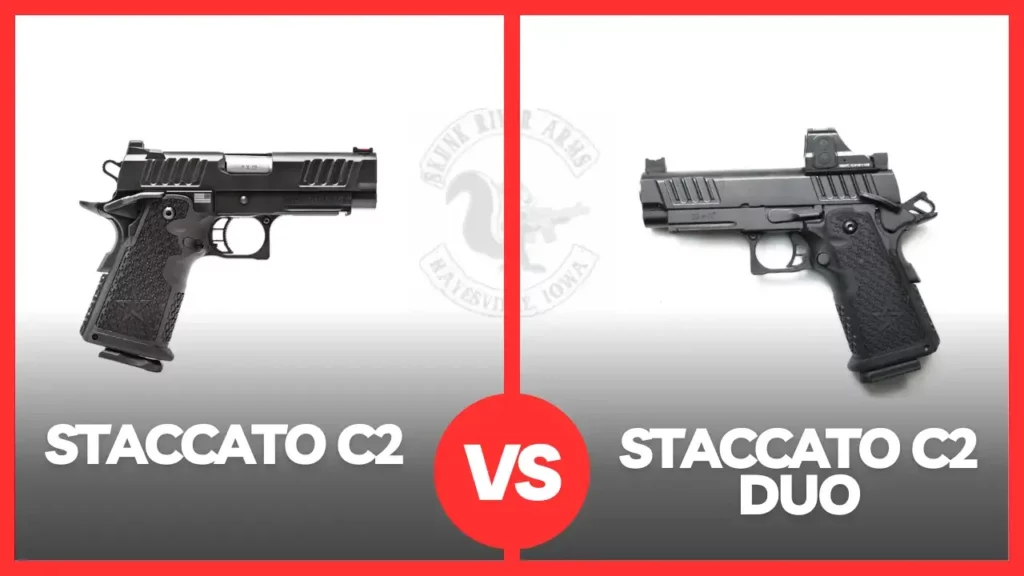 Magazine Capacity
When it comes to magazine capacity, Staccato didn't play favorites. Depending on the caliber you go for and the state you reside in, the maximum magazine capacity will vary a lot. From 7 to 10 shots to 16 shots, you can get that with both of the guns if your state allows it to.
Grip Texture
The Staccato C2 has a stippled grip texture, while the Staccato C2 Duo has a more aggressive grip texture with finger grooves. The more aggressive grip texture on the Staccato C2 Duo provides a more secure grip, especially for shooters with sweaty or wet hands.
Design
The Staccato C2 is a single-stack 9mm handgun with a capacity of 16+1 rounds. It is designed for concealed carry and features a 3.9" barrel and a full-length grip.
The Staccato C2 has a trigger pull of 4-4.5 lbs and is equipped with a slide-mounted safety and a trigger safety.
Both models are also equipped with an extended beavertail and a low-profile rear sight. The Staccato C2 and the Staccato C2 DUO are excellent handguns for concealed carry. They are reliable, accurate, and easy to use.
Power
Both of them share the same amount of energy in terms of action. As they don't have different action chamber, their power, accuracy, and performance is all the same. Even if you take them at extreme range, they won't have difference when it comes to the performance.
Portability
Thanks to their identical frame their performance and longevity of them both is quite good. On top of that, they are both extremely portable. If you search for user experience of both guns, they are used for self-defense and everyday carry.
Optic Mounting Flexibility
Staccato C2 features a standard slide configuration without a dedicated optic cut. Shooters who prefer iron sights exclusively will find the C2's ergonomics accommodating.
The slide's design caters to traditional sight alignment, maintaining a sleek profile.
Staccato C2 Duo takes ergonomics a step further by offering a dedicated optic cut to accommodate a micro red dot sight. This addition provides enhanced ergonomics for those who prefer the rapid target acquisition and accuracy benefits of a red dot.
The slide's contour has been adapted to seamlessly integrate the optic, allowing for a lower and more natural aiming posture.
Performance
Both of their performance is identical as I said earlier. Thanks to the optic compatibility and double optic alignment, the Duo offers better accuracy in the long-range. But if you are just using the gun for self-defense of CQB, then you can use either of them just fine.
Staccato C2 Vs C2 Duo – Similarities
The Staccato C2 and Staccato C2 Duo are both high-performance 9mm pistols that are known for their accuracy, reliability, and performance. Here are some of the similarities between the two models:
Both pistols are made in the United States by Staccato, a company that is known for its high-quality pistols.
Both pistols are chambered in 9mm and feature a 3.9-inch barrel.
Both pistols have a single-action only trigger that is crisp and predictable.
Both pistols have a 16+1 capacity.
Both pistols are compatible with a wide range of aftermarket accessories.
Frequently Asked Questions
How Does The Staccato C2 Duo Compare In Terms Of Accuracy And Precision When Compared To The Staccato C2?
In terms of precision shooting, you will not see any difference between the two. Where you will see the difference is the target acquisition. Thanks to the better optic compatibility of the Duo, it offers a faster target focus.
What Are The Main Differences Between The Staccato C2 And The Staccato C2 Duo?
The main difference would be the price and the optic compatibility. Despite having "duo" in it's name, it doesn't include a dual trigger or stacked magazine system. That's a bit unfortunate. But thanks to the performance of this gun, you can easily forget that and use it for what it is.
Closing Thoughts
The Staccato C2 and Staccato C2 Duo are both great options for those looking for a reliable and accurate handgun. Thanks to their identical frame and action chamber, their performance is accurate as well.
Both pistols are also backed by Staccato's lifetime warranty, so you can be sure you're getting a quality product. Ultimately, the decision between the C2 and C2 Duo comes down to personal preference and intended use.