The red dot market is filled with tons of different options. From Holosun to Aimpoint, everyone is here to take a piece of that pie. This competition in the market is extremely good for a buyer. We get the better product for a better price while they compete to take the market share.
This type of competition often brews confusion. For example, you are now confused between Aimpoint T2 vs Comp M5. Both sights are made by the same company. While they are not identical, they are not far in terms of performance.
Let's figure out what sets them apart and which one should you buy. Sounds good, right? Let's start.
Aimpoint T2
The T2 from Aimpoint is a compact micro red-dot sight made for SMG, Rifles, and the like. It's a great optic that isn't that cheap. The body of this scope is made out of high-quality aluminum alloy. To secure a good finish, Aimpoint used anodization coating all over it.
As it's a tube design, the inside of the optic is also purged with chemicals. Chemical purging makes a weapon sight fogproof. That wouldn't mean much if water could still leak inside. Luckily, none of that will happen thanks to O-ring sealing.
While Aimpoint does claim it's submersible, I wouldn't recommend you try to venture into a place where you aren't welcomed.
Overall, this optic is one of the best modern-day micro-optics.
Aimpoint Comp M5
The M5 is also a micro red-dot sight with a compact mounting system and incredibly well-built housing. Just like the T2, this one also features a 2 MOA illuminated red dot reticle. It's bright and adjustable.
The housing is fog, shock, and waterproof simultaneously. Due to the sight being sealed properly, Aimpoint managed to get a waterproof rating for up to 150 feet in clean water. Then again, I don't recommend you take a bath with an optic.
It's also highly accurate in close range.
Aimpoint T2 Vs Comp M5 – Key Differences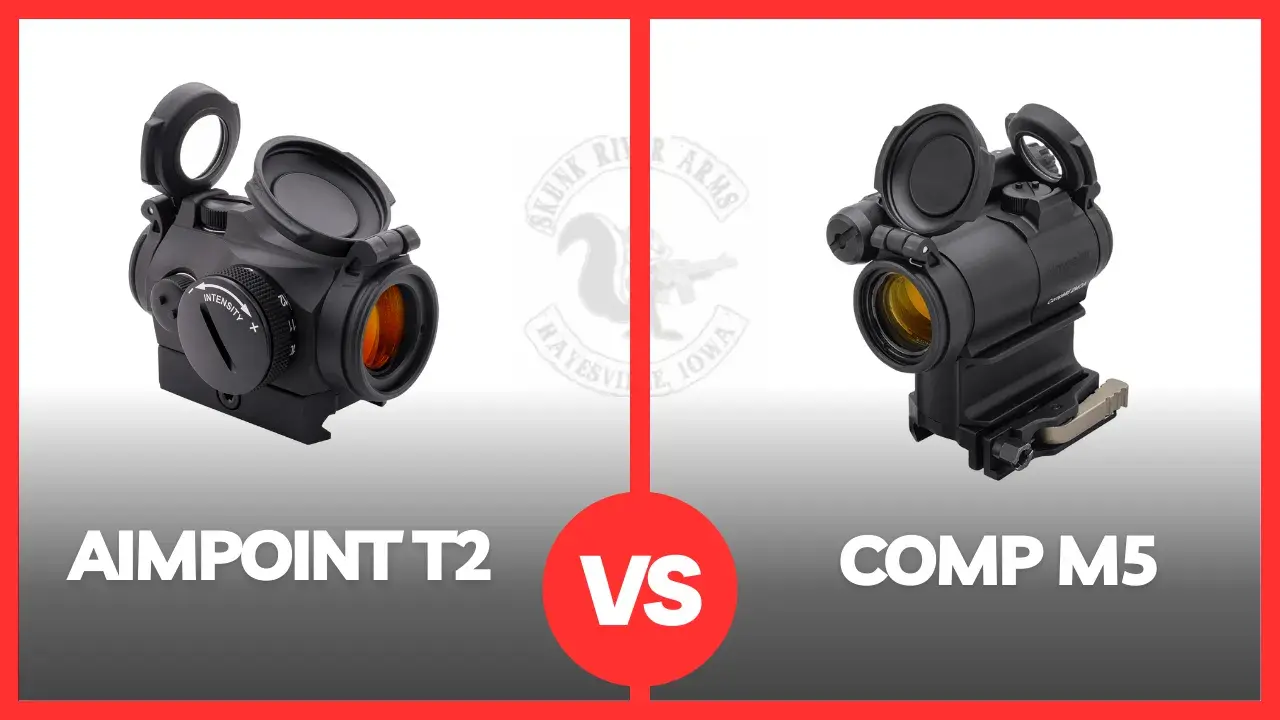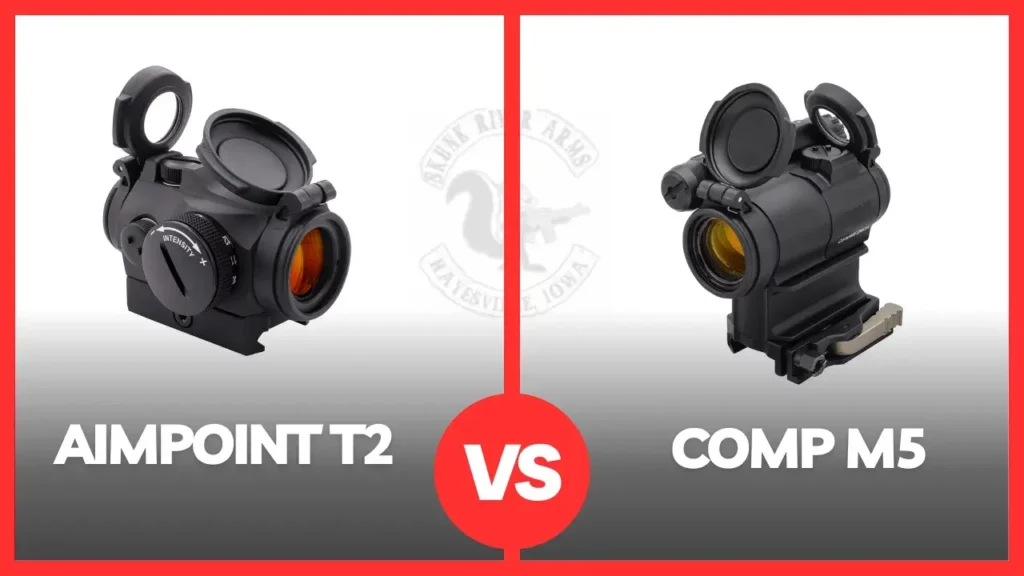 Besides their appearance, they do have features that set them apart. Let's get to know them in detail.
Durability
As you saw already, both of the sights are water, fog, and shockproof. On top of that, they are crafted from aircraft-grade aluminum. The aluminum is lightweight and extremely durable with an anodization coating.
To top it off, they also share a submersible rating. That does sound wonderful, doesn't it? In terms of durability and toughness, it's not possible to separate the two. They are both behemoths.
Lens Clarity
Aimpoint makes a great pair of lenses. Both of the optic here shares a fully multi-coated pair of lenses. They are coated to be highly accurate and get rid of all possible glares from it. The glass used here is not HD Or XD glass. But it's actually surprisingly clear during low-light conditions.
Thanks to this, it's an easy recommendation for shooters who want to shoot at a moment's notice. This is also the reason why security services utilize this optic.
The objective lens is big enough to get plenty of light and the eyepiece offers unlimited eye relief as well. Even if you were to pair this with a magnifier, both of them would still outperform any similarly priced red dots on the market.
Reticle
Unfortunately, there is no way of dividing the two when it comes to the reticle. They share the same 2 MOA reticle. If one were to feature 4 or 6 MOA, that would have made this decision much easier.
Anyway, the 2 MOA reticle paired up with an illuminated LED makes them a great choice for any lighting condition.
Size
This is where things start to take a different turn. So far, they have been nearly identical in terms of features. This is the first place where they start to differentiate between the two a lot.
The total length of Aimpoint T2 is 2.6 inches. As for the Aimpoint Comp M5, it has a total length of 3.3 inches.
No matter what angle you look from, they are not the same sight. If you are after the most compact sight between the two, then you cannot go wrong with the T2.
Battery Life
We often overlook the battery life of a red dot. After all, it's extremely cheap to buy a battery and change it on the spot.
The Aimpoint T2 promises a battery life of around 50k hours (aka 5 years) at the lowest available magnification. If you continuously use it on a higher brightness setting, the battery will deplete a lot sooner than you anticipated.
The Comp M5 promises around 50k hours as well. The surprising thing here is, it uses a AAA battery instead of a CR2032. Which makes this optic heavier. You would expect it to have a longer battery life, but it doesn't.
Brightness Settings
In the Comp M5, you will find 5 daylight settings and 4 night vision settings. If those settings aren't sufficient for you, you will also find one extra bright option. In total, 10 adjustable settings. You can change the brightness with a button click placed on the side of the sight.
Aimpoint has a tendency to provide the same feature to multiple sights and that, fortunately, that isn't true here. You will find a total of 12 brightness settings on the T2. 4 of them are night vision and 8 of them are for daylight.
Aimpoint T2 Vs Comp M5 – Similarities
If you read it closely, you probably noticed already the similarities. Besides the same material and finish on both lens and housing, they don't share much of similarities. While they both have a 2 MOA reticle, the brightness of that reticle is not the same at all.
What Type Of Environment Is Each Model Best Suited For?
The Aimpoint T2 is best suited for tactical and military environments. It is designed to be lightweight, durable, and reliable in the field. The T2 is waterproof and shockproof, making it ideal for use in harsh conditions.
On the other hand, The Comp M5 is best suited for hunting and sporting environments. They are both versatile and made to survive harsh conditions.
Conclusion
Despite having a lot of similarities, they are not the same sight. The accuracy of them, however, is the same. You cannot choose one due to it being more accurate.
The decision making will depend on the size, the weight, and ultimately the brightness setting. If you are someone who likes a compact sight, the T2 is the better option.
That's all for now. Hope this guide was able to help you choose between Aimppoint T2 vs Comp M5. Will see you guys on the next one. Till then, take care and have fun.