Aimpoint Acro P2 and C2 are part of the same Acro family that has their own mounting interface and is popular for that. Like most of the other Aimpoint sights, these two are way too similar.
At a glance, you won't find any difference between the two. Besides some small craftsmanship improvements, both of these two are the same. From weight to size to look, everything is the same. Then why is there a debate between Aimpoint Acro P2 vs C2? Let's find out and solve that debate.
Aimpoint Acro P2
Key Features
35 meters of water resistance.
Made for Police and Military usage.
Suitable for all weathers.
Lightweight and extremely compact.
Easy to adjust.
Aimpoint makes really good red dot and reflex sights, there is no way of denying that. While their pricing isn't atrocious like most others, they are not the cheapest company on the planet. Their Acro series has a reputation for upholding price-to-performance. The P2 is a part of that tiny family offering a great 1x red dpt experience.
The sight is made out of high-quality 7075-T6 High-strength Aluminum. With a hard-anodized coating, the sight offers unparalleled strength when it comes to the build quality!
As for the lens, it is also fully multi-coated. Lens coating has always been a strong suit of Aimpoint. You can also use this optic under heavy sun or in rainy weather. With a waterproofing rating of up to 35 meters, a little bit of rain won't be able to do anything to the optic.
Aimpoint Acro C2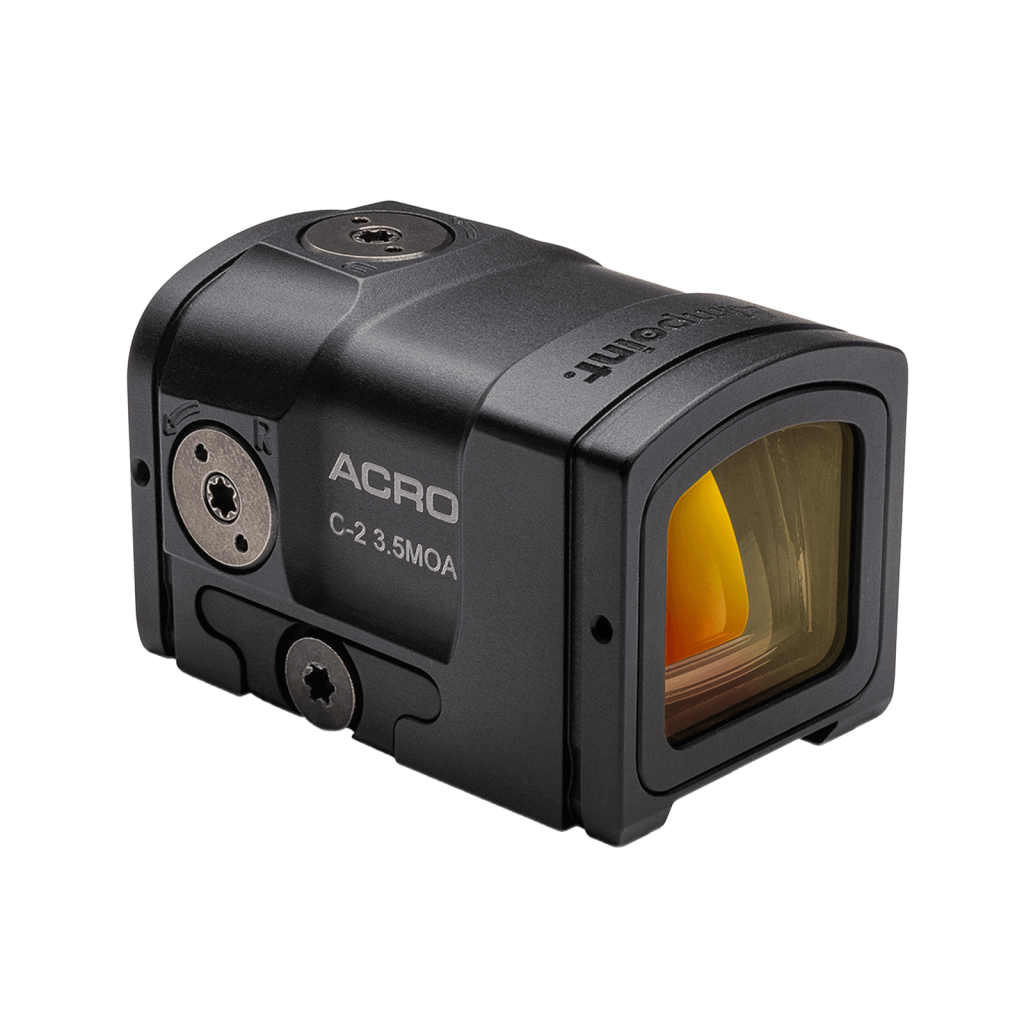 Key Features
Made for civilian use.
Suitable for any handguns.
Great field of view.
Generous eye relief.
Lightweight and compact.
When you first take a look at both, you might be like, why am I recommending two of the same sight? Well, I can't blame you. Acro P2 and C2 do look nearly identical.
They share a similar housing and their size is also quite similar. C2 is constructed from waterproof aluminum and it's purged to be fogproof as well. On top of that, it also shares the same fully multi-coated lens with great brightness control.
C2 has a similar waterproof rating and it's also suitable for different weathers. No matter the time of the day, it will help you push through your shooting sessions easily.
Specs
| Specs | Aimpoint Acro P2 | Aimpoint Acro C2 |
| --- | --- | --- |
| Magnification | 1x | 1x |
| Weight | 60 grams (w/o mount) | 60 grams (w/o mount) |
| Size | 1.9 x 1.3 x 1.2 in | 1.9 x 1.3 x 1.2 in |
| Red Dot Size | 3.5 MOA | 3.5 MOA |
| Waterproofing | 35m | 5m |
Aimpoint Acro P2 & C2 – Key Differences
Let's see if they are any different at all.
Acro C2 has less waterproofing compared to P2.
Aimpoint Acro C2 has a more daylight setting.
P2 has better optical transmission.
P2 has no optical signature visible at 10m.
Both of them are night vision devices compatible.
Which One to Choose Then?
Let's explore and decide, shall we?
Mounting System
P2: The mounting system on both of the Acro systems is the same. P2 uses the Acro interface which is quite easy to install and fits on the pistol top as well. This is why a lot of shooters like the Acro series. You can easily take it off the pistol and use it on your rifle. Just like that.
C2: The C2 also uses the same Acro interface system. It's quite easy to install on top of a rifle or a pistol. You name it. Taking it off is easy as well. Although it's not a quick detach, you can still remove it relatively quickly.
In terms of mounting systems, they both are the same. Based on this, it's not possible to choose a better one between the two.
Size and Weight
P2: Unironically the size of P2 and the C2 is the same. As I said earlier, they are the same picture. The length of the P2 is 1.9 inches. It's extremely compact. That's the reason why it's suitable for pistol users as well. Without the Acro mount, the weight of the Acro P2 is only 60 grams. That's extremely light.
C2: C2 and P2 look completely alike. If someone holds both in front of you, you won't be able to tell them apart. C2 is also 1.9 inches long and weighs 60 grams without a mounting system. Even with a mounting system, they are extremely light red dot sights.
Here is another term they are similar to. It's almost as if they are made out of the same module with just some interchanges.
Durability
P2: Another concerning thing about these small sights is their structure. How durable they are. As they are quite light, folks are afraid that their rifles might tear them apart. But that's not the case. The Aimpoint Acro P2 is made out of high-quality aluminum. It's lightweight as stated earlier and is extremely rugged. The exterior has a nice texture to it as well. It will easily last you for a good while.
C2: The choice of material here is high-strength aluminum. The type of aluminum you see in tube red dot sights and full sized riflescopes. It has an anodized finish on top of it to make it scratch resistant. The sight is also water, shock, and fog proof. Just like the p2. It will also last you for a long time.
They are both durable and made out of the same high strength aluminum. They have a textured anodized finish that protects them from drops and accidents. Overall, they both are extremely durable sights.
Lens Clarity
P2: In my opinion, lenses are the most important part of a sight. If the lens isn't durable and clean, the experience will be muddy and feel awful. Thankfully, the lenses on P2 are made out of glass and they are extremely durable.
With fully multi-coating and scratch resistant coating, it's one beautiful looking sight. Even during low light, the performance is really good.
C2: The C2 has the same exact lens as the P2. As you read moments ago, C2 also has a fully multi-coated lens with scratch and anti-glare coating on it. They are extremely bright and gather a lot of sunlight to work with. Low-light performance is impeccable and there is no chromatic aberration.
In terms of vision, they both go neck to neck. After all, it was made by Aimpoint.
Reticle and Battery
P2: The reticle on Acro P2 is a 3.5 MOA red dot. It's etched on the glass directly and you can illuminate it with the help of a battery. It uses a single CR2032 battery tucked into a waterproof housing. The battery is capable of running the sight for around 50k hours at low-brightness settings.
Speaking of brightness, it has 6 daylight brightness settings and 4 night vision settings.
C2: The C2 has the same 3.5 MOA reticle etched into the glass. It is also powered by a single CR2032 battery. At low brightness, you will be able to use it for at least 50k hours with a single battery. This is where the C2 lacks a bit.
Instead of 4 night vision settings, there are only 2 adjustable night vision settings present on the optic. Instead of those 2 extra night vision settings, they added 2 extra levels on the daylight setting.
There you have it. A deciding factor. If you want more night vision, then P2 is the obvious option.
Conclusion
While some of you would still argue that Aimpoint Acro P1 vs P2 had better value, that's still not the topic of today. My mission was to help you decide between the Aimpoint Acro P2 vs C2, and I believe I managed to do that.
The differences are quite small and easily negligible. If you already have one of these in your possession, you don't need to sidegrade to the other one. If you don't have either, then you can't go wrong with either P2 or C2. If those small changes mean big to you, then the decision is easy for you.
That's all for now, I will see you at the next one.