The Budget hunting rifles have tough competition in the market. Every company wants to be your first. The first hunting weapon I mean!
Jokes aside, both Mossberg Patriot and Savage Axis are great hunting weapons. If you saw one of them in your friend circle and want to know which one is the best for you, welcome.
In this Mossberg Patriot vs Savage Axis guide, I will try to help you choose the right weapon for you. Without further ado, let's start.
Mossberg Patriot
Before we get started, let's get to learn a bit about the Mossberg Patriot. Released back in 2015, the Patriot series has a lot of different colors/finishes to choose from. There are different variants of the gun available on the market as well.
All of them have one thing in common, they are all bolt-action rifles with extremely high accuracy at different ranges. The gun also features a 5-round detachable magazine. This modern flair to the gun makes it easy to use as a beginner. After all, it won't punish you on the spot for missing the first shot.
Savage Axis
The Savage Axis is another beginner bolt-action rifle introduced back in 2011. Due to the gun being older than Patriot, it also has a bigger fanbase and more surfaced reviews all over the place.
Unlike the Patriot, this one comes with mostly synthetic stock and polymer removable magazines as well. Instead of 5 shots, you are getting 4 shots with this one. In my opinion, 4 shots is more than enough to land you a couple of successful hunts.
The accuracy and sheer energy of this gun make it the go-to choice for many hunters.
Savage Axis vs Mossberg Patriot – Key Differences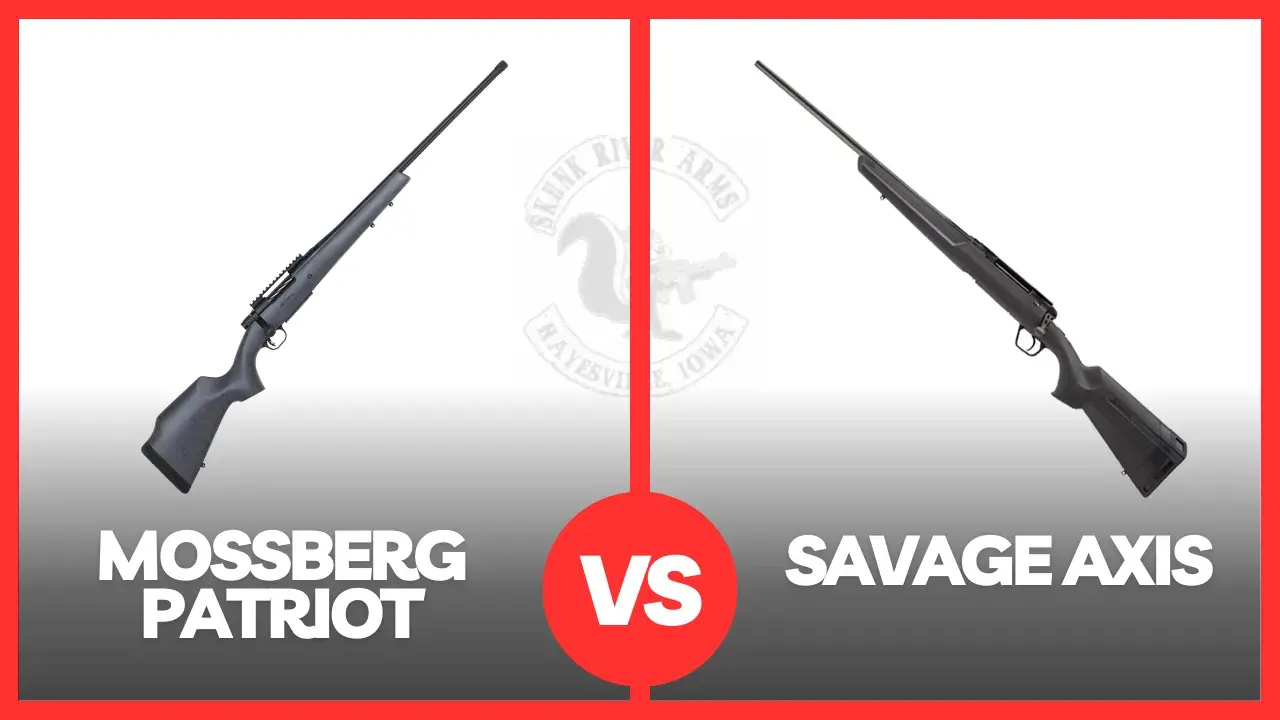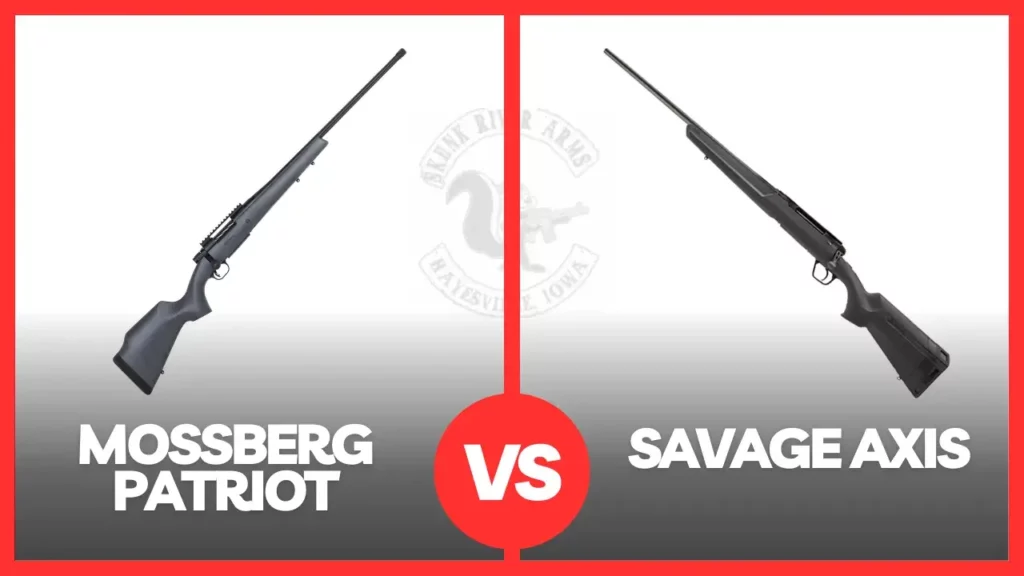 Besides the price difference, what are the obvious differences between the two that I need to be aware of? Well, here they are.
Build Quality
If you look at both guns closely, you will see that the Savage Axis is mostly made out of synthetic polymer. This type of material is often used in many weapons to keep the weight of the gun down.
While the Patriot is mostly made out of different wood. They are treated to be durable and they don't have any caged water in them either. So, they are quite lightweight as well. In terms of raw build quality, you have to hand it to Mossberg. But for durability, both of them are on par.
Implying you don't drop your gun every other day for missing shots.
Accuracy
The most important point for any hunter here would be the accuracy. Both guns can have a similar range depending on the ammunition you are using.
At 100 yards, it's not possible to differentiate them from each other. But as you gradually increase the range you are shooting at, the accuracy will be greatly altered.
In long-range shooting, and I mean 800 yards and beyond, the Axis can have an advantage compared to the Mossberg Patriot. But if you are just a game hunter and want to know if there is any difference in game hunting, well, there isn't much.
If you are using this for Elk hunting, both of them will be accurate at 300 yards or so with ease.
Ammunition
If you saw the listings for both of the guns, you can see they have a variety of ammunition to choose from.
While buying the Patriot, you can choose from 6.5 Creedmoor, 7mm Rem Mag, 7mm-08 REM, 22-250 Rem, 243 Win, 270 Win, 25-06 Rem, 30-06, 300 Win Mag, 308 Win, 338 Win Mag, 350 Leend, 375 Ruger, and 450 Bushmaster!
You can choose from a lot of options!
As for the Savage, you can choose from 223 Rem, 243 Win, 22-250 Rem, 25-06 Rem, 30-06, 308 Win, 350 Legend, 6.5 Creedmoor, and 7mm-08 REM.
As you can see, there are quite a few ammunition options to choose from. Both of them share a similarity in some ammo while Patriot just offers a lot more options.
Barrel
Mossberg offers the barrel in different lengths and finishes. You can buy the Patriot with a fluted barrel or threaded barrel. You can choose from 20", 22", or 24" barrel lengths. But keep in mind that the 22" barrel is reserved for a specific ammo type.
On the other hand, the Savage Axis offers barrels in two different lengths. If you go for the 350 Legend variant, you will find the gun with an 18" barrel. For everything else, you will find a 22" barrel.
If you are looking for a 24" barrel, you are not finding that with Savage Axis, unfortunately. Do keep in mind that you can always go for aftermarket barrels. But that's an extra cost.
Magazine
This is where the Patriot has another advantage. While the Axis can store a max 4 shots in the mag and one in the chamber, some models of Patriot can hold 5 in the mag and 1 in the chamber. Giving you more opportunity to shoot.
If you are a newbie and still don't know how to shoot with high accuracy, then you will find the Patriot to be more forgiving and give you more chances. But if you are a confident shooter and every bullet hits the target, then both of them have an acceptable amount of bullets by modern-day standards.
Accessories
If you are looking for scopes with either of them, you are not getting any. But you will find a sight rail on the top of the gun. It's a Picatinny rail. That gives you the option to install scopes such as Vortex Strikefire 2 or Vortex Venom 5-25×56. Both of them are great choices for both Patriot and Axis.
You will also not get any hard/soft shell carrying case with the weapons either. Ultimately, if you were hoping to get some good freebies with them, sorry to burst your bubble, but you are not getting any at all.
Mossberg Patriot and Savage Axis – Similarities
There are quite a few similarities between the guns as well. Starting from the ammo. As you saw earlier, both of them share the same type of ammunition and more. But one of them uses a short barrel with a specific type while the other uses a long one with the same ammo.
While one has a fluted barrel, you won't find the same on the other, unfortunately.
They both are bolt-action rifles and they share identical firing chambers. They both can hold one bullet in the chamber at a time. Also, their cheek pad design is quite similar as well. Also, both guns share the same Picatinny rail to hold scopes and other accessories.
Frequently Asked Questions
Which gun is better between Mossberg Patriot VS Savage Axis?
It will come down to your preference. While some claim that the Axis is the more accurate gun of the two, you will find users having the opposite experience as well. Theoretically speaking, they are identical guns with different characteristics. Those characteristics play a role in the final result, that's for sure.
Is Savage Axis good for hunting?
Yes, it is. It's fit for both game hunting and sports shooting. Depending on what you want to do with the gun, you can do almost anything.
Is Mossberg Patriot good for long-range?
Yes, it is. It's also a great gun for hunting and sports shooting. For long-range, I would recommend going for a higher-grain bullet so it can maintain the velocity at a longer distance.
Closing Thoughts
Both Axis and Patriot are great beginner rifles. They have great features and they don't have crazy high recoil either. I have seen a lot of young aspiring sports shooter learn the curve of competition with them, and I have seen hunter getting the game of their life with them as well.
Ultimately, it's your decision. If you feel like the wooden texture of Mossberg calling to you, then you definitely should go for that. But if you are going for the shorter rifle with accuracy and great velocity, then you can go for the Axis.
That's all for now. See you guys on the next one.